CAPPING off Gold Coast Top Companies 2016 is a list of businesses that are proving to be forces in their respective industries.
The final 10 includes companies spearheaded by some of the most seasoned businessman including Con-x-ion's Stuart Stratton and Superior group's John Hogan. Young entrepreneurs are also making their mark in Gold Coast business, including Chris Bolger and Adam Lacey of Onyx Property Group.
Among the final 10 are companies that have found their niche in an array of industries.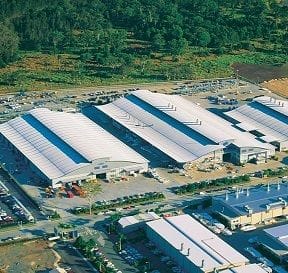 Revenue: Undisclosed
Staff: 200
Established: 1988
TELWATER Group is best known as manufacturer of Quintrex boats and trailers, but it made headlines in early 2015 when it revealed tough market conditions had forced it to scale back operations.
Telwater, headed by Paul Phelan, retrenched about 45 staff from its massive Coomera factory which is said to produce about 12,000 boats and 6000 trailers a year.
The downturn in the affordable end of the market is in stark contrast to a rise in the Gold Coast's major luxury boat builders who are making significant inroads into export markets to drive new sales.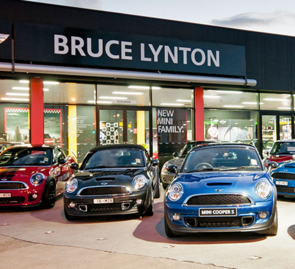 Revenue: $170 million
Staff: 148
Founded: 1974
FOR 40 years Bruce Lynton Group has steered its way to the peak of the automotive industry, establishing itself as Australia's longest-serving BMW dealer.
The Gold Coast-headquartered dealership still holds its original Nerang Street site in Southport.
In addition to BMW sales, servicing, finance, parts and accessories, the group stocks a range of prestige brands including MINI, Land Rover and Alfa Romeo.
In recent years Bruce Lynton has handed over the reins to son Beric, with the business growing turnover from $160 million in FY14 to $170 million in FY15.
The group also actively supports the local community and is best known for its annual sell-out charity ball which has raised $1.6 million over the past 15 years.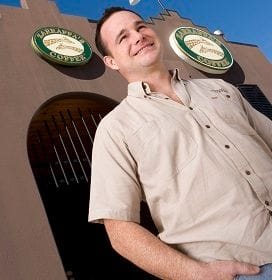 Revenue: $120 million (franchise group)
Staff: 50
Founded: 1996
ZARRAFFA'S Coffee founder Kenton Campbell (pictured right) has an eye for opportunity and earlier this year he used it to buy a long-dormant site in the Brisbane-Gold Coast growth corridor.
His vision is to establish a foodie haven on the site, but it's also aimed at accommodating rapid growth in the business he founded almost two decades ago.
Tonken Property Group, Zarraffa's development arm, acquired the 5.4ha site at Eagleby for $12.5 million and is looking to relocate the coffee chain's packaging, training, franchise and head office operations there over a two-year period.
The longer-term plan is to create a new tourism drawcard for the precinct that will blend a love for food and coffee, although Campbell has indicated this will take a back seat until the move to Eagleby is completed.
Campbell says the past year has been about bedding down systems and procedures while future-proofing the business.
"The installation of a $5 million roaster at our Helensvale head office is an example of this action," he says.
"We have focussed primarily on in-store growth, looking at ways to change up our offering, while keeping an eye on future expansion opportunities in Queensland, WA and other interstate markets."
Zarraffa's, which has built a network of more than 70 stores, has 15 new outlets in the pipeline.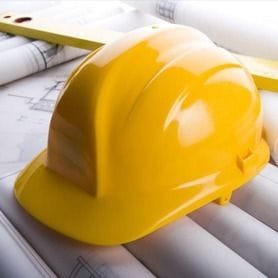 Revenue: Undisclosed
Staff: 50
Established: 2003
ALDER Constructions describes itself as a is a multidiscipline construction company, largely due to the nature of the jobs it undertakes.
It was founded in 2003 by Greg Alder, who drew on his background with Leighton Contractors to pursue both civil infrastructure works and commercial building projects.
Alder thrives on challenging projects, among them was the 2013 upgrade of the Gold Coast Turf Club.
Earlier this year, Alder capitalised on the Commonwealth Games infrastructure spending program after securing the contract for the $14.5 million upgrade of the Gold Coast Hockey Centre at Labrador.
General manager Dean Cheffers says activity has picked up strongly in 2016, with the company taking on a number of new projects
"We've been highly active this side of Christmas," he says.
Among new projects is a civil works contract at McCauley College in Beaudesert and the refurbishment of a historic footbridge on Currumbin Creek.
Alder Constructions is also preparing to start work on the 64-apartment second stage of the Aura project at Varsity Lakes. The first stage, comprising 56 apartments, was completed in 2015.
While Alder has not disclosed revenue figures, the company is targeting a workbook of about $100 million.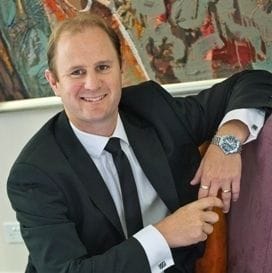 Revenue: $20 million
Staff: 250
Founded: 1985
CON-X-ION has become the largest door-to-door bus transfer company in Australia through a series of acquisitions spearheaded by managing director Stuart Stratton.
However, the company was rocked last year by the death of founder Andrew Phillipps, who in 2008 effectively merged the Con-x-ion business he had owned for more than a decade with the Stratton's rival company transfer company.
The 54-year-old Phillipps, who retained a small shareholding in Con-x-ion following the merger, died from a heart attack during a conference in Melbourne where he was representing the company at Australian Tourism Exchange.
Phillipps was a driving force in building the brand in its formative years, but since its takeover by the Stratton family, the company has more than tripled its fleet to 100 buses and carries more than a million passengers a year.
It also has established a franchise network across south-east Queensland, and developed key partnerships with bus transfer operators in Cairns, Melbourne and Sydney.
Stratton has taken a breather from expansion over the past 12 months, taking time to integrate new businesses acquired in recent years.
"The last year we've had a consolidation phase focusing on systems and efficiencies," he says, adding that revenue has grown about 10 per cent in the past year.
However, the company added a Toowoomba Flyer service into Brisbane from the beginning of 2016.
Meanwhile, Stratton saying the new airport in Toowoomba has opened opportunities for the company and he has had some discussion with the airport operators.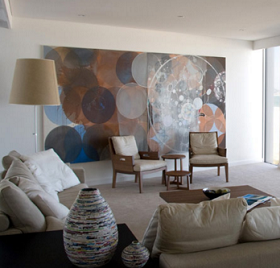 Revenue: Undisclosed
Staff: 50
Established: 1988
SUPERIOR Group is a company that has undergone an extensive evolution over the past 30 years.
Managing director John Hogan initially used his expertise in mechanical engineering to focus on building pontoons for the Gold Coast market.
Since then, the company has worked on major marina projects around the world and it now exports to more than 10 countries.
Over the past year, the company has heavily invested resources into marketing a new product for the marine and leisure industry, the innovative Waterscape.
The product is essentially an anchored floating platform with uses as varied as hosting major corporate events to creating leisure spaces for tourism operators.
Hogan collaborated with Alexander Lotersztain of Brisbane design studio Derlot to develop the product which Hogan describes as is 'visually arresting and innovative in its versatility'.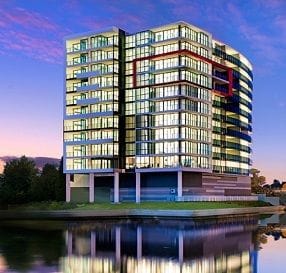 Revenue: Undisclosed
Staff: 10
Established: 2007
EMANDAR Group, headed by George Mastrocostas and Evan Raptis, has quietly undertaken a suite of high-density residential developments on the Gold Coast for almost a decade.
More recently the company has been heavily focused on Biggera Waters with a series of medium rise residential towers developed or planned in the Harbour Town precinct.
The company's first project was the $85 million Silvershore development on the Labrador Broadwater.
Emandar was among the most prolific developers on the Gold Coast during the property downturn.
Evan Raptis is the son of high-profile Gold Coast developer Jim Raptis, whose listed company Raptis Group (ASX:RPG) has resumed development activity following a prolonged deed of company arrangement secured with creditors in 2009.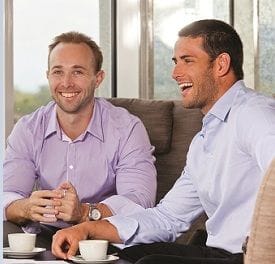 Revenue: Undisclosed
Staff: 11
Established: 2009
AFTER making its mark in the booming northside of Brisbane in recent years, Onyx Property Group has started to capitalise on strong activity in its home market on the Gold Coast.
Last year the company announced its biggest project yet, a $42 million medium-rise project for Palm Beach.
The seven-storey beachside development comes as the Gold Coast company, headed by Chris Bolger and Adam Lacey, completed a quick-fire sell-out of its Currumbin Pocket homes project developed in joint venture with the Neumann family at Currumbin Waters.
The Currumbin and Palm Beach developments have a combined end value of $50 million, bringing Onyx's total project pipeline and diverse national portfolio to about $100 million and making it one of the city's largest private residential developers.
The group started with the development of a single home in 2009, and now employs a staff of 11, along with a full construction division as well as contractors and consultants.
The 2014 BRW Fast 100 company has scored a string of awards for design and building, including both the regional and state BDAQ awards for the Allisee Villa projects, the company's first Gold Coast development completed in 2014.
Following the success of Currumbin Pocket, the company is planning a new affordable home estate in Currumbin Waters to be launched later this year.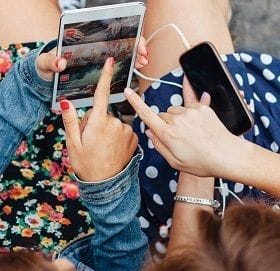 Revenue: $5m
Staff: 120
Established: 2008
MUSIC streaming company Guvera has grown from a single-man operation in 2008 to a team of 120 and has a presence in more than 20 different countries.
Its database has grown rapidly over the past two years, currently hovering around 16 million, up from 1.5 million in 2014.
CEO Darren Herft says the growth is testament to the successes of Guvera's non-disruptive ad-funded model, which allows users to discover and play expert curated music.
"Monthly active users were sitting around 5 per cent 12 months ago; they are now sitting at 40 per cent in Australia and, as a result, we have become one of the two biggest streaming services in Australia by volume of music streamed," he says.
"Even though there are other brands that might be more well-known than Guvera in Australia, we are actually streaming more music than them."
However, a number of commentators have criticised the Varsity Lakes-based business after it reported an $81 million loss in FY15.
Herft responded says that of this loss $34.5 million related to non-operating cashflow losses. These included pre-paid music rights expensed, even though they were not yet utilised, as well as share options and depreciation.
Herft says this has led to an underlying net operating cashflow loss of $46.5 million, a figure that is amplified by the weaker US-dollar exchange rate.
"When you consider that we pay major expenses in US dollars, this means we invested cashflow of more like $US35 million for FY15," he says.
The company is aiming for a stock market float this year, although Herft has chosen not to comment further on the IPO plans.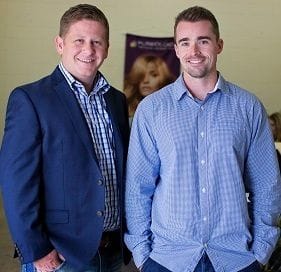 Revenue: Undisclosed
Staff: 30
Established: 2005
AUSTRALIA'S largest online hair and beauty products business RY.com.au has taken a leap into the bricks-and-mortar space this year, opening its first retail outel on the Gold Coast.
The Burleigh-based company, founded by James Patten and Brad Carr in 2005, has built a significant online business in a niche market.
Patten says the move to establish a store at Brickworks in Southport was driven by a need to better connect with its ciustomer base and to gain a broader understanding of the market's needs
"As a Gold Coast-based business, we have already established a strong reputation and brand recognition within the local community, and we feel opening this new store will provide an excellent opportunity for us to provide a high quality level of service to our customers across multiple formats," he says.
The move by online retailers into traditional storefronts has been an industry trend for a number of years, with Amazon and Google among the big brands leading the charge.
The move is in response to customer demand for greater personal interaction in the retail sector, with many experts now saying the pure e-commerce play is dead.
Ry.com.au has grown to become Australia's largest online retailer of hair and beauty products, with the growth aided by the acquisition last year of online competitor facialco.com.au.
The company exports its high-end products to a global customer base of more than 300,000 members.

Help us deliver quality journalism to you.
As a free and independent news site providing daily updates
during a period of unprecedented challenges for businesses everywhere
we call on your support