POTTY Plant has won over vets-and-pets expert Dr Glen Richards on Shark Tank Australia.

Richards offered $70,000 for a 25 per cent stake in the pet toilet business.

The business has seen 17 per cent month-on-month growth on average since inception last May and is the only in-home dog toilet training system delivered to the door.

It was labelled 'ground-breaking' on last night's episode, and at the time of filming eight months ago had 21 subscribers.

Sydney-based Potty Plant founder Julia Sakr (pictured above) says the business came out of a growing trend towards natural products for pets. She is now exploring other product lines.
With 4.2 million dogs in Australia, Sakr cited that almost one-quarter call medium or high density apartment blocks home, and there's no 'real' toilet solution.

"I felt guilty throwing away so much rubbish every day, which was just going to landfill, and puppy pads just didn't solve the smell problem, aren't eco-friendly and don't get rid of pee stains," says Sakr.

"There's a need to incorporate nature into apartment living, and this is Australia's first real grass toilet for dogs which is 100 per cent natural and compostable."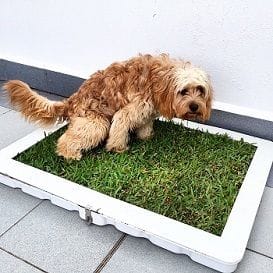 "I don't know why it hasn't been done, but in Australia we don't really sell hydroponic grass, we have turf grass but with soil attached and it isn't exactly attractive in an apartment setting I worked at developing this solution and also framing it to prevent the dog from digging it up."

Potty Plant delivers fresh grass to the customer door weekly, fortnightly or monthly, depending on which subscription the purchaser opts for.

Subscription starts at $25 for a week and through to $50 for a premium potty plant product. The starter pack with soil sells for $230.

Sakr told Shark Tank Australia last night the hydroponic grass was being grown in her backyard and cost $16 to produce and deliver.

On the episode, Sakr valued the business at $700,000 with her initial ask $70,000 for a 10 per cent stake.

Tech investor Steve Baxter decided against putting in an offer and called out Sakr's focus on selling at markets as inferior to apartment letterboxing for the business model.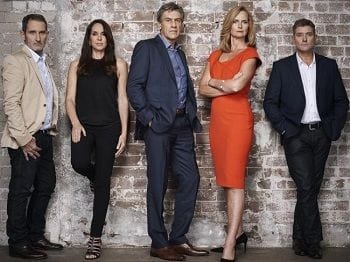 Boost Juice entrepreneur Janine Allis, Andrew Banks of Talent and RedBalloon founder Naomi Simson and 2 also bowed out, but were optimistic about the success of the business.
Richards, however, offered $70,000 for a 30 per cent stake in the company and then settled on 25 per cent, with his Greencross roots highlighted as pivotal to getting the already cash-flow positive Potty Plant to the next level.

"The money aside, just having Glen on board with all of his years of experience in the pet industry, that relationship alone is so important," says Sakr.

"He's already introduced us to a Petbarn and we are in the midst of negotiations with them."

Interested in more of what Dr Glen Richards has to offer? Learn about what gets him over the line in business and his biggest pet peeves:
Get our daily business news
Sign up to our free email news updates.