A Melbourne-based juice startup that utilises the hangover-alleviating qualities of Korean pears has struck an agreement with US-based company Gold Coast Distributors to supply Bae Juice in the New York Tri-state area.
Tim O'Sullivan, who co-founded Bae Juice in 2018 with his then girlfriend Sumin Do and best mate Liam Gostencnik, says the first container will be picked up next Wednesday and is expected to arrive in August.
O'Sullivan explains Gold Coast Distributors services 500 independent stores in the region, while distribution into further stores is expected to rapidly increase as the brand builds its footprint.
He notes sales doubled in FY23 and are likely to do the same in FY24 thanks to the latest deal and others potentially in the pipeline.
As is the case in Australia, Bae Juice will be made available nationwide in the US via Amazon, and the founders have already had meetings with distributors based in Los Angeles with California as the next target market. Large US retailers are in their sights too.
A spokesperson for Gold Coast Distributors says the team is thrilled to announce the partnership with Bae Juice for its launch into the New York market.
"As a distributor, we are always looking for high-quality and in-demand products to add to our portfolio, and Bae Juice certainly fits the bill," the spokesperson says.
"With their proven success and track record in Australia, we are confident that we can work together to make a big impact in the New York market. Bae Juice's unique and differentiated product sets them apart from their competitors, and we are excited to help them reach new heights of success."
The announcement comes off the back of a partnership with TakeFlight Ventures, via its international brand accelerator and a $500,000 strategic investment from Honan Capital which will help establish the US footprint as well as enhancing its Australian operation, which currently includes more than 3,000 stores including Woolworths, Dan Murphys, BWS and independent retailers.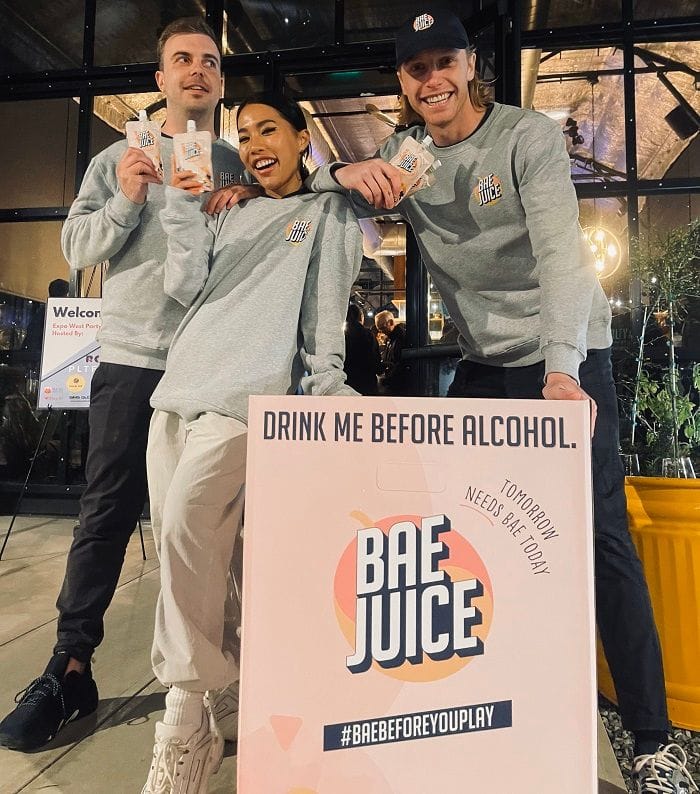 Will Honan from Honan Capital has also joined the board.
"We are excited to be joining the Bae Juice team at this stage in their lifecycle. For us, the Bae Juice story represents the quintessential Australian start-up, mates with a vision and the work ethic to make it a reality," Honan says.
"We look forward to leveraging our networks and experience to build upon the already significant growth that Tim, Liam and Sumin have driven."
O'Sullivan is excited about what the next 12 months will bring for the business that has been bootstrapped until recently, emphasising he "couldn't think of better launch partners".
"When you start a business, you always have on your whiteboard on Day 1 'USA', and to think five years later we're heading over again in September to see our product in stores is pretty cool," O'Sullivan tells Business News Australia.
"We've actually been there twice since October. The first time was just to get our foot in the door - we hired a project manager there who we know has worked with some really good brands in the States, and we went over again in March to meet them face-to-face, and everything went really well.
"It's pretty quick really for such a big beast like that, to have such an opportunity like we do, I think it's a credit to there being just no other product like it."
But isn't it just juice?
O'Sullivan was sceptical when he went to South Korea and heard of a tradition that juice from the Korean pear (Pyruspyrifolia cv. Shingo) could be used to take the sting out of hangovers.
"Sumin was telling me that her mum always drinks it, her mum's mum always drinks it. It's a bit of a household tradition that's been passed down through generations," he says.
"Then when I was in Korea, everyone was saying that it works. I was skeptical, until after a week of drinking I started believing in it.
"There's an enzyme inside the juice, and that enzyme speeds up your metabolism of alcohol, so it helps you recover faster."
That enzyme is called DHM, and is also found in the Japanese raisin tree. In 2015 the CSIRO published a report, which is no longer available on its website, stating DHM could help inhibit or eliminate the absorption of alcohol.
Results of a randomised controlled trial with 14 healthy young men, published in the journal Food and Chemical Toxicology in 2018, concluded Korean pear consumption may alleviate alcohol-related hangover effects with detoxification more pronounced in certain genotypes of people.
The trial participants consumed 540ml of spirits 30 minutes after either drinking Korean pear juice or taking the placebo, and the total and average hangover severity was reduced to 16 per cent and 21 per cent respectively after 15 hours. In addition, the pear juice treatment lowered levels of blood alcohol.
"Particularly, 'trouble concentrating' was significantly improved by the pear juice treatment," the report noted, with significant improvements in impaired memory and sensitivity to light and sound for subjects with ALDH2*1/*1 or ALDH2*1/*2 genotypes.
O'Sullivan adds the company partners with a large pear farming company and manufacturer in South Korea that produces the product in Bae Juice's branded sachets, so the product can be shipped directly to the US rather than being transported via Australia.
The three founders still own the majority of the business.
Get our daily business news
Sign up to our free email news updates.