With Dr Glen Richards of Greencross (ASX: GXL) fame at the helm as chairman, physiotherapy and podiatry business Healthia (ASX: HLA) has had a glowing first week on the stock market with shares up by almost a third on the prospectus price.
The new company formalises a merger between two allied health companies - My FootDr Podiatry and Allsports Physiotherapy - and has raised close to $27 million for acquiring more businesses in the space.
Althia also owns iOrthotics which produces 3D printed orthotics, and holds a 50 per cent stake in allied health supplies business D.B.S. Medical.
Driven by a model that helps young clinicians build careers with skin in the game as co-owners, the merger treads a delicate line to satisfy the health professionals involved whose work is what ultimately drives profits.
This has meant appointing the founders of MyFootDr Podiatry and Allsports Physiotherapy in two separate but collaborative CEO roles, with Tony Ganter heading up the physio division and Darren Stewart leading the podiatry business.
"The physios were really passionate that they didn't want to be told what to do by a podiatrist, and respectfully it was exactly the same the other way," says Ganter.
"I think the key for this business to succeed is the health professionals need a direct line of sight to leadership and management that relates to what they do every day."
He says the sector has seen too many specialised services aggregated with people in leadership who don't understand the business, leading to decisions that disconnect management from health professionals' sense of purpose.
"That's where we see things historically in our space that have had poor results for shareholders and investors," he says.
"So we were very mindful of that coming into this listed space that the clinicians themselves need to know that people in management actually understand and care about how they're going to need to operate their daily activities in the clinic.
"We're really happy with Dr Glen Richards as our chairman. Being a previous clinician himself, it still resonates with him the challenges of getting out of bed and coming in to look after a patient - whether it be for animals or humans, you're still dealing with patients."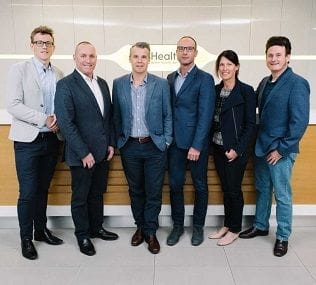 Photo: (L-R) Dean Hartley (Balance Podiatry), Tony Ganter (Allsports Physio), Darren Stewart (MyFootDr), Glen Evangelista (Balance Podiatry), Lisa Roach (Allsports Physio) and Greg Dower (MyFootDr).
Ganter says there was almost a 100 per cent uptake in the IPO from clinician co-owners.
"Nearly every clinician that was a previous holder of equity in the physiotherapy or podiatry clinics has now got ownership continuing in the clinic but also in Healthia as the company that sits above them as well," he explains.
"We have within our ranks of 250 passionate physios and podiatrists, and some of them have been clinicians now for three to five years and they're looking for a career journey.
"If you go back 10 to 15 years if you graduated you either worked for someone else or you opened your own clinic; there was nothing in between. But this business will create career pathways and the access to capital which is critical for expansion, as well as the stewardship of Dr Glen Richards and Wes Coote who have been there in a similar space."
Ganter says Dr Richards and Coote, the latter having been the CFO at Greencross for many years, have helped the businesses structure their access to capital while bringing "some back-end sophistication to help those clinicians on the front line".
Market response
Following a prospectus price of $1 per share, at the time of writing HLA is sitting on a comfortable price of $1.28.
"It's obviously been a really positive start everyone's very pleased with the result thus far," says Ganter.
"We were obviously hoping for a positive response but we certainly weren't going out there making any bullish predictions.
"We were more focused on just making sure the clinics out there are doing good health care rather than being too focused on what the market's initial response would be."
The plan for Healthia now is to acquire one or two clinics every month or two, with Healthia always owning 52 per cent or more of any acquired business.
"For us it's just a bit of work now to stay disciplined with our acquisition strategy. We want to be able to go back to the shareholders and say we've done what we said we'd do," says the executive.
He says the deployment of prospectus capital of $10 million per year ought to increase Healthia's revenue line by around $15 million.
"That should then result in a $2.5 million EBITA line for us and we'll just stick to our plan and deliver that. When we deliver that it'll give shareholders double-digit EPS growth.
"For our clinicians we want to give them support so they're out there doing best care for their clients. That's what health practitioners get out of bed for, to help people, and as long as management supports that I think we've got a unique model that will be good for all stakeholders in our business."
Never miss a news update, subscribe here. Follow us on Facebook, LinkedIn, Instagram and Twitter.
Business News Australia
Get our daily business news
Sign up to our free email news updates.
Help us deliver quality journalism to you.
As a free and independent news site providing daily updates
during a period of unprecedented challenges for businesses everywhere
we call on your support