Business success often reads like witchcraft. A dash of this, a pinch of that, and the first hair of a newborn baby is all it takes for your business to be the next big thing!
For the founders of Bondi Sands, the main ingredient in their spell is Australia itself.
The company, which sells tanning and suncare products, has become one of the most recognisable Australian brands internationally. And what's the secret? They didn't just sell tanning products and sunscreen; they sell the Australian lifestyle.
Bondi Sands recently became the biggest Australian made and owned exporter of suncare after a massive year involving a coveted Coachella Festival collaboration, amazing results on social media and a killer partnership with US retailer Walgreens.
Business News Australia spoke to Bondi Sands co-founder Blair James (pictured) about the group's recent developments, what it takes to gain popularity overseas and how the group manages to nail social media.
In the seven years since you founded Bondi Sands you've grown at a monumental pace. What's been behind the rapid growth?
Since the very beginning we have had a global vision for the brand and not only to be a global player but the worlds number 1 selling self tanning brand. A milestone we achieved earlier this year, off the back our launch into the US market with Walgreens. We pride ourselves on being a nimble and innovative brand and we have been fortunate to be aligned with great distribution partners all over the world that have the ability and the belief in our vision to roll out our global plans with at times very short turnaround times.
Aero, an aerated self-tanning foam, is now the best-selling Bondi Sands product. What's driven consumers to loving that product?
Aero became the best selling product in Walgreens immediately after our Coachella launch party. The launch itself had a global social media reach of over 80 million, making the product impossible to miss globally. The product itself has continued to become more popular due to the fast dry application, a new deeper colour and a long lasting tan that fades naturally after seven days.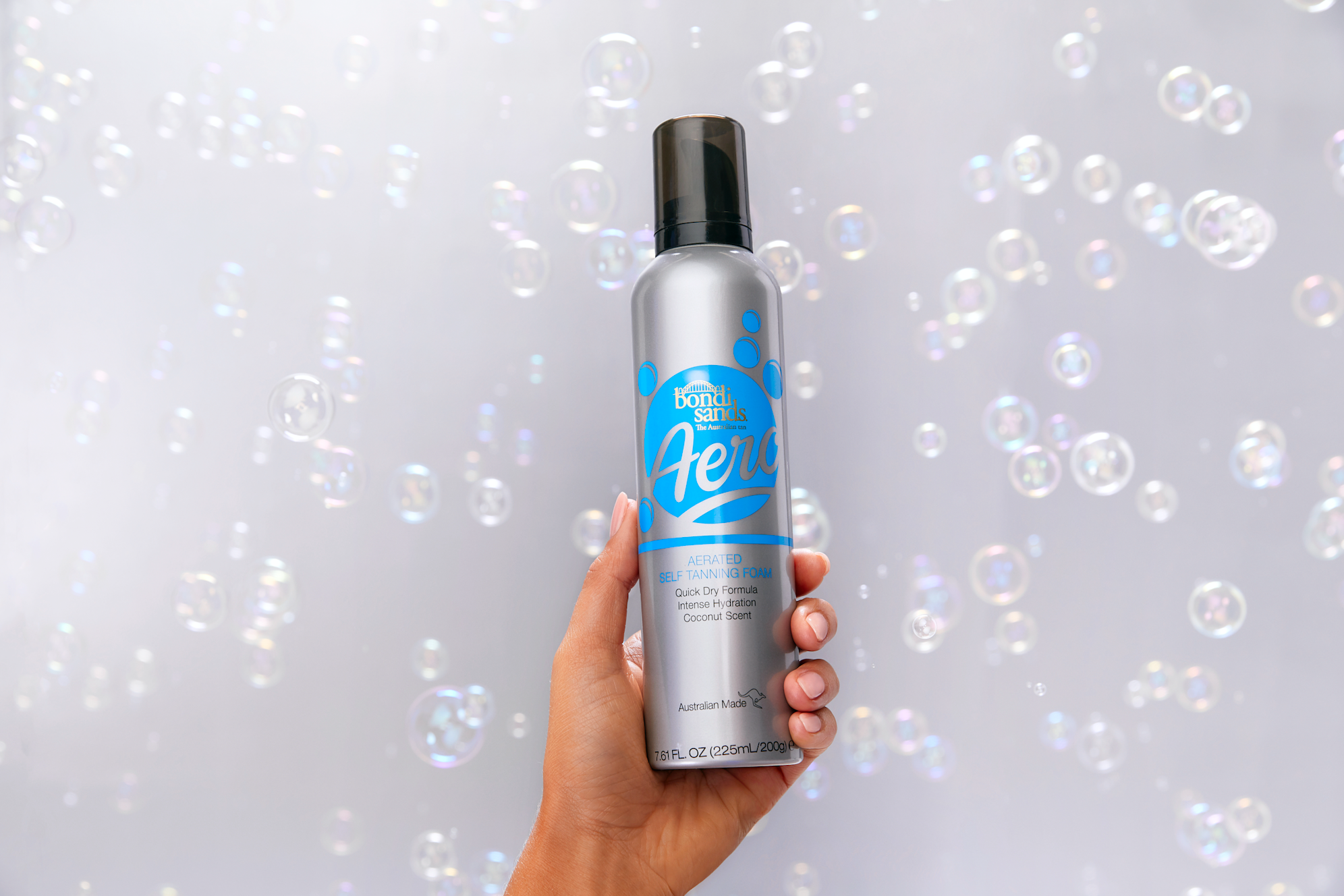 Aero is now Bondi Sands' best selling product (provided)
You're the number one exporter of suncare/skincare in Australia. Why has the brand found success overseas?
The attraction to the Aspirational Australian lifestyle is so strong all over the world, this makes our job of telling the Bondi Sands much easier. Australian cosmetics also have a great reputation internationally and as a brand we have continually pushed the boundaries with self tan development to produce a number of patented and world first products; a range that now offers the perfect product for any customer regardless of skin type or desired result.
Social media is a big part of the Bondi Sands' model. What are your tips for nailing social media?
To be successful on social media as a brand you need to innovative and genuine. Develop a brand story and create unique ways of telling your story. Consumers today do not want to feel like they are constantly being marketed to with relentless product shots and promotions. Today, consumers want to buy into a story to be entertained and educated.
Tell me about the Coachella partnership and why that was major for Bondi Sands?
Coachella was our biggest launch to date and amassed a massive reach of over 80 million on social media. We took over our own estate in Palm Springs and created Aeroland to launch our latest and greatest product innovation Aero, as well as partnering with Don Julio and Levis' as sponsors for the Coachella VIP after party Neon Carnival. The launch was a first of its kind for any Australian cosmetic brand and was crucial to brand to establish itself in the US market.
How did your partnership with Walgreens come about and why is it an important part of your US tactics?
The United States has always been on the radar for the brand and was crucial to the brands growth globally. Through our success with the UK's leading health and beauty retailer Boots we were fortunate to receive a recommendation to their parent company Walgreens, stating that Bondi Sands was best in class and was an essential brand for the self-tanning category within the USA. We have always believed in exclusive retailer relationships when launching into a new territory as it allows us to have a single destination for our marketing calls to action. As a brand we have an internal value of being affordable and accessible and the Walgreens network is extremely powerful across the United States with 90% of the United States living within 5kms of a Walgreens store.
What has surprised you about the success of Bondi Sands internationally?
When launching into international markets you are often told that product messaging and brand calls to action will need to be adapted for each territory, but we have found that the global appeal of Australia and its aspirational lifestyle itself has meant that we have not had to adjust our Bondi Sands communication that much as the brand has become global and now we are seeing the UK, Europe and the USA adopting self-tanning trends created here in Australia.
What's your top tip to young entrepreneurs looking to build a business?
Believe in your vision, Be patient and finally keep it simple, keep your business model simple, keep your brand message simple, keep your work processes simple etc., constantly review these areas to ensure they are as simple and efficient as possible. As businesses scale, they inherently become more complicated so the simplicity in the structure and positioning is so important.
Never miss a news update, subscribe here. Follow us on Facebook, LinkedIn, Instagram and Twitter.
Business News Australia
Get our daily business news
Sign up to our free email news updates.
Help us deliver quality journalism to you.
As a free and independent news site providing daily updates
during a period of unprecedented challenges for businesses everywhere
we call on your support