After his online footwear retail startup Shoes of Prey failed following 10 years of hard work, Michael Fox felt "physically ill" at the thought of starting another business.
The self-confessed "washed up entrepreneur" took six months off in his wife's native Denmark to recharge his batteries, and what came out of those moments of contemplation was a passionate desire to "end industrial animal agriculture" and steer more people towards the vegetarian lifestyle he had recently adopted just a few years earlier.
Fox admits the kind of activism aimed at converting friends to vegetarianism, or indeed veganism, hasn't been very successful for him over the past six years.
"People get the reasons why they should at least reduce their meat consumption, but it's hard because meat tastes great," he says.
"I was living in Los Angeles when I was doing Shoes of Prey, eating all the Beyond Burgers and everything else, and I realised the best way to help people reduce their meat consumption is to give them products that have the texture and taste of meat, but make them from something other than animals."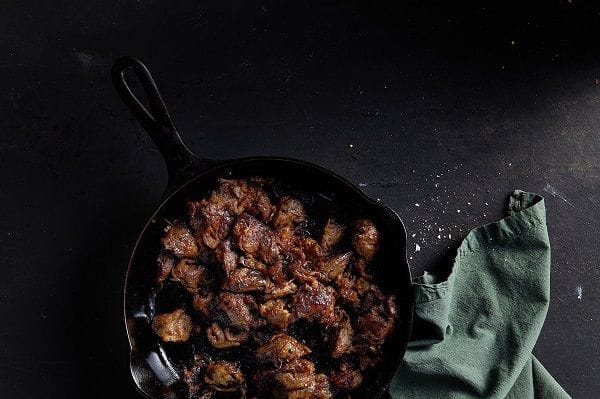 But what jarred with Fox was that a lot of the products available contained unrecognisable or artificial ingredients, contradicting much of the healthy living motivations behind a lot of plant-based dietary choices.
"The primary reason people give for wanting to reduce meat consumption is health, and so lots of artificial ingredients you don't recognise doesn't really align with wanting to reduce meat consumption for health," Fox explains.
These ideas for what would become his next business had been germinating in his mind for some time, but when he came back to Australia the original intention was to work for someone else.
"Actually it made me feel physically ill thinking about the Shoes of Prey experience, so when I came back to Australia I thought I'd work for another meat alternative company," he says.
"Initially I looked for jobs in the meat alternative space and there really weren't any. There were two or three-person startups or bigger food companies exploring the space with maybe half a person working on it, and there were no jobs for a washed up entrepreneur."
At the same time, he was repulsed by the idea of not working in the sector whose philosophy he had so firmly embraced. This is when Fox became an entrepreneur again.
"I managed to convince myself to start a meat alternative business, and thought that in doing that I'd meet everyone else in the industry who I hadn't met before, so if the startup didn't go well then hopefully a job would come up," he says.
"That's how I picked myself up and tricked my brain into starting a business again."
The first step was to explore potential ingredients. To do that, Fox reached out to chefs who commonly recommended mushrooms as a base ingredient for a meat alternative.
"Mushrooms are obviously very healthy - they've been used in traditional Chinese medicine for thousands of years, and there's a lot of Western science and academic literature on all the health benefits of mushrooms," he says.
"And they've got a lot of those meaty, umami flavors in them naturally. Fresh mushrooms don't quite have the texture of meat, but they're fairly close," he says, adding the use of dried mushrooms improves the likelihood of mimicking that texture and flavour, in addition to being easier logistically for shipping.
The entrepreneur explains at least five people encouraged him to contact Jim Fuller - someone who fits in the rare Venn diagram intersection of fine dining chef, mushroom scientist and chemical engineering.
"As Jim describes it, being Texan, not eating meat he had this emotional void in his life when he was vegan for a year, and so he started making delicious meaty food out of mushrooms just for himself," Fox says.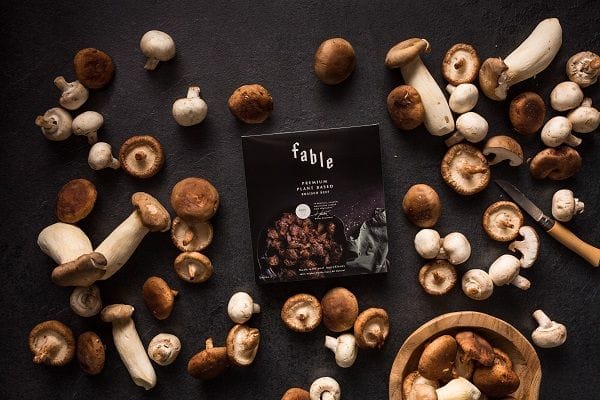 Fuller came on board with Fox as a co-founder of Fable Food Co in 2019, as well as Chris McLoughlin who at the time was the owner of organic mushroom farming company Mycelia Organics. He did however have to convince them first.
"They could clearly see I was very passionate about the space. They definitely had questions around Shoes of Prey. Why wasn't that a success? What do you think happened there? Why do you think this one will be?" Fox says.
"I think what helped was quite a few of our Shoes of Prey investors, I stayed in touch with them and had conversations about the meat alternative space. A few of them had made it pretty clear that if I could get some good technical co-founders and get a business off the ground then they would be interested in investing in that.
"Hearing that was enough to get Chris and Jim over the line. There were people who had lost millions of dollars on Shoes of Prey because the business wasn't successful, but they were not blaming me for that. It was the opposite - they were keen to back me again," he says, highlighting the early support of Blackbird Ventures and Mike Cannon-Brookes family office Grok Ventures, which both led Fable's $1.5 million pre-seed round.
When asked whether McLoughlin's farm could be used as a supply source, Fox explains its impracticality for Fable's mission given the operation produces more common varieties in the Agaricus genus of mushrooms. Unfortunately, these varieties don't quite meet Fuller's requirements to recreate a fungus-based version of his beloved slow-cooked Texan meats like pork and braised beef and beef brisket.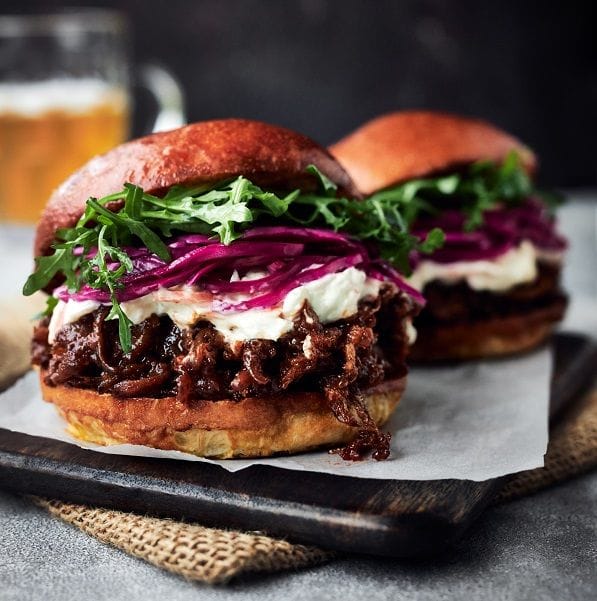 "The best mushroom that works for recreating those sort of meats is Shiitake mushrooms, and Shiitake mushrooms are the most commonly grown and eaten mushroom in Asia," Fox says.
"They are native to Japan and started being grown agriculturally by the Chinese about 3,000 years ago, so a long history of being grown and eaten in Asian countries. There are not many Shiitake mushrooms grown in Australia.
"It's a very different mushroom to grow. Agaricus mushrooms grow on kind of straw and manure, whereas Shiitake mushrooms grow naturally on logs; when they're produced at scale they take sawdust and off cuts from the timber industry to press them into logs to grow on, so it's a very different substrate and growing method."
From his experience with Shoes of Prey, Fox had learned the importance of reducing capital expenditure, so whilst growing Shiitake mushrooms in Australia would have technically been possible it would have required significantly more funding and patience to achieve.
"Thinking about how we were going to scale the business over the longer term, it didn't make sense to grow the mushrooms ourselves as that requires a lot of capital and takes time to build and expand mushroom farms. We wanted to work with existing farms sourcing mushrooms because we can see that would be a much faster scale business," he says.
"Jim had spent a lot of time working as a mycologist in Asia, so we started talking and connecting to some of his farm contacts, and we found some good farms in Asia to work with to source the Shiitake mushrooms."
With recipes created in a development kitchen north of Melbourne in Wallan, Fable Food's sumptuous range of 'meaty mushrooms' and mushroom-based burgers are produced by three co-manufacturing partners in Malaysia, while talks are ongoing with potential manufacturing partners in Singapore and Europe.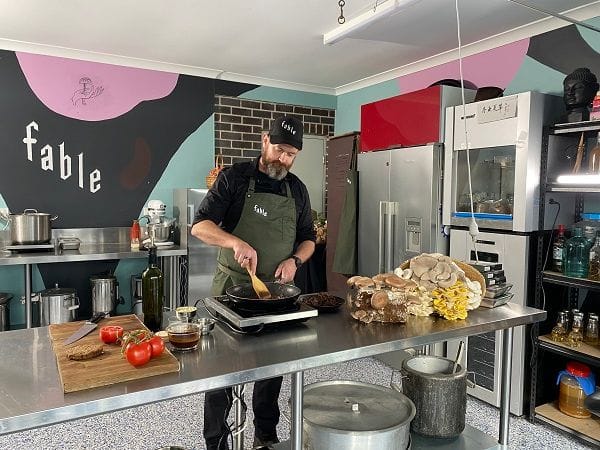 Foodservice is currently the main focus for the group, servicing chains such as Guzman y Gomez, Grill'd, Acai Brothers and Fishbowl, as well as delivery services such as Marley Spoon and Dinnerly.
"Our primary focus is operating at the more premium end of the foodservice market. We have a good couple of hundred independent restaurants - a good example is Bad Hombres in Surry Hills in Sydney, The Winery in Surry Hills, Bungalow 8 in the city," says Fox, who himself lives on a 41-acre property in the Sunshine Coast where he grows some of his own food.
"Our first customer was Heston Blumenthal, the British chef."
The company has also expanded overseas, particularly in the UK where it had also previously been selling at Heston's venues.
"Last year we started to gear up to launch into other international markets, so we now have two team members on the ground in London, and we've launched much more broadly into the UK," Fox says.
"We went into Vurger Co, a small vegan burger chain in the UK, for a limited time offer with Leon for a 70-store restaurant chain, and then just launched into Gousto - they're a meal kit like Marley Spoon.
"For the US market we launched into a vegan chain in New York City called Beatnic, who have 10 stores in NYC and Boston. We launched with them in November, that's going well. Then we've got a couple of other big launches coming up early this year."
Fable has also entered the Singaporean market with premium salad chain Salad Stop.
"We've launched into all three of those markets now and have a pipeline of launches coming up, so that's where a lot of our growth will come this year."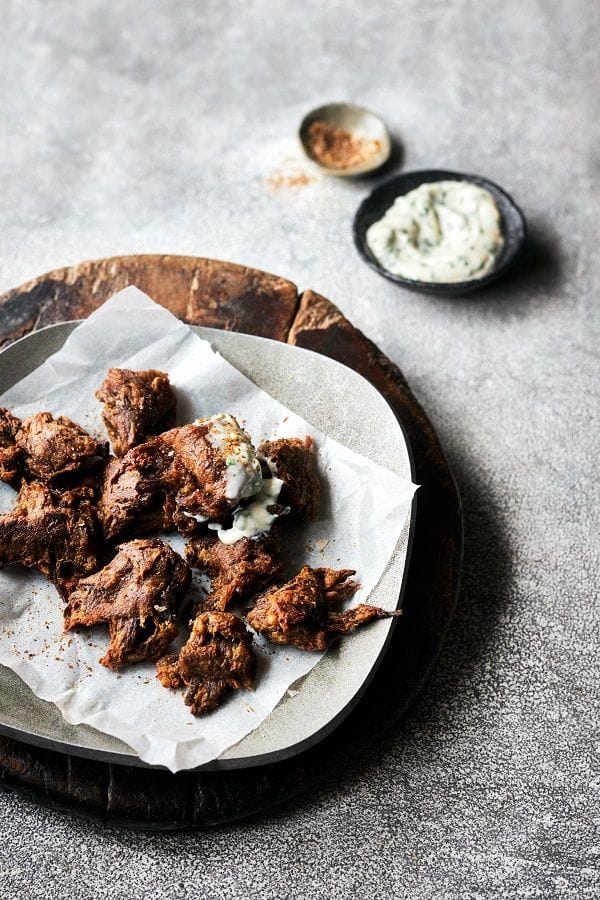 The company has also achieved an enviable retail stocking range in Australia, although the segment is small compared to the foodservice division.
"It's not a core focus for us, but with COVID we sped up our launch into retail. We launched early in 2020 with Harris Farm Markets and put our Meaty Mushrooms into their stores, and we're also in Woolworths and Coles. We're probably in a bit over 1,000 retail stores in Australia," he explains.
"We're producing about 60 tons of product a month at the moment, and that's across our two main SKUs (stock keeping units) – our Meaty Mushroom products and our burger patties."
When asked about supply chains for sourcing products, Fox says the current situation has been a challenge but hasn't created any major disruptions.
"International logistical shipping times have increased greatly at the moment, shipping costs are up five even 10 times where they were a few years ago, so that impacts our lead times and our margins," he says.
"That's for both shipping the raw materials, manufacturing, and shipping finished products to our customers, but we've been able to manage all of that OK.
"We've factored in the longer lead times and we just have more product on the water and being shipped. So it increases our working capital requirements and the amount of inventory that we've got on hand, but it's manageable."
That's the price you pay for flexibility, and goes part in parcel with Fox's approach to cost control in a bid to make the $6.5 million seed round funding raised last August last as long as possible.
"One of my learnings from the Shoes of Prey experience is to ensure you've got a product-market fit before you try and expand rapidly," he says.
"Shoes of Prey was a little bit more difficult because we had to build our own factory because no one else could custom-in shoes. We had to make that big capital investment, but we purposely structured Fable to not require that.
"We're keeping it with no big capex expenses. It's a tight lean ship, we're only 13.5 full-time equivalent employees, and we've been able to grow without burning too much capital out."
He concludes that ultimately, he'll be happy if Fable Food Co plays its part in accelerating the adoption of a healthier, more sustainable and more ethical food system.
"Our food system has gotten really out of control over the last 30 or 40 years with kind of mass mass production of food products that contain a whole bunch of artificial ingredients - industrial animal agriculture and factory farming is kind of abhorrent for a whole bunch of reasons, for our health, for the environment and ethically.
"We're passionate about creating a sustainable food system," he says.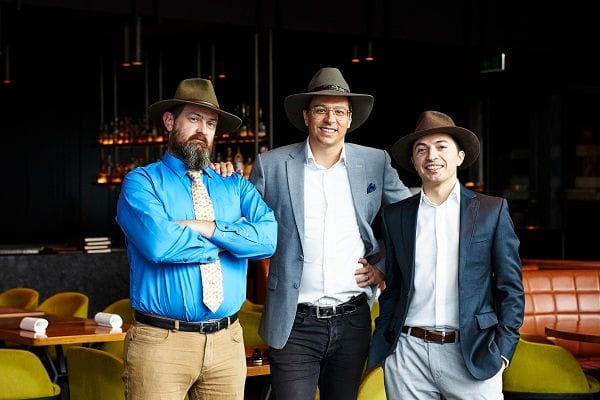 Get our daily business news
Sign up to our free email news updates.
Help us deliver quality journalism to you.
As a free and independent news site providing daily updates
during a period of unprecedented challenges for businesses everywhere
we call on your support