PEOPLE say that starting your own business is one of the greatest challenges you can face. Edward and Rebecca Plant, partners in life and business, have taken that statement to the next level.
Together the Plants run a coaching program called Lead a Better Business which helps couples build sustainable and profitable businesses that create freedom to work less and play more.
However, the Plants say that being in business with your partner presents its own set of unique challenges.
"You wake up together, you work together, you may be raising a family together, you're each dealing with your own pressures at work and at home, you each have your own ideas and opinions, you eat dinner together and go to bed together every day," says Rebecca.
"Being partners in business and in life can either leave you wanting to throttle one another or, if played well, affords you super power status. We love to shift couples towards the latter, and watch the magic unfold."
As a married couple with two children and three businesses, the Plants well and truly understand that mixing boardrooms and bedrooms creates additional pressures and unique challenges.
Fortunately, they've road-tested the best strategies to overcome those pain points.
Edward is at the forefront of the strategy team, having built his leadership skills for 17 years as an Officer in the Australian Defence Force, while Rebecca's background in media, marketing and strategy complements this formidable skillset.
Together they have been supporting business owners for more than seven years.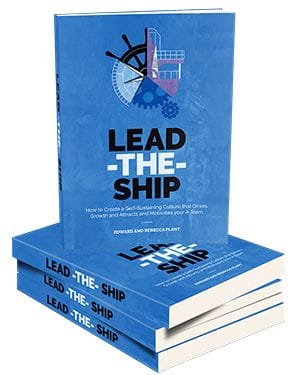 Their ground-breaking leadership strategies are the subject of best-selling book, Lead-The-Ship, a guide on achieving freedom and growth in business through better leadership.
The book draws heavily on Edward's experiences in the Australian Army, mastering skills such as training large teams and teaching individuals how to operate as a cohesive unit in stressful situations.
Working closely with small-to-medium enterprise (SME) owners for many years, The Plants have identified that almost any problem faced by SMEs boils down to leadership.
"We realised that there are a lot of businesses out there that don't have the leadership skills to run their business to its full potential," says Edward.
"Our skills and training in diverse backgrounds has allowed us to create a program for SMEs from a behavioural analysis perspective.
"We teach them how to lead a team, create culture, develop organisation skills and find what sort of messaging and communications elements are required in their business for it to have longevity and impact."
The three biggest challenges that SME owners seek coaching and strategic support for are around time, staff performance and growth management.
"The first problem is to do with time," says Edward.
"Business owners are overworked, pulling long hours, and they don't know how to change that."
"The second problem ties into that, which is underperforming staff. This is where business owners have brought on quality people who simply aren't performing to the standard required, which means the boss has to spend more time fixing problems in a completely reactive way."
"The final issue is growth management. Most of our clients are growing rapidly and are struggling with that fact, as they don't have any time to spend on a business that is spiralling out of control."
In their work with clients, Edward and Rebecca draw on the foundations outlined in Lead-The-Ship to identify several ways that SME owners can regain control.
It begins with building three essential pillars: endurance, essence and energy.
According to the Plants, a key component to fixing any business in the short term is strategizing for the long term.
"When it comes to giving a business endurance, every owner needs to stick to a strategy and vision in order to create something that is self-sustaining," says Rebecca.
"The second component is essence. Business owners need to realise that it's not just about having their staff tick the boxes - it's about creating jobs that they are committed to and not only beingmotivated by money.
"Finally, it's about the energy. It's about getting the right person and creating different ways to support and manage that person, so that they will be able to do better work for you."
The Plants' strong track record in supporting husband-and-wife teams to create more money, more time and more freedom has earned them a reputation for real results among couples in business together.
For example, when Warren and Naomi were referred to Edward and Rebecca they were at breaking point.
Warren was working 85+ hours per week, he was physically exhausted and highly stressed while Naomi was caring for two young children, running the household and working in the office at night.
By setting up a clear plan and implementing the right strategies, within six months Warren reduced his working hours by half, revenue increased by 30 per cent, he plays golf every Friday and is free to help Naomi with dinner and the school runs.
You can read more about the benefits of working with Lead A Better Business at www.lead-better.com.au or pick up a copy of Lead-The-Ship at www.lead-the-ship.com.
Help us deliver quality journalism to you.
As a free and independent news site providing daily updates
during a period of unprecedented challenges for businesses everywhere
we call on your support