LYING in the emergency room, Maria Faalafi never thought she could champion and shape a business around the concept of good health.

Faalafi (pictured left) had just quit her job as an engineering drafter, unable to work because of persistent migraines and digestive issues, chronic fatigue, severe depression and panic attacks "that felt like heart attacks".

Her head was injected with anaesthetic to relieve the pain - but the worst part was - it was idiopathic. Countless doctors and specialists, and not one could identify a cause.

"They would run tests and could only conclude it was a really severe migraine," says Faalafi.

"The migraines were so severe that pills wouldn't even work."

Faalafi is now back on her feet, opening Green Bees Organics in West End last week after an extensive market testing period, as an extension of the commercial kitchen she purchased in the same precinct last year.
Green Bees Organics is an ethically sustainable business from the store fit out, carved by her carpenter husband (pictured right) from recyclable materials, and right down to Falaafi's own core - which she admits used to be "very bad".

The café is refashioning fast food, replacing 'diet' colas with green smoothies, and starchy pasta with zucchini spaghetti. This is all while keeping in line with fast food's evening trade, unlike most of its counterparts in the Brisbane region.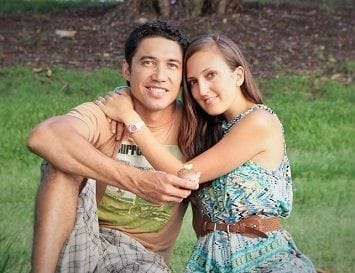 Faalafi has reinvented the wheel of rich South American and European food that she grew up on, eating gluten and organic, as well as dairy and refined sugar free.

She has come to realise that her ailments in part stemmed from gluten intolerance and hyperglycaemia, the latter making her feel like she was "running a marathon while lying down".

Although Faalafi is a picture of good health now, getting to where she is today hasn't been through a simple diet change.

"I quit my job because I literally couldn't work and felt like I was being unfair to my employer, and my husband also lost his job at the time we had a mortgage," she says.

"We wanted to change the negatives into positives so went to the bank with our business plan in hand but they said they couldn't help us because we couldn't pay off our house within two years."

Faalafi says with no money or jobs, but a business dream in mind, they took to renovating their house through her husband's carpentry expertise.

"We didn't even have enough money to sell the house through an agent, so we had to do it all ourselves," she says.

"We marketed it and then for $500, put up an asking fee on a website - we came out making $90,000 extra and that's how we bought the commercial kitchen."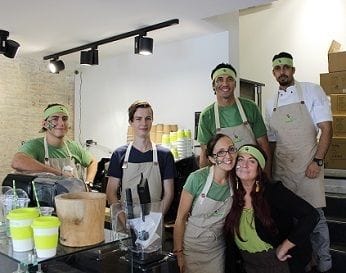 The Greenhive Kitchen opened a year ago behind what was a vacant shopfront in West End, which is now Green Bees Organics. Faalafi opened the kitchen due to Brisbane City Council stipulating that food sold at market stalls needs to be produced and stored in a commercial venue.

There is also the somewhat 'accidental' succession plan, where chefs renting space are on Green Bees Organics radar.

"It was always the intention to open the café down the track following the kitchen - it was the ideal opportunity to raise capital from renting space to other businesses and testing our recipes at markets first," says Faalafi.

"We have really good tenants, one of them at the moment is the Institute of Cooking - we have actually hired one of our chefs from there."

Faalafi says the more transparent she becomes about her business and personal journey, the more others have opened up to her too.

"I have random people calling me up and asking if I need support with the business," she says.

"I really want to help people get better because there are so many people that are ill and don't know what's wrong with them.

"Taking different pills from the chemist isn't the best way food is honestly the best medicine."


Get our daily business news
Sign up to our free email news updates.
Help us deliver quality journalism to you.
As a free and independent news site providing daily updates
during a period of unprecedented challenges for businesses everywhere
we call on your support