In the wake of its failed IPO WeWork has become synonymous with hyped-up Silicon Valley bro culture and corporate misgovernance, teaching investors that adding the word 'tech' to your business description is no panacea.
As the commercial real estate services giant's problems unravelled on Wall Street, its impacts had already been felt on the other side of the world where a much smaller Australian multinational competitor had been forced to radically change its business.
WeWork's mere existence prompted what the Austrian economist Joseph Schumpeter once described as creative destruction, defined as the "process of industrial mutation that incessantly revolutionises the economic structure from within, incessantly destroying the old one, incessantly creating a new one".
When WeWork launched in Australia with its first office at Martin Place in Sydney in October 2016, Servcorp (ASX: SRV) founder and CEO Alf Moufarrige was watching closely.
That wasn't hard to do. Servcorp's head office was and still is on the same square in the MLC Building, and in that moment Moufarrige's company was edging towards record highs for its share price at around $8 a pop.
Not bad considering the group listed at $1.50 in 1999 and had been generous with dividends. Investors were bullish over a serviced office business model based on providing all the necessary infrastructure small business owners needed to compete.
There was nothing particularly flashy about Servcorp's offices with a nondescript and functional aesthetic. Receptionists were provided to answer the phone, and members could have IT infrastructure with unique password wi-fi, print-ready printers and switchboards to allow cheap calls to Servcorp members overseas.
In addition, Servcorp has more due diligence to make sure all members are bona fide businesses to "make sure they're not out there money laundering or trying to con the population".
But Moufarrige quickly learned functionality wasn't enough.
"It started when WeWork moved next door to Servcorp in the MLC Centre," Moufarrige tells Business News Australia.
"We studied them and they were outselling us eight to one. I looked at it and thought 'we're never going to sell office space against this monster unless we change'."
"That day I sat down on Martin Place, had a cup of coffee, and made the biggest commercial decision I'd ever made in my life."
That decision in mid-2017 was to spend $20 million on upgrades to Servcorp's offices.
"We just happened to have the cash and I was saving the cash because I thought I'd be able to take somebody over one day, but instead of that I had to change Servcorp to compete with WeWork," he says.
"It was a pivotal moment that cost me so much sleep."
Those refurbishments were only slated for a portion of Servcorp's global offices to test the waters, but they quickly sparked sales rises and upgrade expenditure tripled.
"We put $60 million into making over our centres across the globe because WeWork looked and felt a lot better than Servcorp," says the 78-year-old.
"We've copied the look and feel of WeWork but instead of doing it in plastic floors that were timber copies and vinyl, we did it in leather and granite.
"WeWork says that its floors cost US$2.6 million. Our Nijubashi (Tokyo) floor cost US$8 million."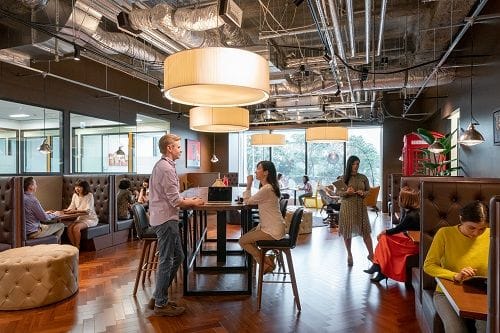 While these transformations were underway the Servcorp share price was heading south, the pressure from WeWork leading the public to question whether the Aussie company would make it.
In March this year Servcorp shares had slumped to a $2.55 low, but as Servcorp's replanting starts to bear fruit the price has surged almost 70 per cent since then to $4.33 each today.
Now that the right changes have taken place in the business, Moufarrige is optimistic when asked about Servcorp's survival.
"Survival's not a problem. If you look at Servcorp, nobody else offers virtual office or co-working with the same suite of products that we do," he says.
"The difference is that we already have 50,000 co-workers on 150 sites so that the average number of virtual co-working members per site is way above what anybody else has.
"What Servcorp's done is built the infrastructure that makes a one-to-20-staff businessperson's life comfortable, whereas WeWork's built a warm and fuzzy look and feel but there's no underlying infrastructure. They just take people from Starbucks and put them in the sky, to put it very simply."
Nonetheless, the entrepreneur is grateful to the US giant for making him aware of new opportunities.
"I'll unashamedly say that WeWork gets knocked all the time but it created a market we didn't know existed," he says.
"But we don't see WeWork now as a competitor because WeWork's going for enterprise business of 30 people and above; we're for 20 people and below."
He says the company is now placed to have a record free cash year at around $65 million.
"We've never done that before. We didn't do it when we were at eight bucks [a share]," says Moufarrige.
"A share price is just a value in a click in time and everybody looks at us and says it's $4.30, but 18 months ago we were worth $2.70.
"The Australian community has a great deal of trouble believing that a little Aussie multinational can survive against the competition. If you have a look at ServCorp, it's not even valued at three times its revenue, because three times its revenue will be close to $1 billion."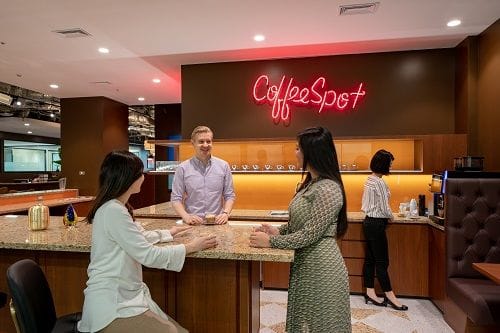 US challenges and succession planning
At the company's recent AGM, Moufarrige said Servcorp was booming internationally yet there were problems in the USA, where he believed the business was at rock bottom.
"If we can't turn it around in the next six months I will take drastic action," he said on 13 November.
The executive is cautious when asked about the reasons behind the US challenges, but for the most part it's about the culture and marketing.
"We can't enforce Australian standards on Americans," he says.
"You must market to the Americans as an American company and I don't think we do that yet."
It was also announced at the AGM that chairman Bruce Corlett would be leaving, and Moufarrige also alluded to his own eventual exit from the CEO role.
"I keep being asked about my succession plan. I previously decided I wasn't going to die - I got that line from the guy who ran WeWork," he said.
"But I am now seriously looking at who is in the market and within Servcorp for somebody to take a lot of the responsibility."
He tells Business News Australia he has two people in mind for the role, but it depends how "fast they come along".
"I've got to look sometime in the next 12 months and really make some decisions - maybe 14 months," he says.
"The fact is I'm really fit, I don't get sick very often and I'm pretty happy at work - I'm just a bit unhappy that I haven't yet got America to work.
"When I hand this over, and I may not be able to, I would like to hand it over with every area working."
Never miss a news update, subscribe here. Follow us on Facebook, LinkedIn, Instagram and Twitter.
Business News Australia
Get our daily business news
Sign up to our free email news updates.