The owners of classic Brisbane nightclub spots The Met and GPO will soon open their second restaurant as part of a diversification into the gastro-pub hospitality space.
As a sign of the times in a city that has seen its nightlife joy "smashed" by rigid ID scanning laws, earlier last drinks and the banning of straight spirits, Revelry Entertainment changed its name this year with plans to launch food and beverage venues in central historic locations.
As a combination of their wives' names 'Cecilia' and 'Melissa', co-founders Trent Meade (pictured right) and Matt Blyth (pictured left) decided on the new name 'Celissa'
"They've been enormous supporters of ours. The last seven years have been big and we've been growing - they've given us our families, and our core values as a company are all key attributes of theirs," says Meade.
A very romantic gesture indeed, and one that followed a sobering decision in a challenging environment that likely accelerated plans for expansion.
"The Met and the GPO. Regardless of whether you love them or hate them, everyone knows them. They're institutions in Brisbane," says Meade, who along with Blyth recently won the
Brisbane Young Entrepreneur Award 2018
in the Hospitality, Tourism & Events category.
"But we kind of felt that for a long time that pigeon-holed us into being in that nightclub space and we always had greater ambitions in hospitality to be more diverse than that.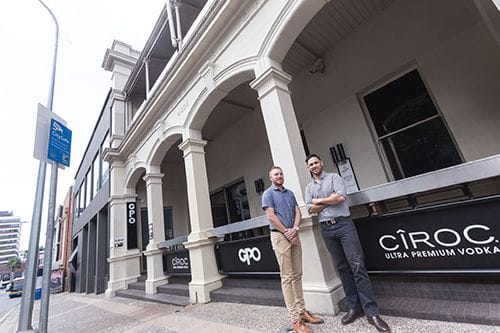 Trent Meade and Matt Blyth outside GPO, Fortitude Valley
"Our industry has been smashed by government legislation right across the country, but in Queensland it's been pretty brutal with not a lot of consultation and common sense applied. It was about getting through those changes."
The pair have good relationships with property agents in the river city, and that means "the phone rings pretty regularly with opportunities".
"This one at Post Office Square popped up, and I thought it was well worth looking at because there aren't many unique green spaces in the heart of the CBD anymore, and I thought that was something that we could make our own," he says.
The result was the April opening of Isles Lane on Post Office Square in the CBD, and what has followed since is the development of Beirne Lane which is set to open in late October or early November on the Brunswick Street Mall in Fortitude Valley.
Meade hopes the Valley doesn't lose its underlying organic edginess but recognises some changes will inevitably occur, particularly considering population density.
"We don't see that in Fortitude Valley with the daytime economy, but that's coming with all the residential towers there, businesses are moving their head offices into that area, and in the last seven years that landscape has changed substantially," he says.
"So we've taken just under 500sqm at the base of the TC Beirne Building on the Brunswick Street Mall."
Creating icons
The building is named after Thomas Charles Beirne, an Irish-born Brisbane businessman and politician who also had the University of Queensland's School of Law named after him.
"I thought this is a site I want to be a part of, because there's so much history there. Maybe we can take a lot of that inspiration and put it into the new venue," he says.
The end goal in all these projects is not just to have businesses, but also to create icons.
"Everyone knows Post Office Square, and that's right in the middle of the financial district in the CBD. And Beirne Lane is right in the heart of the Brunswick Street Mall with a lot of history and a beautiful rich old building.
"It's about iconic first and the ability to drive volume second. Those are probably the two things that make the most amount of sense to me."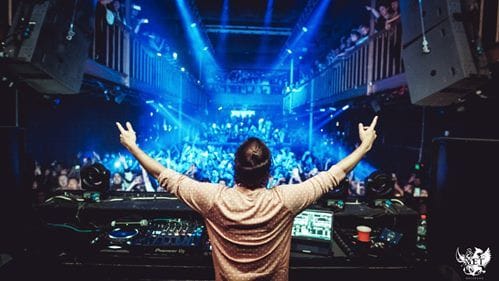 The Met, Fortitude Valley

Lessons learned from the GFC
Meade and Blyth learned some difficult lessons before their first foray into the hospitality sector, and the classroom was property development during the global financial crisis.
"Personally, my background was in banking and finance, and from there I moved into a financial planning firm where I was doing some property-related work with the firm's clients," says Meade.
After that he and Blyth got involved with property projects, and it was through a planned townhouse project that both young entrepreneurs learned the value of cash flow.
"It was one of the biggest learnings of our lives and it happened early, which is good I suppose," says Meade.
"This big thing called the GFC came along in 2008 and it was a big lesson in that we really learnt the value of cash flow and having businesses that are providing that cash flow for those types of projects.
"At that time commercial rates were 10 pe cent and above and we were funding those projects out of our own back pocket. Then the GFC came and all the local developers were struggling to sell their retail stock, let alone looking at buying more wholesale sites."
Meade and Blyth had a material change of use for a block where they wanted to build townhouses.
"Generally speaking when you do something like that you're substantially enhancing the value, but at that time that didn't really occur which stunted our ability to proceed and build those eight townhouses," says Meade.
"We were holding that site with what was in our back pocket. The first big lesson for us was that we needed cash flow.
"I really cracked it after that I was really disheartened and I'd been working hard for such a long period of time; I said I just want to have a break and do something completely different."
Meade then started a masters in a totally different field - physiotherapy - but a couple of years in he received a fateful call from his former business partner.
"Matt called me and said 'the GPO's up for sale, what do you reckon?' I thought sure, I think we can do it. I suppose the rest is history."
Never miss a news update, subscribe here. Follow us on Facebook, LinkedIn, Instagram and Twitter.
Business News Australia
Help us deliver quality journalism to you.
As a free and independent news site providing daily updates
during a period of unprecedented challenges for businesses everywhere
we call on your support