It can be easy to gloss over the word "innovation".
It has become an ultimate buzzword, rolling off the tongues of business commentators and professionals alike.
While the word itself may be overused, academics at The University of Queensland (UQ) say it is possible to take what many may regard as a "vague concept" and turn it into a practical destination for entrepreneurs and business leaders.
Associate Professor Tim Kastelle, Director of the Master of Business Administration (MBA) program at UQ Business School, says the nature of business is changing rapidly. The key to staying ahead of the curve is to recognise what positive change needs to be done and then take the steps towards making that happen.
"There are very few high performing organisations that aren't also highly innovative," says Kastelle.
"It's central to surviving. It is important as an organisation, but at the individual level I think the idea also applies."
According to Kastelle, it is vital for business people to embrace the fluid nature of shifting markets or risk getting swamped by a sea of savvy competitors.
"Too many people want to make their organisations more innovative without going through the pain of actually changing anything. This does not work."
Kastelle says there is one simple idea that will do the job, and it doesn't involve buying major software or hiring "someone like me" to give an "inspirational talk".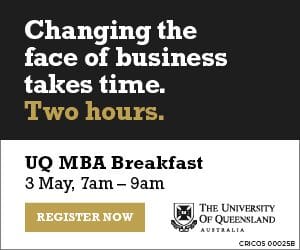 "Try out lots of new ideas to see which ones create value, then scale those up.
"The problem is that to do this, you have to change the way you act. Which, of course, you must, if you want to be innovative.
"There's no shortcut. That's why so few organisations are genuinely innovative. To achieve this, you have to test and then follow through."
In developing Australia's No. 1 MBA program (The Economist 2017 MBA Ranking), Kastelle says taking the right approach to innovation can be learned. The world's leading companies have achieved their success by steering their business, and their people, down this road.
Interested in learning about the UQ MBA program? Register for the upcoming MBA info breakfast or live webinar on Thursday, 3 May.
Never miss a news update, subscribe here. Follow us on Facebook, LinkedIn, Instagram and Twitter.
Business News Australia
Get our daily business news
Sign up to our free email news updates.