THIS might be the solution to the housing affordability crisis, but Australian banks aren't having a bar of it.

John Christie and Hunter Thompson, the founders of Gold Coast company MOD-N, are trying to help people break into the property market, which is peaking at unprecedented levels in many Australian cities.

The business duo, one a Bond University MBA student and the other a Bond Masters of Urban Development alumnus, believe their modular homes offer plenty of upside with no downside.

Christie has already gained traction with the product back home in Austin, Texas, where he is rolling out a 17-acre subdivision, but says the Australian property market is a lot more difficult to contest, making it ripe for disruption.

"Doing things traditionally, you would develop the land and drop the concrete, which would take around a year with interest to be paid on that," says Christie.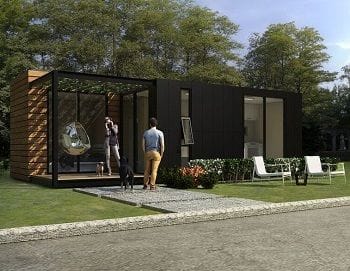 "With us, you can literally develop land in eight to 12 weeks and simultaneously have your home ready in eight to 12 weeks and then ship it out. It saves at least six months and the product is a lot more affordable.
"It's also a lot easier to stage developments, so if you have a buyer and the community isn't taking off, people can move and take their homes wherever they want to go."

A MOD-N modular studio starts at around $30,000 and the top-end three-bedroom goes for about $118,000. Modulars can easily be connected, with one builder recently using 18 containers to deliver a six-bedroom 'modular mansion'.

In addition to developing in Austin, the team has already been commissioned to deliver individual projects in Brisbane and New Zealand.

Co-founder Hunter Thompson says it's currently 'the perfect storm' for MOD-N - but the banks aren't having it.

A MOD-N home in the Gold Coast Hinterland has already been blocked from funding.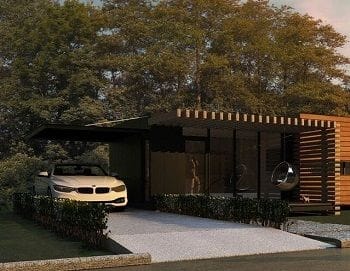 "It's so hard to find a house for under $300,000 and normally, if you can, you wouldn't even put your dog in it," says Thompson.
"It's sort of the perfect storm for us. It's a function of inflated land values in Australia and the red tape associated with building, on top of the building costs, so by taking out just one of those factors it will help a lot.
"All four banks shut us down though and just said they aren't financing modular homes at the moment. They will finance a $300,000 brick home but won't drop to $180,000 for a high-end home built off-site.

"No one seems to be pushing it because it's not in Master Builders best interests, who keep bricklayers and other trades employed if they do things the traditional way, and there's strong union pressure in Australia too.

"The only people who would really want to push are those who want affordable housing, but they don't really have the capability or lobby group to do so."

Working as a Naval Rescue Swimmer for almost a decade, and working five years prior to that, Christie built up a strong network in the US with a lot of government contacts.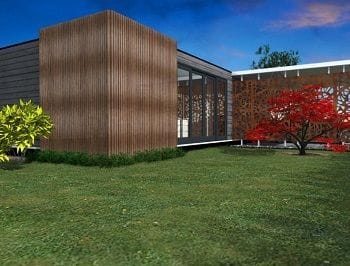 The disabled veteran says because of how the American housing market has unfolded in recent times, MOD-N has found it a lot easier to find American proponents than Australian.
"Before the Navy I also worked for around five years with high production homes in the States leading up to the sub-prime mortgage crisis," says Christie.
"I've seen the highs and lows, I'm a bit of an industry vet, and I know this industry is the right one to be in right now - especially with our price point."

Christie says once the design and blueprints are approved in the US, it's relatively easy to get the banks on board.
Fannie Mae and Freddie Mac are still fresh wounds, and so the subprime mortgage crisis of the mid 2000s makes US banks more inclined to get behind an affordable housing scheme like MOD-N.

In any case, many Americans go directly to a lender and bypass the bank.

"A lot of things are easier in the States," says Christie.

"We found all the fine-print in the US to quickly make moves conforming to local codes, and then with the building process, you only need to send one person out to get everything certified. In Australia you may have 15 certificates for various things like floorboards.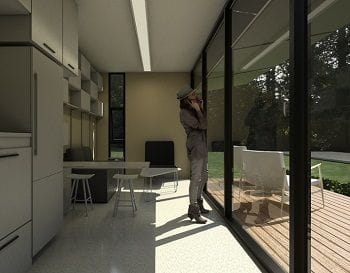 Through his connections, Christie says MOD-N is well positioned to supply affordable government housing in the US. He says developing a community for homeless veterans is high on the priority list and he is currently in talks with a contact in Washington DC about this.

However, the pair are still really focused on getting their idea off the ground here first and landing an Australian subdivision.

"Once we truly get going here, we're on the fast track to the States," says Christie.

Thompson adds that land isn't being efficiently used in Australia, paving the way for a concept like MOD-N to install granny flats on large blocks which could provide a secondary income to property owners.
"You could easily Airbnb that - the market is huge," says Thompson.
"Australians just get stuck in their ways, fixated on how the Australian dream should look, and are scared to progress. The country is also rough with red tape.

"I can buy a $30,000 car with little to no deposit and it will depreciate straight away - but at present you can't do that for a home like ours.

"Once we find a financing solution though, we know it will move a lot quicker."

Get our daily business news
Sign up to our free email news updates.
Help us deliver quality journalism to you.
As a free and independent news site providing daily updates
during a period of unprecedented challenges for businesses everywhere
we call on your support