THE art of customer service hasn't been forgotten by Generation Y.

But where good customer service used to mean phone hotlines, thankyou letters and following up with clients, now it means – well, all of those things – and more (free ice-cream included).

At least that's how business goes about at Beginning Boutique, a Brisbane-based online clothing store established in 2008 that means so much more to its customers.

"It's something we have always been passionate about," says Beginning Boutique founder Sarah Timmerman (pictured left) about running a modern business while still keeping traditional values.

"I have always been passionate about treating our customers like they are our best friends."

The sales figures reveal that having best friends like these pays off.

Timmerman and her team of 24 are resonating with 16 to 24 year old females on an exceptionally high level, a market responsible for much of the online retail expenditure in Australia.

This is against the backdrop of the retail sector, an industry growing at a small amount overall.

All of the Beginning Boutique year on year growth figures exceeded the 100 per cent mark including sales, with its Instagram page experiencing the highest level of growth at 725 per cent to reach more than 342,000 followers.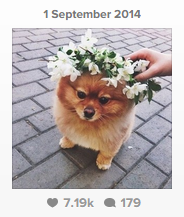 This is a business account where a picture of a puppy is posted and it accrues 7000 likes within hours (see right), a reach to the envy of even the most innovative businesses.

Puppies and fashion may not seem to mesh perfectly on the surface, but the Beginning Boutique strategy isn't haphazard by any means; every move is calculated.

The Beginning Boutique team knows its brand image inside out, and recognises a perfect fit for this image even if it's not the actual 'brand image' per se. It helps that Timmerman, only 28-years-old, was not too long ago her target customer.
MIRROR YOUR CUSTOMER
Beginning Boutique, affectionately (and shrewdly) referred to as the catchier 'BB', is big on maintaining an authentic voice.

By all accounts, this is largely responsible for the business blossoming in the saturated 'fast fashion' Australian online clothing market.

There is no separation between BB and its customers, as the team mimics them, if not is them already. Through its email and social correspondence, BB speaks to potential customers like it is catching up with a best friend.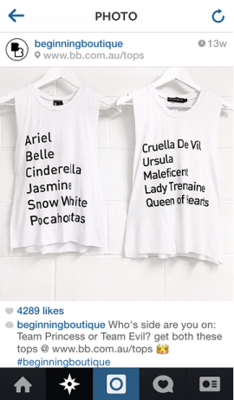 For the target market, this means colloquial chat, sharing relevant interests including clothes and pets, and a favourite among females – gifting – on any mildly appropriate occasion.

Through conversation alone, the brand is almost personified.

While the BB customer service team is the largest – at six to 10 staff depending on the season – Sarah often steps into the social media conversation herself and signs off on BB comments. It's a sure-fire strategy for connecting with customers on a deeper level, as we have seen in cases such as Domino's managing director and CEO Don Meij (a brand with the highest social media following in the ASX-200).

"I think the biggest trap that businesses fall into with social media is using it like they would a traditional advertisement," says Timmerman.

"There is no point being on there if you aren't willing to get personal – the appeal for a traditional advertising campaign isn't there on social media because it just doesn't feel authentic.

"While social media can be effectively run at lower levels of the business, I still think it is crucial for managers to be deeply involved in these conversations as this is their brand's voice being communicated to the entire world."

Timmerman admits trial and error does play a role in creating an authentic brand voice – and miscommunications will always happen, but these are all part and parcel of a friendship.

"Sometimes we fail when communicating and our social media followers make sure to tell us," says Timmerman, whose Beginning Boutique Facebook page has almost 460,000 followers.

"In saying that, we seriously welcome this feedback and make a conscious note of whether our customers think we have been boring, annoying, or have otherwise messed up.

"It's the risk associated with being exposed on social media, but I wouldn't have it any other way as it makes our brand that much stronger."
"ICECREAM FIXES EVERYTHING"
Understanding that fast fashion must mean fast for customers in every sense of the term, and the internet doesn't operate on a nine to five schedule, Timmerman regards a day of Beginning Boutique website downtime recently as significant in the scheme of things.

While most businesses would just alert customers to when online operations will resume, Timmerman made an announcement to not only apologise for the downtime, but also reward customers by the masses.

"I am not too proud of our website's uptime to draw attention to our downtime," she said in a statement, followed by announcing a partnership with ice-cream chain Movenpick. All registered BB customers were then sent a database email, their link to scoring a free ice-cream scoop on that day with no minimum spend.

What may seem like a small initiative was a big gesture in winning the respect of paying customers – literally making an appeal to their individual tastes.
DON'T CUT CORNERS
It may seem easy enough – give the people clothes, puppies and ice-cream and it pays off in dividends, but Timmerman says competition is forever complicating the path to success in online retail.

In an industry where it's getting easier to source cheap materials, and designer rip-offs are no longer fashion faux pas but rather commonplace, it can be hard to compete with competition who care about little more than capitalising on the target market's spending habits.

"I'm very lucky I entered the market early to be able to build up the brand, but it's still difficult to compete with stores who don't care about their customer and then charge less because of it – mastering the online world seems like a very easy business plan but this is so far from the truth.

"I could completely scale down my customer service team and cut significant costs if I didn't care about BB's customers but it's important to me not to do that," says Timmerman, who prides herself on sending out personalised handwritten notes to every BB purchaser with their order and quality checking each garment twice.

"Deciding whether the customers are going to back me on what we invest in is an ongoing challenge, because you can never be sure that what's important to you is important to them as well."
Get our daily business news
Sign up to our free email news updates.
Help us deliver quality journalism to you.
As a free and independent news site providing daily updates
during a period of unprecedented challenges for businesses everywhere
we call on your support