SHANE Primrose and Adam Harrison are playing a different game when it comes to entrepreneurship.

The football fans have teamed up to create Good Football, a social enterprise where for every ball sold, another is donated to a child in need.

Primrose (pictured right) says Good Football doesn't just tackle issues with health and fitness in developing communities, but also kicks the supply chain in the right direction.

The 26-year-old says inspiration for the social enterprise sprung years ago when visiting Kolkata.

"I was 16 and little concerned me beyond chasing footballs and chasing girls, but I met a monk and the lessons he taught me shaped my life for years to come," says Primrose.

"We then served in charity homes in Dayadan, where all the children had disabilities in one form or another and had been abandoned at birth or soon after.

"The street children were taken into these environments by the sisters, under the vision of Mother Theresa, and the value of education for these kids just cannot be understated. Time spent in the school grounds is time where they can free themselves from harsh realities.
"I recognised that football, or any sport, is a means to leave problems behind. Stepping over the white line for these kids would mean stepping into 90 minutes of freedom where nothing else mattered."
Primrose and Harrison came together for Good Football in 2014.

Both juggle full-time jobs, Primrose as a school teacher, and spend their evenings and weekends working on opportunities for the social enterprise. Harrison is currently in Africa visiting orphanages and mission hospitals.

The first benchmark for the social enterprise is launching a fully-functioning football store and the ultimate goal is expanding into other sports.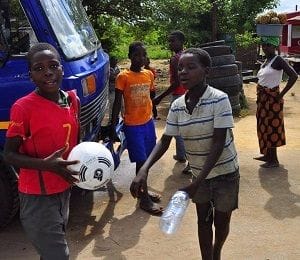 Primrose says the wider community's reception of the concept has been 'incredible'.

Big-name players have purchased from Good Football off their own bat and the social enterprise has scored Fair Game as a trading partner.

"W-League players have been really keen to lend a hand, which is great because football is a growing market in Australia and particularly among young girls," says Primrose.

"We've also had a few pro players pick up products and post on Instagram, and others getting in touch saying how much they like the product and asking what they could do to help.

"It's a bit of a boy dream, coming from a football background, and Fair Game is making everything possible for us because they operate in isolated Indigenous communities teaching kids about health and fitness. They generally collect used sporting goods to use in their programs so were beside themselves when we contacted them to distribute our new products."

Primrose says the next challenge is guaranteeing fair trade through every part of the supply chain.

"The first range of balls on our website are limited edition, machine-stitched, and were sourced in China so we did a lot of research," says Primrose.

"Match quality balls really need to be hand-stitched and there are only four factories in the world that do that with ethical accreditation.

"We need to be dealing with fair trade factories so we aren't solving problems at one end of the scale to source more at the other end.

"If you're going to be in consumer products right now, you really have to consider the true cost of the product because it goes far beyond what the customer pays."

Get our daily business news
Sign up to our free email news updates.
Help us deliver quality journalism to you.
As a free and independent news site providing daily updates
during a period of unprecedented challenges for businesses everywhere
we call on your support