Sydney-based women's health platform Kin Fertility is spearheading a campaign that has seen more than 50 companies offer additional leave and support for employees who experience a miscarriage.
Advocating for businesses to provide at least 10 days of paid miscarriage leave, the #WeNeedMoreLeave movement has seen the likes of Hotys, Linktree, Mr Yum, SafetyCulture, Blackbird Ventures and Square Peg upgrade their policies.
Speaking with Business News Australia Kin Fertility founder Nicole Liu discussed why many women might feel uncomfortable approaching their employer to ask for leave in the first place.
"When it comes to policies in general, if the entitlement isn't there to begin with you don't feel like you have the right to ask for more," 2021 Sydney Young Entrepreneur Awards finalist Liu said.
"When you think about miscarriage, there's almost this stigma or taboo when talking about it, so it's already uncomfortable to share."
Under current legislation, Australian companies are required to offer two days of paid leave in the case of a miscarriage.
While Liu notes the move is a step in the "right direction" she is determined to see businesses implement additional support without it being a legal requirement.
"We started with businesses because we thought they were in the position to make the most immediate change, and therefore have the most immediate impact," she explained.
"We really want to use the voices of businesses and the voices of the employees in those businesses to have a conversation with government and show this is actually something people want to get behind."
"A lot of companies are even taking that further. Instead of calling a bereavement leave or miscarriage leave, [they call] it personal leave and do not need people to disclose [their miscarriage]."
While many businesses joining the movement are allowing 10 days of miscarriage leave, some have also surpassed that timeframe.
Day Management - a 2021 Australian Young Entrepreneur finalist - offers 15 additional days of bereavement leave for miscarriages that occur before 20 weeks of pregnancy.
Global investment firm Square Peg gives employees unlimited paid leave for all bereavements, including miscarriage during any stage of pregnancy.
Kin Fertility's whitepaper Why We Need To Change Miscarriage Leave Policies in Australia found out of the 507 women it surveyed this year, 46 per cent did not disclose their miscarriage to their employer.
Of the women who felt comfortable enough to disclose their miscarriage, 72 per cent did not feel emotionally ready to return to work afterward.
"It definitely is life-changing," said Jen Vo-Phuoc, one of the women surveyed who did not take time off work, despite experiencing two miscarriages a few years ago.
Vo-Phuoc found she developed a lot of anxiety as a result of not taking leave.
"I didn't really talk about with anybody. I wasn't sure if I was justified in feeling what I was feeling. I felt really sad but then I felt a bit guilty for feeling so sad…I didn't really give myself the opportunity to process it."
Two days of bereavement leave was not available for her at the time, as the bill only passed in September 2021.
When she did open up about her experience in the workplace, she said it was "comforting" to hear some of her colleagues had also faced the same adversity, including males who were impacted by the loss of a baby. Through those discussions, it instilled hope she could have children as many others in her position had gone on to do so.
Vo-Phouc now has a two-year-old and is 27 weeks pregnant.
According to The Royal Women's Hospital in Melbourne, one in five women who know they are pregnant will have a miscarriage before 20 weeks.
"I felt quite shocked at how many people had experienced a miscarriage or two or three and that they carried on later," she said.
"It that showed me that it was a temporary state and that was helpful because it didn't feel good.
"I feel much more of aware things that can happen without you expecting it and the effect it can have on you."
The company behind #WeNeedMoreLeave
An unfortunate medical diagnosis for Liu four years ago became the driving force to create Kin Fertility, which initially began as a contraceptive pill subscription service until it diversified into fertility tests and a range of products to assist with pregnancy and postpartum.
While working as a management consultant at McKinsey & company, at 24 Nicole was misdiagnosed with Polycystic Ovary Syndrome (PCOS) by a doctor, and told she was going to be infertile.
"The immediate reaction was a sense of fear and anxiety," she said.
"I didn't even know if I really wanted kids but I think whenever something's taken away from you or you're told you no longer have the option - that's really scary. It very much felt out of my control."
When she approached a fertility specialist and discovered she was misdiagnosed, she decided to share the experience with her friends.
It was then that she realised the medical blunder she encountered was not a one-off event.
"There was a lot of frustration and anger - the more I talked to people about it and the more that experience was replicated, people were like: 'Oh yeah, me too.'," Liu said.
"My friends started talking about how they know a few people that went through the same thing, how after at least 10 consults, they got diagnosed with endometriosis and more.
"It just didn't sit right with me."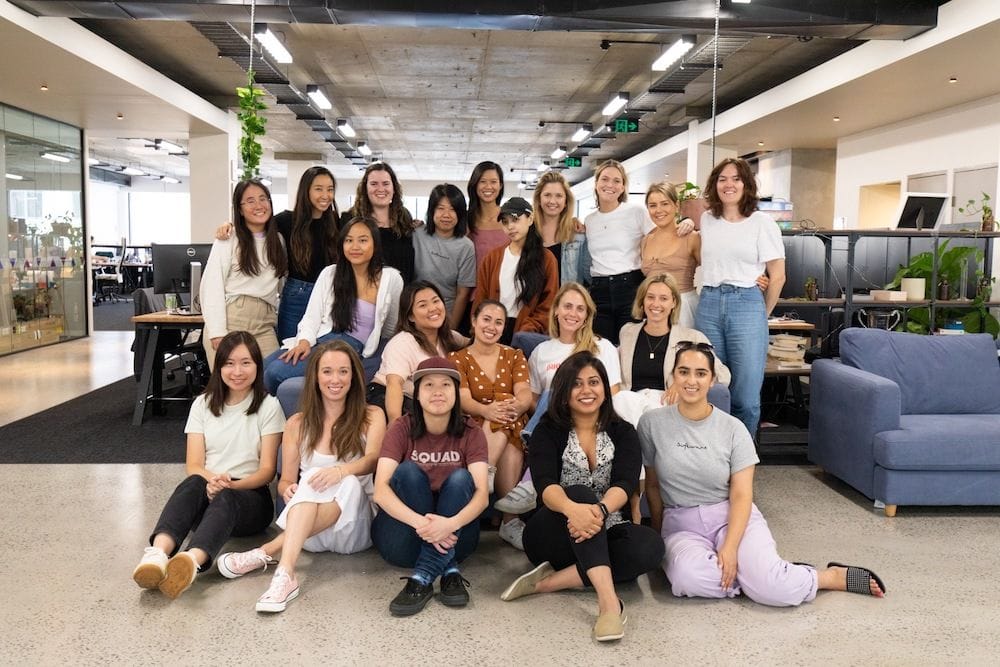 Kin Fertility Team (Provided)
Since launching in March 2020, Kin Fertility has amassed more than 50,000 members and launched a range of supplements to assist with conceiving, pregnancy and postpartum. The site also offers vaginal recovery kits, as well as bands and panties for mothers healing from a C-section.
Liu says Kin's shift into pregnancy products was almost like "starting from fresh" as the company spent 18 months on R&D to prepare its prenatal supplements.
At the same time, Kin was also working on its telehealth services, which currently consist of 20 doctors who specialise in women's health.
"We've got a lot of awesome patients who have joined us from contraception into their fertility journey as well, which has been really exciting," she said.
When asked about the potential for seeing Kin's products enter the wholesale market, Liu hinted it was on the company's radar.
"In the future, we really want to become more like a household name and get Kin out there on the physical land as well," she said.
"Definitely something to watch out for in 2022."
Get our daily business news
Sign up to our free email news updates.
Help us deliver quality journalism to you.
As a free and independent news site providing daily updates
during a period of unprecedented challenges for businesses everywhere
we call on your support