"Our foray into the North American market through Vancouver has been extremely successful, and in the next five years it wouldn't surprise me if we had a footprint in North America equal to that of Australia," says King Living CEO Anna Carrabs.
It has now been eight months since furniture maker King Living expanded its global footprint to Canada, where its Australian aesthetics and practicality have won over more customers than anticipated.
When Carrabs (pictured) joined the family-owned Sydney manufacturer five years ago, her brief from founder David King was to ask the following question of herself and the leadership team:
"How do we make this company still relevant in 100 years time?"
For a business that prides itself on the durability of its wares in an environment where cheap and replaceable is the norm, it makes sense that King would have a vision to leave a legacy for generations to come.
This doesn't necessarily mean delegating everything though, as King is still very involved on the creative side of the business.
"If you travel with him he'll have a book where he's constantly designing things," notes Carrabs, who says she and King are like Yin and Yang. He has the ideas for product and branding, and she sets up a supply chain and market for them to prosper.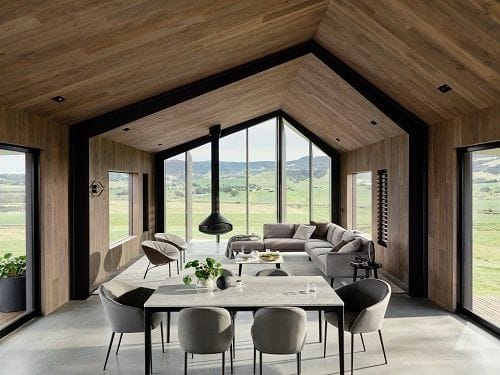 Building a global brand
What happens in a century's time is anyone's guess, but the common mantra for startups that you need to start global has been progressively applied to a manufacturer whose story began more than four decades ago.
"This is going to be my fifth year in the company, and my brief was to build an infrastructure to enable global expansion," says Carrabs.
Never has that goal been more evident than now. Building on the company's 25 years of experience manufacturing in China and 400 staff in its factory just outside Shanghai. A showroom was launched in the city December 2018, followed by an expansion into Canada in mid-2019 which has already borne fruit.
The group already had a strong presence in Singapore and New Zealand by then as well.
"We basically wanted to test it, and we thought the aesthetics and way people live in Vancouver were so similar to Sydney," Carrabs explains.
"The reality is when we go to a new market, whether it be China or whether it be Canada, it's a brand new product and people have just loved it.
"The big surprise has actually been Canada that has absolutely gone better than we expected. We've been in Vancouver but we're exploring where we can explore that footprint within Canada, and we're starting to make some headway into the States but that's something we still haven't strategically decided on."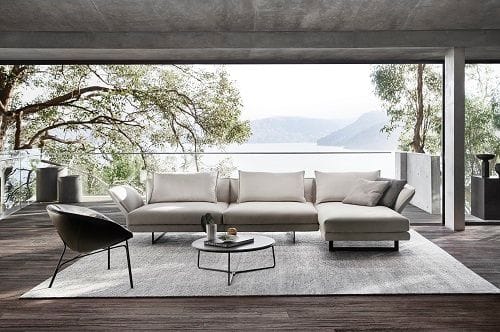 China is more of a long-term play as a market for King. It hasn't been smooth sailing and Carrabs believes there is still a lot more work to be done.
"But I suppose we've got a headstart because we've actually manufactured in China so we do have an understanding of how people buy furniture there," she says.
"We are a family-owned business and the culture of the business is about taking care of our team members. With this coronavirus in China I have daily contact with our people over there.
"We have worried about them and their families, we have actually been airfreighting goods that they don't have, and we've been doing that as a team. Family values are extremely important at the core of everything we do."
Carrabs estimates 15 per cent of King Living's furniture is currently sold outside Australia, but with the right systems in place she believes the balance between exports and domestic sales will shift substantially.
"How do I see that changing? Realistically, I think it's going to become more and more that we sell overseas," she says.
"Our foray into the North American market through Vancouver has been extremely successful, and in the next five years it wouldn't surprise me if we had a footprint in North America equal to that of Australia."
Oz chic
The executive believes what customers like about King Living's offering is its clean lines, the innovation in the designs, as well as a distinct "Australian aesthetic". But what does that mean in practice?
"It fits in with people's lives and can change with people's lives, but at the end of the day you are able to use the furniture," she replies.
"Australians want to use their furniture, they don't just want showpieces. They want to relax with their loved ones, with their friends, and I think that our furniture absolutely is built with that in mind."
In addition to its Australian designs, King Living also produces a small portion of its furnitures locally at its manufacturing plant in Tarella near Sydney Airport.
Never miss a news update, subscribe here. Follow us on Facebook, LinkedIn, Instagram and Twitter.
Business News Australia
Get our daily business news
Sign up to our free email news updates.