When people hear the word 'sales', they're inclined to think of cheesy people in fancy suits with the 'gift of the gab' that will do just about anything to push a product.
Whether warranted or not, there is a certain stigma attached to salespeople who have been tempered by decades of high-pressure sales tactics, told to 'always be closing' or 'play the numbers game'.
This type of sales training has solidified a level of distrust in the industry, a perception which Gold Coast entrepreneurs Ryan Tuckwood and Jack Corbett are on a mission to change.
The duo is behind multi-award-winning business ISR Training, a company founded on a simple but powerful principle they call the SWISH movement.
SWISH stands for 'selling with integrity and selling honestly' and in just four years both the concept and the company behind it have become national disruptors.
In 2017, Tuckwood and Corbett were named Gold Coast's Young Entrepreneurs of the Year for Social Innovation and named on the Gold Coast 40 under 40 list for the second year running.
ISR is a sales training organisation bent on dispelling the myth that all salespeople use underhanded sales tactics and only care about fat commission cheques.
ISR Training founders Ryan Tuckwood and Jack Corbett on Shark Tank alongside Steve Baxter, Andrew Banks and Glen Richards.
"In a nutshell, we help business owners, entrepreneurs and sales professionals increase revenue through ethical sales training, proving that there is never a need to lie, bully or manipulate to make a sale," says Tuckwood.
Tuckwood didn't initially come from the world of sales, however he found his first gig in the industry after coming to Australia from the UK in 2010 on a working visa.
He eventually hit a "crisis point" after realising that traditional sales methods weren't meshing with his own moral compass.
"The idea of annoying someone in the middle of their day or pushing something upon them that they didn't want or need made me cringe," he says.
"I remember the first couple of months were the most mentally challenging months of my life. Rejection after rejection made it hard to even get up in the morning and on top of that I was bottom of the board out of 21 staff, so everyone knew I was rubbish."
Rather than packing up and moving back to the UK, Tuckwood decided to take control of his situation, mastering everything there was to know about sales and negotiation including the principles behind emotional intelligence, body language, behavioural science and psychology.
This was where the foundations for ISR were truly formed.
It wasn't long after Tuckwood moved to Australia that he met his now business partner Corbett, another UK ex-pat and sales expert who had previously managed multi-million-dollar businesses from the tender age of 19.
The duo says they complemented each other perfectly, with Tuckwood's cautious and analytical nature from his background in enginieering coupled with Corbett's desire to break the mould and make everything bigger and better a winning combination.
So, in February 2014, the two decided they would embark on an ambitious mission to change the perception of sales around the globe, starting with the Gold Coast, a city they say is notorious for unethical practices in sales.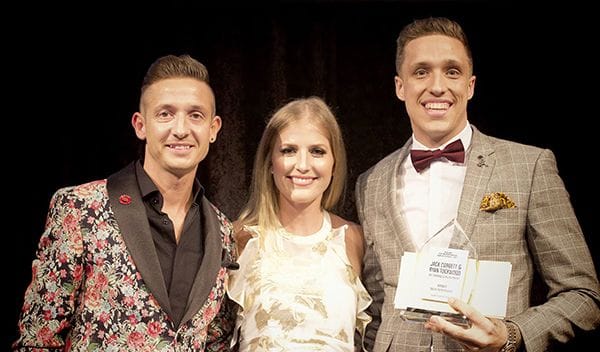 Tuckwood and Corbett take home the 2017 Gold Coast Young Entrepreneur Social Award, presented by Carla Tooma
ISR Training has since grown 100 per cent year on year and has imbued more than 3,500 successful salespeople and businesses with the SWISH philosophy.
On average, ISR has increased revenue for businesses they work with by 41 per cent and they have launched the innovative online SWISH Academy where learners can access training 24 hours a day from anywhere in the world.
Not only are clients singing ISR's praises, Tuckwood and Corbett's unique business approach also won over Glen Richards, Steve Baxter and Andrew Banks, leading entrepreneurs and 'Sharks' on Channel Ten's Shark Tank.
The high-profile trio have now joined the ISR board and are set to help Tuckwood and Corbett take the business to the next level.
"Andrew, Glen and Steve just think differently, but we're catching up very quickly," says Tuckwood.
"We used to talk about the Gold Coast market or working with SME's, but they talk about dominating a market globally and how we can put processes in place to make that happen. That is exciting."
"We have a 3-year plan in place to be a global brand known for ethical sales practices that truly change lives and create win/win situations for both consumer and consultant."
Tuckwood and Corbett are confident that anyone can sell with integrity and sell honestly to achieve the best results.
They invite businesses and salespeople to enjoy one free week's access to ISR's flagship online SWISH Academy, which includes every single piece of content the company has created, including regular webinars and guest speaker advice to sales templates, business documents and more.
"It offers the most relevant, ethical sales training and business coaching on the market, and it's available worldwide through our digital platform," says Tuckwood.
"Most importantly, it means you get access to everything we have ever created in text, video and audio, available on your phone, tablet or laptop whenever you like."
For training that goes above and beyond "regurgitated 1980's-style sales coaching", get in touch with ISR Training to join the SWISH movement.
This article was written in partnership with ISR Training.
Never miss a news update, subscribe here. Follow us on Facebook, LinkedIn, Instagram and Twitter.
Business News Australia
Get our daily business news
Sign up to our free email news updates.
Help us deliver quality journalism to you.
As a free and independent news site providing daily updates
during a period of unprecedented challenges for businesses everywhere
we call on your support