IT'S BEEN 10 years in the planning and had at least 10 different architects and has involved the acquisition of multiple properties, and now the redevelopment of Melbourne's iconic Rialto tower precinct is almost complete.

The $200 million redevelopment has breathed new life into the CBD and the Rialto precinct covers more than 8,000 square metres and takes up half more than half a city block.

The original Rialto tower was built in 1986 by the Grollo family and the classic building with its large stone foyers and imposing presence has evolved into a completely new entity.

CEO Lorenz Grollo has driven the major redevelopment as part of the Grollo Group's partnership with the Kuwaiti government-backed St Martins Properties.

Lorenz Grollo's father Rino and uncle Bruno developed and built the original Rialto and he is keen to retain the family heritage and bring a new energy to the precinct at the same time.

The Grollo Group also has a real estate tech arm called Equiem and owns major parts of the Mt Buller ski fields.

Business News Australia spoke with Lorenz Grollo and asked him about the challenges of undertaking such a major project with Rialto and what to expect when the end product finally emerges.

What have been the biggest issues you've faced with this massive redevelopment? It is an older building and you've been acquiring nearby properties.
The biggest challenge is dealing with Rialto itself. It's a 30-year-old building but we're 85 to 90 percent occupied so we've got close to 4,000 people in the building so it's been major, major renovations on the ground floor and throughout the tower.

Added to that is the challenge of having a fully occupied building and keeping it running while we're adding quite a bit of new building to the precinct. The builder has found it very tough but we're now coming to the end of that process, peeling back all the protection and all the construction and people are starting to see a glimpse of what it's all about. The Rialto is all about the work space and the future.

Did cost become an issue?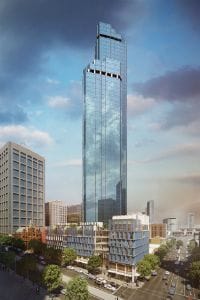 The concrete was poured very well 32 years ago so that's been a major challenge and we've had challenges all the way along. We've got a string of new operators and retailers coming in to the precinct but it's very different to see what it's all like on a drawing and what it's like in real life without walking them through the final product and that's actually exciting. We're getting a number of known food and beverage operators that are keen to be here and it's taken a big effort to get there.

And acquisitions?
In terms of acquisition of other properties, we do own the York Butter Factory, which is a heritage building on King Street and it's been owned by the Rialto joint venture for many years and we now want to tie that into the Rialto regeneration project. It's also now one of the top five digital incubator spaces in the country, and we're aiming to try and keep that brand and what they stand for.

Stepping further along we still have a building that we haven't bought, the Inflation nightclub, but next door to that is (Showgirls) Bar 20 which we have bought and all the badging has been removed and we're talking to food and beverage operators about that one. And right next door to that on the corner of King Street and Flinders Lane is Rare Steakhouse which is our own building and we have a steak operator in there at the moment which is going very well.

So those precincts and those heritage buildings all tie in to the Rialto regeneration. We think the heritage buildings complement the old with the new.

We're hearing some of the office space is being done in a kind of mod-industrial style?
We've got some new tenants coming into the space which are Silicon Valley types and they're requiring something a little bit edgy and given that Rialto was one of the largest concrete constructions in the southern hemisphere, when you peel back the plasterboard and reveal the actual concrete structure, it's really kind of cool. So, we're making the most of that and it works.

Your family business began as a construction company, and now you're involved in IT development as well, at what stage did you think this was the way to go?
I've been interested and passionate about IT and digital for 10 or 15 years and looking at it very closely for the last eight and participating in ventures through the York Butter Factory. And look, the world is becoming smaller through digital tech and social media and we've been able to reach multiple cities and multiple continents.

A major part of our business now is Equiem. It's a digital platform for places of work that connects an entire building community through a concierge, news, events, functions, a shop and a community and it ties in whole of precincts and whole of building things and engages with tenants and this is the future of real estate. It gives building owners and managers the chance to service clients better.

We're in 100 buildings across Australia with 50,000 active users and we're looking to take that business overseas. Our main clients here are Dexus, QIC and AMP.

And how did your family and company get such a strong foothold at Buller?
My family has been involved in Buller for 30-plus years and we've been actively involved in the ski lifts for 25 years and we employ 800 people on the mountain. We have all the lift infrastructure, the snowmaking, ski school, ski rental and we have food and beverage and accommodation.

My family simply saw an opportunity. My father bought into a restaurant in 1988 and then the passion for growing our businesses up there grew from there.

Have you ever considered listing Grollo Group on the ASX?
We own Rialto with our joint partners St Martins, who are part of the Kuwaiti Investment Authority, and that relationship goes back 33 years, and as for our Buller investment we're quite passionate about it. Those businesses and those assets will remain in the family for quite some time.

Never miss a story: Sign up to Business News Australia's free news updates.

Follow us on Twitter, Facebook, LinkedIn and Instagram
Get our daily business news
Sign up to our free email news updates.
Help us deliver quality journalism to you.
As a free and independent news site providing daily updates
during a period of unprecedented challenges for businesses everywhere
we call on your support