A broad-reaching international study has found Australians have one of the lowest percentages of online payments made by smart phones, with only 22 per cent opting to use them for e-commerce.
However for the transactions Australians make, Apple iOS users spend 70 per cent more than their Android-using counterparts with an average of A$146 per order.
Picodi.com analysed data from 35 countries and made some insightful findings about Australians' spending habits, apart from the fact we have the second-lowest rate of smartphone-based payments, edging just ahead of Brazil.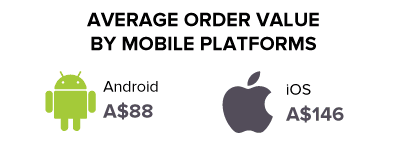 "However, when it comes to the average order value, Australians with their US$121 (A$170) rank higher than the world's average, which is US$79," the report said.
"What is more, Australians tend to spend less when using smartphones. When they did shopping with the use of a phone, the average order value was only A$93. It's about A$103 less than when using desktops (A$196).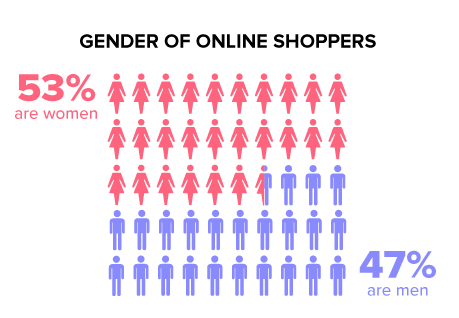 Picodi's research also found women shopped online more than men in Australia, but clarified the difference was not significant at 53 per cent versus 47 per cent.
"Unsurprisingly, it's the young generation that prefers online shopping. Almost half of all online shoppers (45%) are people between the ages of 25 and 34," the report said.
"They're followed by people aged 35-44 (24%) and 18-24% (15%). The remaining 16% are consumers who are over 45 years old."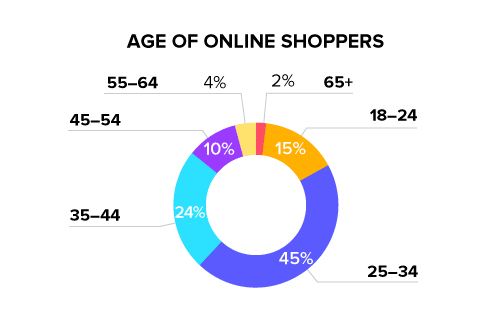 The greatest mobile usage was understandably seen in nations with younger demographics like Peru and Nigeria, with rates of 76 per cent and 62 per cent respectively.
However, three developed nations featured in the Top 10: Finland (52 per cent), the UK (48 per cent) and Italy (45 per cent).
Peak Periods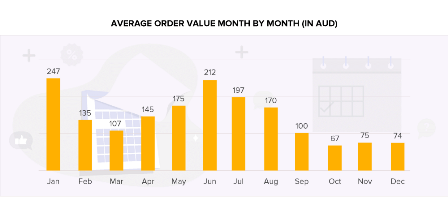 Picodi found Australia's most popular online shopping categories were food on delivery, clothing, electronics, books and sports, while the highest average orders tend to occur in January (A$247), June (A$212) and July (A$197).
"Compared to that, the average order value of a moderate A$75 in November might come as a surprise. After all, that's when Black Friday and Click Frenzy take place," the report said.
"The answer is rather easy. Even though their baskets are smaller during that time, Australians shop in a number of different online stores and place more orders. So if you look at the shopping activity, it turns out November has the highest number of transactions - more than one-fourth of all the transactions made during the year."
The study showed the second-busiest month for the number of transactions was October (22 per cent), followed by December (17 per cent).
"Last-minute Christmas shoppers might have greatly contributed to such a high number in the latter month. The lowest number of transactions was noted in March with the average order value amounting to A$107," the report said.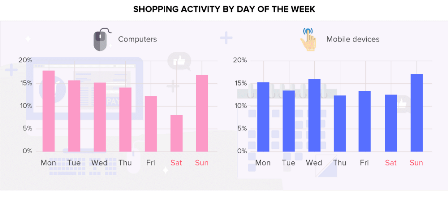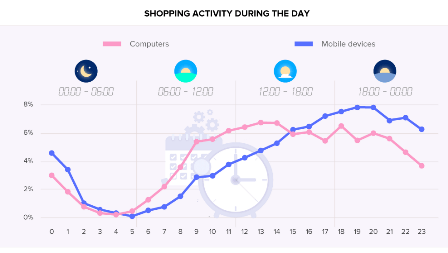 "Consumers in Australia shop more on Sunday and Monday and less towards the end of the week. It is especially visible among desktop users' shopping activity which decreases on Fridays and Saturdays.
Australians definitely prefer to shop in the evenings: the peak of sales (mobile) occurs at 7 PM. The most popular time of the day to shop online using computers is the afternoon 45% of all purchases."
Never miss a news update, subscribe here. Follow us on Facebook, LinkedIn, Instagram and Twitter.
Business News Australia
Get our daily business news
Sign up to our free email news updates.
Help us deliver quality journalism to you.
As a free and independent news site providing daily updates
during a period of unprecedented challenges for businesses everywhere
we call on your support