FORTITUDE Valley's newest watering hole is quite literally the stuff of legends.
Named after a famous mythical giant who protected Ireland in ancient times, Finn McCools Irish Bar has gone the extra mile to fill the big shoes of its namesake.
A 25-piece Irish pipe band marched through Brunswick Mall to celebrate the grand opening last Thursday, as the packed-out crowd enjoyed staple Irish food and beverage favourites including a pint (or several) of Guinness.
Founder Sean Heanen (pictured top) is ecstatic with the reception of Finn McCools, and is excited to be sharing a part of his own Irish heritage with Brisbane.
Heanen, the man also behind Retro's Cocktail Lounge, thinks Finn McCools is filling an 'uncontested niche' in the local scene.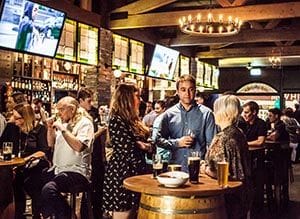 "When I first came to Australia from the UK about 10 years ago, Fortitude Valley had an Irish pub, but it closed down and there hasn't been one in the Valley since," says Sean Heanen.
"It has been crying out for an upmarket pub with a good food offering, because there's really nowhere else with that same high-end combination."
Even though he now sits back to watch the fruits of his labour grow, Heanen says it was a tough run for months in the lead-up to opening night.
Finn McCools is the product of a $3.5 million refurbishment that has taken place over two years, transforming the layout left by previous tenants National Australia Bank into a brand new precinct.
"When we got the keys to the premises over 2 years ago, it was still fully kitted out as a bank," says Heanen.
"There were teller stations and filing cabinets, and we had to spend an arm and a leg just trying to get the bank's security out of the venue."
The fit-out also included a full overhaul of sewerage, hydraulics and mechanical systems.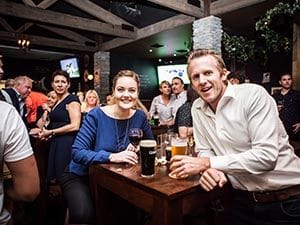 Having overcome these hurdles to deliver Finn McCools to a thirsty Brisbane market, Heanen says expansion is now on the cards.
The Gold Coast resident says Broadbeach and Byron Bay are primed for the Irish offering.
However, much like the legend of Finn McCool who carved the Giant's Causeway across the North Channel, Heanen is focused on securing his home in Brisbane before expanding.
"We are looking for somewhere on the Gold Coast, towards Broadbeach, because somewhere in the mall would be ideal," says Heanen.
"But we aren't going to rush into anything and want to make sure all of our systems in place here are spot on before we expand."
And he certainly isn't worried about the viability of his business, because according to Heanen, 'wherever in the world you go, you will always find an Irish pub.'
Finn McCools is open daily from 7am, serving breakfast, lunch, dinner and drinks from both the main establishment and off-shoot lane café The Causeway.

Get our daily business news
Sign up to our free email news updates.