THERE'S nothing like Brisbane company Unita Group on a global scale, and that can be a little daunting for founder and managing director Rob Rowe.

The entrepreneur - who won Brisbane Young Entrepreneur of the Year in 2014 - has created nine businesses under the company banner, and the best known is Tu Projects.

It is a shopfitting business that is Rowe's bread and butter, fitting out everything from LVMH brands to fast fashion juggernauts and the newest hipster burger joint down the road.

That business alone turns over around $50 million a year.

However, it's the secret sauce, or hidden screws driving the machine, that takes Unita Group to a level where New York scouters are taking the business very seriously.
"Globally, I don't know of any business doing everything we are, and I have contacts in New York who are reaffirming this to me a lot lately," says Rowe.
"If you are a small aviation company, you can look up Virgin and Richard Branson and think - ok, that's how you go big. But we don't have anything to look to.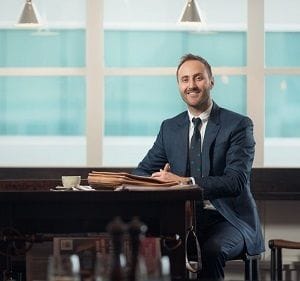 "Often they say it's what you don't know that hurts you and that's why I think as a company we have a lot of learning to do as well."

Rowe holds Tu Projects, Focused Floor Coverings, Round Peg Design, Equipment One, Rowe Shopfitters, ShopSteel, Art Joinery and Tu Track under the Unita Group banner.

A builder by trade, Rowe says his 12-year-old company is no longer a shopfitter, rather a 'business builder'.

Rowe says Unita Group will also soon acquire a full-service digital agency, increasing its capabilities across social media, web, branding, logo, site activation and launch, ongoing marketing management and full conceptual interiors.

This makes for top to bottom control, creating economies of scale that are difficult for other companies to deliver.
"We don't have any businesses that have failed; if our clients fail, then we kind of fail with them because we have gone on the journey," says Rowe.
"That way, if a client pitches a certain kind of business, we are better positioned to offer genuine advice about their prospects. We won't let them blindly enter a crowded marketplace. An example is an idea for a burger business coming our way, which after consults becomes a South American cantina."

Through consolidation, Unita Group now generate almost $100 million in annual revenue, employs more than 250 people across Australia, and builds about 450 jobs every year for the brands it works with from sass & bide to Furla and Guylian.

To keep up with its growth trajectory, Unita Group will relocate in July to a 972sqm Woolloongabba site, soon to be known as Trafalgar Lane (pictured below).

"From the start I wanted to create a solid business that didn't just build great retail outlets or restaurants, instead a place that did things differently to partner with its clients and build incredible and long-lasting businesses and brands," says Rowe.

"The new premises will showcase all of our abilities in the laneway itself, where retailers, food and beverage and commercial clients will lease space - and hopefully signal our commitment to continued growth to our trades, clients and larger market."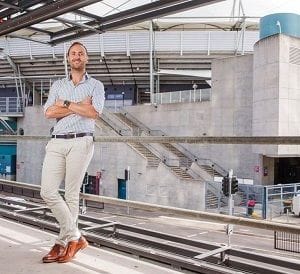 Rowe says his tech business, Tu Track, is currently the stitch tying everything together which is paying dividends.

The proprietary software venture has only just been commercialised after operating as the company's 'best kept secret' for the last 10 years.

A couple of weeks ago, Tu Track technology sold to a client for $300,000 and Rowe believes 'there are hundreds of opportunities' to sell at that level across the world.
"There's nothing like this technology on the market and we intend on getting it out there to the right partners - even some of our competitors.
"This is about a much larger game of changing the face if how we do business in the tier 2, 3 and SME construction sectors.
"I don't know if I want Unita Group to ever go public and list on the stock exchange, but I believe our technology definitely will."

Rowe says his company was compelled into collaboration because the margins in construction are very tight and funding is tied up.

He says Unita Group doesn't charge a premium, has always been competitively priced, and for that reason only hired a sales team in July last year.

"It can be done. We don't have any debt, we have no funding from the banks - we are completely self-funded.

"The banks really don't invest in people in the construction sector because they have been burnt too many times.

"You grow without money though and find ways of doing things that others wouldn't necessarily think of."
Help us deliver quality journalism to you.
As a free and independent news site providing daily updates
during a period of unprecedented challenges for businesses everywhere
we call on your support