BRISBANE'S technology scene is powering up and NEXTDC Limited (ASX:NXT) is among those leading the charge, according to Deloitte.
The accounting firm's December Queensland Business Outlook indicates the state has laid the groundwork for a strong digital economy, with around 96,000 people working in the information and communications technology (ICT) industry.
At least 60 per cent of small to medium-sized enterprises utilise some level of digital engagement in Queensland, while 84 per cent of households have broadband access.
Deloitte national technology advisory leader Kevin Russo says digital is both an industry and an enabler in Queensland, with NEXTDC poised to capitalise on growth in the future.
"It is providing new sources of economic growth for the state, with a growing number of ICT jobs projected to be in demand over the next five years, tapping the growth of FinTechs, precision data analytics, our take up of smartphones and apps, and freedom of cloud tools the need for business transformation to the cloud," Russo says.
"The momentum of Brisbane-based NEXTDC is a good example. Last year it was the Australian Deloitte TechFast50 winner the nation's fastest growing technology company as well as one of the top five fastest growing tech companies in Asia.
"This example of Queensland's digital economy is creating exciting opportunities in the market as both private and public companies are transitioning to leverage the value and freedom of cloud-based services and infrastructure."
NEXTDC has more than $320 million in cash and capital to invest in its national data centre network, after raising $220 million in an institutional placement and notes offering last month.
The capital will be invested in developing two new data centres in Brisbane and Melbourne, as existing facilities B1 and M1 reach capacity.
NEXTDC CEO Craig Scroggie (pictured) says ongoing client demand in these cities, combined with anticipated returns, has ramped up the company's expansion plans.
"It will give many of these organisations the confidence to make new investment in their IT strategy, knowing we have the capacity and national footprint to support them," Scroggie says.
"Our B1 and M1 data centres were the first facilities in our portfolio, opened in 2011 and 2012 respectively, and were built to accommodate an immediate need.
"The quality of our data centres is a key sales factor for NEXTDC and there continues to be a strong appetite for data centres with the exceptional resilience and developed ecosystems of carriers and service providers offered by NEXTDC."
The B2 data centre is expected to have an initial capacity of 1MW with a target total capacity of 6MW, while the M2 facility will eventually grow from 2MW to a bumper total of 25MW.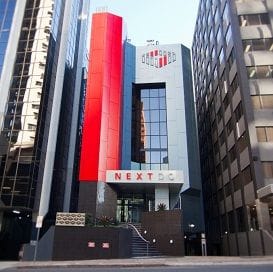 Scroggie says the company is confident it will reach the target capacities, with NEXTDC in advanced discussions with a number of new large customers.
He says recent industry figures indicate further growth opportunities, with around half of companies stating they will use cloud computing for 75 per cent of work by 2018 according to Verizon.
Cisco also forecasts that cloud workloads will more than triple by 2019, with more than 86 per cent of workloads processed by cloud data centres.
"We have both sizeable global and local deals in the pipeline for Melbourne which, with Sydney, is of course some of the key markets in APAC, especially for companies making their first commercial foray into Australia," Scroggie says.
"Cloud computing, the application economy and the internet of things all continue to accelerate and drive the need for world-class data centres to support the computer platforms that power them."
NEXTDC is undertaking due diligence on a number of potential sites for B2 and M2 and expects to commission both data centres in the second half of FY17.
Get our daily business news
Sign up to our free email news updates.