The number one question general manager of Therabis Australia Lauchlan Grout is asked about the company's product is: "will this get my dog high?".
In context, it's a perfectly reasonable question. With medicinal cannabis recently legalised, more Australians are beginning to cotton on to the multitude of therapeutic and medicinal benefits of the plant.
However, the sector is still somewhat a taboo for many, especially those concerned about psychoactive effects.
But hemp, the base ingredient in Therabis' range of pet food supplements aimed at resolving pain points for dogs, contains all the good and none of the trippy.
Developed by US veterinarian Dr Stephen M. Katz who has spent an entire decade researching the therapeutic and medicinal benefits of the natural wonder drug in pets, Therabis is quickly taking Australia by a storm.
Last year Grout secured some important deals with independent pet chains Just For Pets and IndePet, getting the range of Therabis products into pet food stores in Australia and New Zealand.
The company has broader ambitions of course, best demonstrated by its playful advertising push on billboards in Sydney, Melbourne and Brisbane.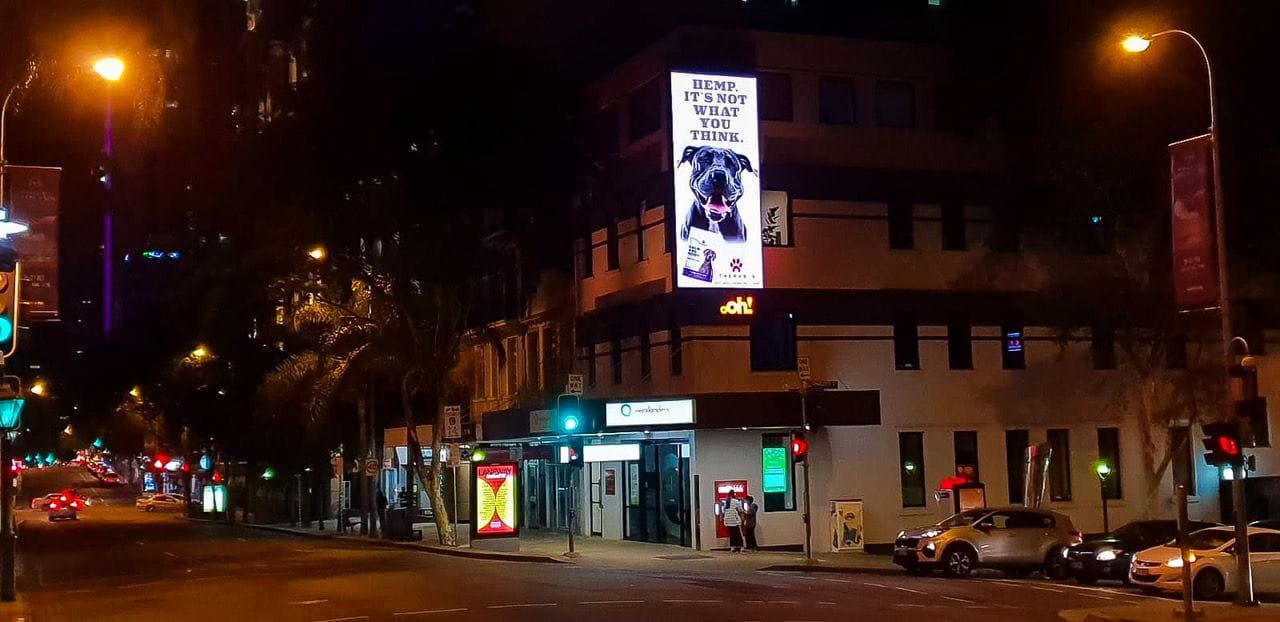 Therabis' cheeky new billboards (provided)
Business News Australia spoke with Grout about the challenges Therabis has faced pushing this product into Australian markets, its benefits and the future of the sector.
You've seen some success as an online retailer, but how is your break into bricks and mortar going?
We've just broken into two major independent environments in Australia. One is called Just For Pets and the other conglomerate is called IndePet. They've got stores in New Zealand and also in Australia so there's a total of around 75 stores that we'll be slowly feeding our way into.
When we started we met with the larger players and they loved the product but it was something they saw was a bit too embryonic at the time. It's a really big breakthrough to get through to the independents so now we can actually tap into those customers who aren't as trusting of online buying an outlet.
With hemp and cannabis-based products becoming more popular in Australia, what makes Therabis stand out?
The big thing with Therabis is that we are Australia's first hemp-based pet food supplement product that has had clinical trials conducted on it in a qualified veterinary University. The other big thing is that we are 100 per cent ethical. We get asked a lot "is our dog going to get high? Is he going to get the munchies?"
The answer to that is no, your dog doesn't get high, there are no munchies. All we're doing is creating and designed a formula that activates the endocannabinoid system within the dog's body.
Where do you see the future of the hemp and cannabis industry in Australia over the next few years?
Australia's industrial hemp and medicinal cannabis industry are both moving in a positive direction, our policies are slowly starting to replicate Canada's and it is safe to say we will experience a ripple effect from the most recent legislative changes in both Canada and the United States of America.
Whether this ripple will be positive or negative depends on the industry or market your business is operating in, hence why it is crucial for Australian businesses currently operating or moving towards operating in either the industrial hemp or medicinal cannabis space to clearly define itself and the laws it's product will fall under.
The US has experienced a 'cowboy' mentality taking advantage of prohibition, thankfully Australian legislation has minimised the likeliness of this.
Never miss a news update, subscribe here. Follow us on Facebook, LinkedIn, Instagram and Twitter.
Business News Australia
Help us deliver quality journalism to you.
As a free and independent news site providing daily updates
during a period of unprecedented challenges for businesses everywhere
we call on your support