John Klein believes keeping different brands has been key to lifting the standing of his digital marketing company Social Status.
Klein worked in market research for eight years, over that time gaining a deep understanding of consumer behaviour. However, being a people person, he knew better to step away from the spreadsheet and delve into a different side of marketing.
Since inception, Klein's company has more than doubled in revenue and profit every year. Now in its fifth year, Klein just recently celebrated his 15th full-time hire, taking little time to pause before starting to recruit again.
As it stands right now, this team of 15 is servicing more than 100 clients.
Over the last five years, Klein has worked on developing two sub-brands to complement Social Status: Promotr services small businesses and startups in general, while Search Status provides low-cost Google Ads to small businesses.
"Largely as a result of being asked by so many clients for so many different things, my belief is people like a specialist rather than someone who does something for everyone," Klein tells Business News Australia.
"First came Promotr so we didn't have to say 'no' to small businesses which we were sadly doing frequently. Then came Search Status because more people were asking us for Google Ads which was kind of the other side of that coin.
"We also launched iBrand, as in iPhone, because we started getting asked by owners if we could build their personal brands online. More recently I've gotten involved with an accounting business coach and we did a joint venture called Best Practice Marketing, and started a training program for influencers to become entrepreneurs called The Social Life."
For most, running this many businesses would seem crazy, but It's 'business as usual' for Klein. Business runs in his blood.
His brother Kristian Klein owns Mr Miyagi, a trendy Melbourne restaurant since 2013 has helped elevate Asian fusion into the mainstream. Klein's father ran a prolific market research firm.
"I kind of went the way of family legacy. I knew I wanted to start a business. I didn't know what in. All of a sudden a lightning bolt hit me, where Instagram was becoming a thing and businesses must be using it in the same way people do," Klein says.
"My old man was a big advocate, mentoring me and introducing me to a couple of clients initially as well as bringing me into proposals early on. He had a massive impact. Similarly, connecting back to my philosophy, people is the name of the game and my old man imparted that on me, and I kind of just ran with it from there."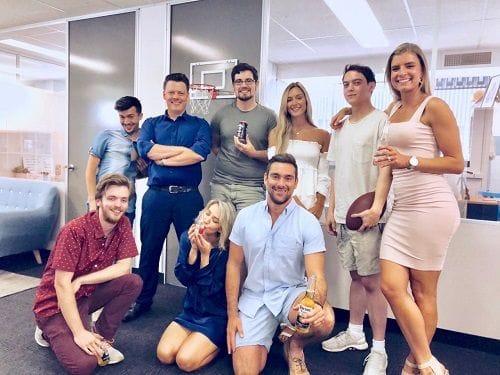 Klein's doing it for his dad, and it's clear that a large part of his drive comes from this. He also doesn't hold back on his early ambitions to be a multimillionaire, telling a story about seeing the dollar signs when he signed his first client, The Groove Train.
"I walked into businesses and proposed to manage their Facebook pages for them, so I got a call from The Groove Train restaurant, they said they would pay me $100 per month to manage their Facebook page, and I remember thinking I've made it."
Nowadays, and understandably so, Klein charges slightly more. However, he also likes to win work on a price leadership model, with Social Status employing four full-time remote workers in the Philippines to support this strategy.
"People like packages. Price is the main thing people want to know. There's a big song and dance, first you meet, then proposal, then strategy, and that's a week of wasting time basically, so we do package pricing for everything now," explains Klein.
Through a rapidly changing social media landscape, where engagement is becoming trickier to measure with Facebook-owned Instagram recently hiding the 'like' count, Klein claims his clients are ranking better online than ever before.
So, how exactly is Social Status catapulting its clients online?
Re-marketing is the most important thing, says Klein.
"The way advertising and marketing is going is really suited to social media in the sense you can show people ads they're actually interested in, as opposed to, say, targeting mums with a nappy commercial, when their baby may be five or even 25 that's just shooting a shotgun," says Klein.
"Now you can use social media advertising with Google to work out where they are shopping online, so re-marketing is really what we're talking about here. That's the ability to pick people up on their customer journey and give them ads they want based on customer activity. Companies like this, I also think it's better for the consumer, and it just makes things more efficient and simply better for everyone."
On the flip side, Klein believes followers are the least important thing to social media these days quite simply, a "vanity metric" in every sense of the term.
"Followers used to matter when social media started and everyone was gunning for it hard out, but now that doesn't matter one bit. Organic is dead. Facebook owns Instagram. They're just squashing organics. If you have a Facebook page you're lucky if 2 per cent of the people following will see your posts. It's all about paid. Anytime anyone has asked me about followers I say, sit down, I'm going to educate you on how social media works."
Never miss a news update, subscribe here. Follow us on Facebook, LinkedIn, Instagram and Twitter.
Business News Australia
Get our daily business news
Sign up to our free email news updates.