JAMES Packer and Crown Resorts (ASX:CWN) have backed the British architect behind the new Crown Sydney to bring its planned Queensbridge Hotel Tower development to life on the banks of the Yarra River.
And the gaming and hospitality mogul has come out fighting in his bid to talk up the value of the project to Melbourne in the wake of controversy over components of the $1 billion development.
Crown and its joint-venture partner Schiavello Group have chosen Wilkinson Eyre from a shortlist of five international firms, including Australians Bates Smart and Hassell, for the six-star hotel project which is destined to become a new Melbourne landmark.
The 90-storey Queensbridge project has been upgraded from 84 levels when Crown first mooted the development more than a year ago, making it two storeys higher than the nearby Eureka Tower and sparking renewed controversy over height limits in the CBD.
The reworked triple-tower project includes an all-weather above-ground pedestrian link that may also test the council's planning scheme.
However, Packer, Crown's executive director, describes the proposed development as the next stage of the evolution of Melbourne's inner city.
"I am committed to this city and committed to keeping Crown Melbourne at the forefront of Australian tourism," he says.
"A new Crown hotel means more rooms for interstate and international tourists and that means more jobs for Victorians."
Crown says the project is designed to meet strong demand for luxury hotel accommodation in the city's entertainment precinct with occupancy at Southbank's three existing hotels sitting around 90 per cent.
Queensbridge will host a 388-room six-star hotel and about 680 apartments. The hotel will feature what Crown says will be 'a truly unique special-event space and a publicly accessible restaurant, lounge and garden terrace at the top of the tower'.
"We are confident that the design of the proposed hotel and the one-of-a-kind offerings like the Sky Bar at the top of the tower will be must-see destinations in Melbourne, says Wilkinson Eyre director Paul Baker.
"We approached this project with the ambition to create an elegant and timeless building that will become a new, world-class landmark against the Melbourne skyline.
"All across the world we are seeing cities embrace iconic developments as they vie for their share of international tourists."
Crown says the hotel goes a long way to helping Melbourne to meet tourist accommodation growth with Crown resorts offering more than 2000 guest rooms and suites across its Southbank properties upon completion of the project.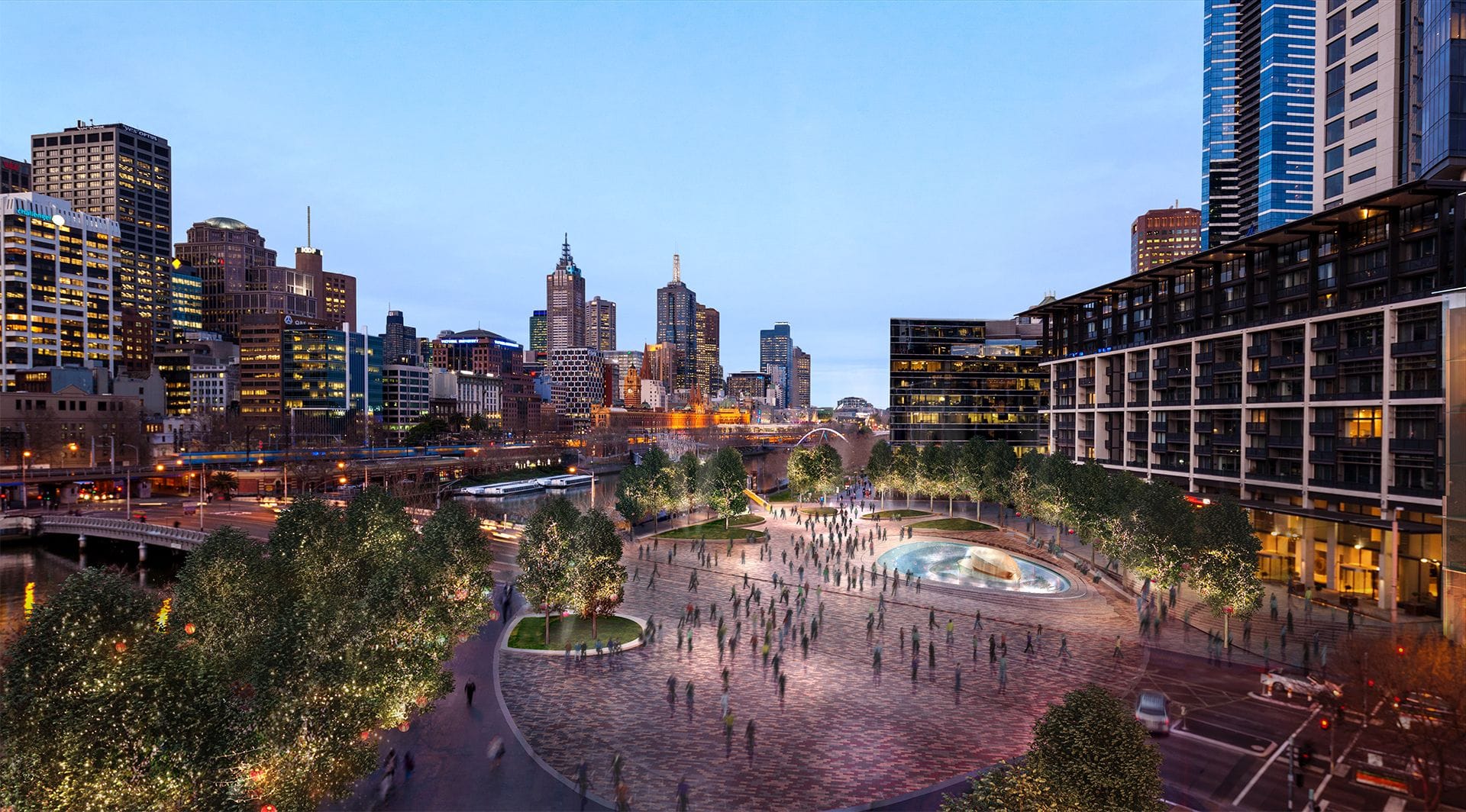 It says the planned expansion of the Melbourne Convention and Exhibition Centre will 'reinforce the Southbank precinct's position as Victoria's leading tourism, meetings, exhibitions and event destination'.
At ground level, Queensbridge will incorporate an active streetscape and public forecourt area with retail outlets and restaurants, as well as a major refurbishment to Queensbridge Square.
Wilkinson Eyre is the architect behind Crown Resorts' Barangaroo development under way in Sydney.
"Wilkinson Eyre have designed a beautiful and elegant building that is destined to be an important addition to the Melbourne skyline," says Packer.
"Melbourne just keeps getting better as a city, but we can't take this success for granted."
Crown Resorts CEO Rowen Craigie estimates Queensbridge will support more than 3000 jobs during construction and 1000 jobs after completion.
"The development will also assist Melbourne in attracting more high net worth tourists, reinforcing the city's appeal as a destination for important international conferences, sporting and cultural events," he says.
Get our daily business news
Sign up to our free email news updates.