BANK of Queensland (ASX: BOQ) CEO Stuart Grimshaw may be playing a different game to everyone else in the banking industry, but he still wants to see a level playing field for all participants in the sector.

Grimshaw, speaking exclusively to Brisbane Business News, revealed his plans to take the road less travelled to grow the BOQ business in ways different to other banks.

He also revealed his passion for small business, and the importance of diversity and having an open plan.
RISK, BUT DON'T SWIM WITH BIG FISH
If the big banks are the traditional mansions in the exclusive pocket of the city, BOQ is the contemporary home in the hip new suburb.

BOQ isn't a mini-major, and neither wants to be.

However, it isn't the typical regional.

BOQ is doing things differently, and establishing a point of difference is evident throughout the company's entire culture-brand-strategy focus.

"Different" is why BOQ is developing a new head office, implementing a strict diversity policy, and drawing attention to offerings other than home loans.

It's about "taking the beige out of financial services", according to Grimshaw, who is far from the traditional banker. He usually wears jeans with a shirt, and is rarely caught in a suit.

This dress code won him the Richard Branson tick of approval – "You're the only bank CEO I've met that I liked".

Grimshaw has made headlines for bold moves since his first day at BOQ at the end of 2011, a day when the RBA cut the official cash rate by 25 basis points.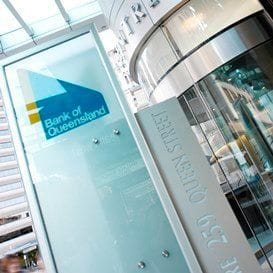 Rather than being reactive to competitors' movements, he took a proactive stance and BOQ became the first bank to drop its rates shortly following the announcement.

It seems Grimshaw's strength lies in strategic risk. He admits that he isn't your classic numbers man, but it is clear from BOQ's performance over the past couple of years that Grimshaw knows how to take a risk and successfully execute.

Grimshaw says his swift decision to drop rates was "quite unusual" in light of his recent appointment and the nature of the bank.

However, Grimshaw says, "if you're small and swimming with sharks, you aren't going to get a great outcome".

Better to dive in at a different time, or into different waters, than compete head on.

Grimshaw is under no impression BOQ and its 2 per cent market share can directly compete with the majors, but he is certain it can deliver a point of difference.

"If you want to compete against the majors, you are going to get killed," says Grimshaw.

"They will always have more money, more people, and more capital – we are focused on creating stronger relationships."
ALIGNMENT IS KEY
Grimshaw says the product and practices can be easily replicated, but the BOQ people can't.

At the heart of the company's focus on culture-brand-strategy are the employees.

"The staff must be aligned with what the brand stands for, otherwise the brand will ultimately fail," says Grimshaw.

BOQ had a tough year in 2012, when it stood as the first Australian bank in 20 years to post a loss, due to "a focus on lending quantity over lending quality".

However, Grimshaw says having a crisis to work from "actually made life a lot easier".

"The company was given an impetus to realign and a burning platform to implement changes," he says.

Grimshaw realigned the brand and its employees via what is described by BOQ's head of media relations and corporate communications, Jamin Smith, as an "inclusive leadership style".

Previously non-existent quality measures were implemented, there were shifts to the BOQ leadership team, and the brand refocused, with the company coming out the other end stronger than ever before.

Grimshaw views brand and employee alignment as critical.

It is what pushed him over to sign the Investec acquisition earlier this year, after initially being unsure about the proposal.

BOQ announced its acquisition of Investec in April, the same day it revealed a $134.7 million half-year profit to the end of February, up 34 per cent from the prior corresponding period.

"We have very similar organisational cultures based on putting the customer first, employees understanding the business inside out, and getting things done quickly," Grimshaw says.

"Acquisitions typically fail on culture, not so much financials, so it was essential to make sure these were aligned."
A FAIR PLAYER
Grimshaw, an ex-Olympian hockey player, always plays a fair game.

Valuing fairness is the reason he gave his voice to a recent submission to the federal government's inquiry into the financial system. He is adamant about supporting the small businesses of Australia, and has implemented a diversity policy at BOQ.

With respect to the submission, BOQ and three other Australian regional banks have launched a joint submission to the financial system inquiry to review current lending regulations.
The submission is based on major banks being able to set aside much less capital for the exact same mortgage than regional banks.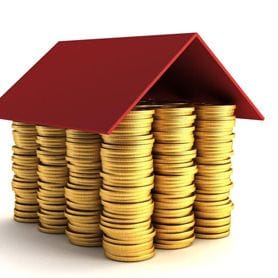 The government's final verdict will be handed down in a few weeks.

"It is ludicrous that for the same person, with the same credit risk, house, and income, the return on equity is more than 40 per cent for the majors and about 14 per cent for us," says Grimshaw as a reason for the inquiry.

"What also doesn't make sense is when investment banks like Macquarie start playing with mortgages and get a disproportionate share of the market over everyone else."

BOQ's flat mortgage growth has been scrutinised by analysts, but Grimshaw isn't concerned by this.

"We have chosen to focus on quality and risk in a market where others are discounting heavily to achieve growth," says Grimshaw.

"If you take a risk for a low return, you don't see the outcome on day one, but will see it in year three or four.

"I think a false dawn is coming around and it will be quite interesting to see what happens."

While capital allocation is still a priority concern for BOQ, Grimshaw is set on diversifying offerings to safeguard the company against these mortgage wars.

He has thus turned more focus to BOQ's business banking division, and helping build up small businesses in particular.

This was top of mind with the Investec acquisition – Grimshaw saying at the time of the announcement that the acquisition would "materially increase the size and footprint of the BOQ's business bank".

Investec diversifies the company geographically, and also opens BOQ up to specialist segments of medical, dental and accounting professionals.

With 96 per cent of Australian businesses falling into the small business category, this is what Grimshaw deems the livelihood of the nation.

"When you look at capital allocation decisions being made through the banking system, I think we can do a lot better in supporting small business.

"If you can help create the sustainability of small business, then you are underpinning job creation and shaping Australia into a more vibrant economy."
BALANCING RISK
Operating from a different mindset and taking risks in the banking world obviously isn't without its challenges.

"The hardest thing about running a business is you don't always know what decisions are going to be successful – it's like in marketing where 50 per cent of the money works and the other 50 per cent doesn't, but you can never be sure which half will be successful," says Grimshaw.

"You have to trust your instincts and ride on what you think is right."

Grimshaw says sometimes the interests need to be balanced when making decisions, but other times it's about taking a rather blind leap.

"Some decisions you can take the first step and pull back if it doesn't feel right, but often you must just take the leap."

Taking risks is evidently in Grimshaw's nature, and as someone who likes to lead by example, this is something he hopes to also instil in young professionals.
A DIVERSE WORKPLACE
This is where the BOQ diversity policy comes into play, which was created with a goal of growing the company's female staff from 22.5 per cent to 30 per cent of the workforce by the end of 2015.

Perhaps it is an ambitious goal when operating in a male-dominated industry, but Grimshaw firmly believes the figure will be surpassed.

"Women are traditionally more risk averse than men and many unfortunately tend to avoid taking leaps in their career unless they are completely confident about the outcome," says Grimshaw.

"However, if you're smart you will always succeed, so we really want to encourage them to take that first step."

Grimshaw says the policy was born out of his own climb up the corporate ladder.

He began his career as an ANZ teller, has run global markets businesses, banks in the United Kingdom, took on Wall Street, and held the CFO position at Commonwealth Bank.

"Most of this was really stepping out of my comfort zone, especially working as CFO at Commonwealth, but taking these risks got me to where I am today," says Grimshaw.
HAVE AN OPEN PLAN
Nevertheless, despite Grimshaw describing what seems to be a natural career progression, he offers the advice of having an open plan.

"Young people ask me how I got to where I am and I tell them it was a tortuous path, and if I followed a plan to get me to CEO then I wouldn't have got there," he says.

"Planning is one of the worst things you can do as you miss the shifts – you become so fixated on the plan that you miss everything coming left field, and often that's where the best stuff comes from."


Get our daily business news
Sign up to our free email news updates.
Help us deliver quality journalism to you.
As a free and independent news site providing daily updates
during a period of unprecedented challenges for businesses everywhere
we call on your support