A mandatory commercial tenancies code, released today by the Federal Government, will be legislated and regulated in each State and Territory to guide landlord and tenant negotiations during the Covid-19 crisis.
The code will bring together principles of good faith leasing and proportionality and will be overseen through a binding mediation process.
The announcement comes as the Australian Bureau of Statistics reveals more than a third of Australian businesses have renegotiated their lease and rental agreements while a quarter have deferred loan repayments.
To be eligible to negotiate under the code either party must:
be a business that is in a position of financial distress;
have a turnover of $50 million or less;
be eligible to receive support under the JobKeeper program (meaning the business has experienced at least a 30 per cent drop in revenue due to Covid-19 restrictions).
Under the Code landlords must not terminate the lease or draw on a tenant's security. Likewise tenants must honour the lease agreement.
With regard to rent reduction, landlords will be required to reduce rent in proportion to the trading reduction suffered by the tenant. This will be achieved by a combination of waivers and deferrals of rent.
Waivers of rent must account for 50 per cent at least of the reduction in the rental provided to the tenant during that period while deferrals must be covered over the balance of the lease term and for no less of a period than 12 months.
For example, if the lease term goes for three years the cost can be amortised over the three year period. However, if the lease only has another six months left to run then the tenant would still have a minimum of 12 months after the pandemic period to cover the deferrals of the rental payments.
Prime Minister Scott Morrison says he hopes the code will enable landlords and tenants to come to an agreement.
"The point here is simple that is they sit down and work it out," says Morrison.
"This must be shared.
"What this does is it preserves the lease, it preserves the relationship, it keeps the tenant in their property and it keeps the tenant on the lease which is also good for the landlord and it preserves the lease that is in place that underpins the value of those assets."
Morrison has also expressed his hopes that banks will also join these negotiations to provide relief to landlords impacted by Covid-19; particularly international banks of which many do business with some of Australia's larger landlords.
"Banks also must come to the table here and provide the support to landlords and I would particularly send that message to international banks operating in Australia who are in many cases providing that support to many larger landlords," says Morrison.
"We will expect those banks to be providing the same levels of support and cooperation as we are seeing from the Australian banks."
As for residential tenancies the PM says these negotiations will now been overseen by individual States and Territories with little input from the Federal Government beyond a nation-wide moratorium on evictions.
Modelling data to be released this afternoon
The Federal Government is set to release data pertaining to a possible spread of Covid-19 in the Australian community, though PM Morrison says to take the numbers with a grain of salt.
While the modelling does show Australia is flattening the curve and slowing the rate of new infections per day, Morrison says the modelling is theoretical and based on international experiences with Covid-19.
"It is not based on Australian case data and does not model Australian responses," says Morrison.
"The modelling does not predict what will happen in Australia, it does not tell you how many Australians will contract the virus or succumb to the virus or how long it will last in Australia."
With the curve flattening Morrison and the Chief Medical Officer Professor Brendan Murphy both warned Australians to not be complacent over the Easter period.
"Complacency is our biggest risk, we cannot be complacent," says Murphy.
In terms of broadening the testing regime Professor Murphy says testing asymptomatic people is not a high priority at this point in time, but the Government is looking at possibly testing those in aged care facilities without symptoms.
"Because this virus wreaks havoc in aged care that's a strategy that we will be undertaking," says Murphy.
"We think the yield is more in testing people with acute respiratory symptoms in areas of community transmission, so that's where we're broadening the testing at the moment."
The Prime Minister's announcement comes as Australia reports 96 new cases of Covid-19 for a total of 5,896.
There have been four new deaths today including South Australia's first reported deceased patient bringing the total toll to 45.
To date 308,508 tests have been conducted.
Advice for businesses with infected staff
Professor Murphy also provided some advice to businesses that do find themselves in the situation where an employee does contract Covid-19.
He says Safe Work Australia has set out simple procedures at swa.gov.au/coronavirus where the organisation has detailed a response plan.
There are seven simple steps to follow that are detailed below: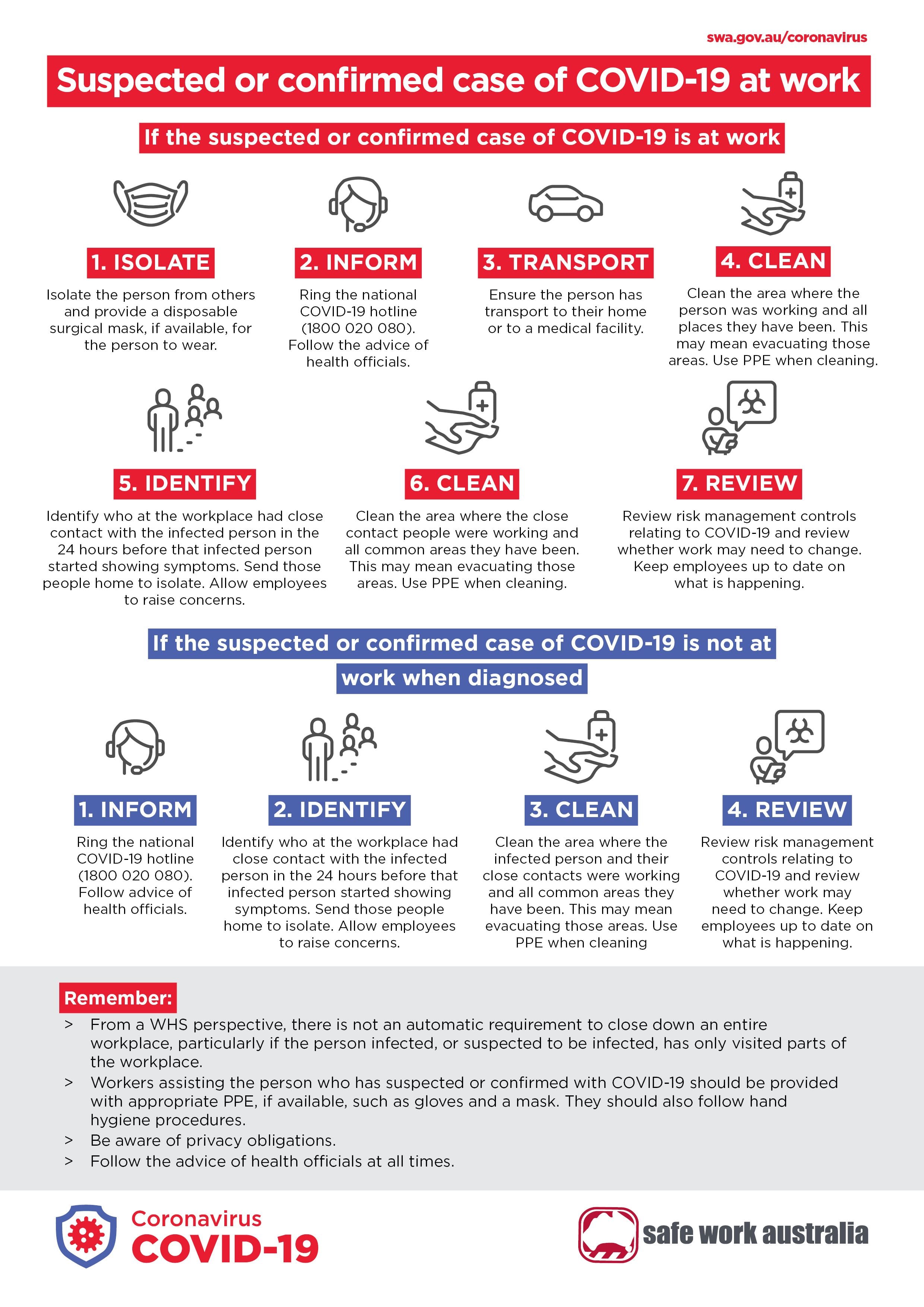 Updated 2:07PM AEST on 7 April 2020.
Get our daily business news
Sign up to our free email news updates.
Help us deliver quality journalism to you.
As a free and independent news site providing daily updates
during a period of unprecedented challenges for businesses everywhere
we call on your support