An Australian company that harnesses blockchain technology for peer-to-peer (P2P) energy trading has secured its second trial in Japan.
Perth-based Power Ledger has announced a partnership with Japanese solar provider Sharing Energy and electricity retailer eRex to trial its P2P trading platform in Kanto, a region that includes Tokyo.
The move comes amidst a planned feed-in-tariff (FIT) reduction this month that will affect more than 500,000 solar consumers in Japan.
The trial will aim to show how a group of households can trade excess solar energy between each other, and follows a trial in Osaka with Japan's second-largest utility KEPCO which achieved consumer acceptance.
"Using Power Ledger's technology, households with solar panels will be able to sell any excess solar energy they have generated at a more competitive price than if they were to sell the energy back to the grid or to an energy retailer," says Power Ledger co-founder and chairman Dr Jemma Green.
"Japan currently has 40GW of installed solar capacity and our energy trading technology has already proven a viable alternative to the market's current FIT model.
"This secondary trial strengthens Power Ledger's foothold in the Japanese energy market."
Power Ledger's platform will integrate with existing smart meter systems in homes to enable participants to set prices and track energy trading in real time.
"By utilising Power Ledger's blockchain technology, we will verify the feasibility of P2P energy trading in the country of Japan," says Sharing Energy president Emiko Koga.
"Sharing Energy will enable participants who have invested in solar energy infrastructure to receive faster payback options and provide a new revenue stream for households."
The trial is scheduled to run until December 2019.
"eRex is focused on progressing Japan's take-up of renewable energy and we believe Power Ledger's technology will incentivize more consumers to consider using electricity from green sources," says eRex general manager and head of corporate planning Daichi Kamite.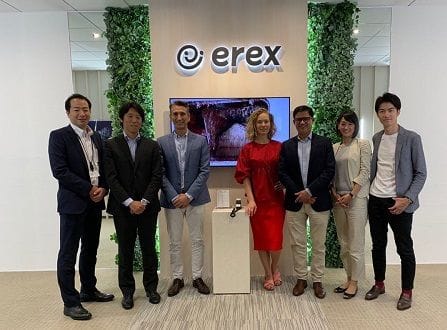 The Western Australian group has also secured similar P2P solar trading trials in Bangkok, Thailand and Graz, Austria.
The company claims its work with BCPG and Thai utility Metropolitan Electricity Authority (MEA) is the largest commercial peer-to-peer trial of its kind in the world, within a precinct with 700kW solar capacity.
"The MEA forecasts peer-to-peer energy trading to become mainstream for power generation in the long run," the authority said.
"Blockchain technology has the potential to disrupt a lot of markets but as an innovation, we also think it offers new business opportunities and the chance to generate added value for our customers," says E-NEXT project partner and innovation manager Mathias Schaffer, who is involved in the Austrian trial.
Closer to home, last month the company announced its first trial outside metropolitan areas in Western Australia's wheatbelt shire of Wongan-Ballidu with nine commercial sites.
"We now have the ability to generate power from our rooftops, from renewable sources - and the existing energy system needs to transition or face an increasing crisis of relevance. If successful, which we believe it will be, this could revolutionise the way rural energy systems operate," Power Ledger co-founder and managing director David Martin said.
Power Ledger also recently announced it would roll out digital commodity trading software in the United States through a partnership with Clearway Energy Group.
"We believe blockchain trading technology can significantly improve the efficiency of the market for RECs in the U.S. by linking transactional functions within a common platform," said Clearway VP of asset management Monique Menconi.
"We are excited to partner with Power Ledger to deliver a fully integrated, scalable, and low-cost solution."
Never miss a news update, subscribe here. Follow us on Facebook, LinkedIn, Instagram and Twitter.
Business News Australia
Get our daily business news
Sign up to our free email news updates.
Help us deliver quality journalism to you.
As a free and independent news site providing daily updates
during a period of unprecedented challenges for businesses everywhere
we call on your support