To change an industry as rooted in its ways as the animal agriculture industry is going to take something seriously disruptive.
One such emerging disruptor in the animal agriculture world Provenir is seeking to change the way farms and abattoirs operate as we know them.
Co-founded by CEO Chris Balazs (pictured right), Provenir is a game-changing on-farm processing solution that will eliminate the need for live animal transport prior to processing.
Farmer Balazs has raised cattle for 17 years on his property just outside of Geelong.
A few years ago, he became tired of the way his cattle were treated prior to slaughter, so he joined an incubator for ag-tech startups to reclaim control of one of the most crucial parts of the supply chain: processing.
The solution is Provenir, a mobile unit that allows for on-farm processing and completely cuts out the need for live transport of livestock.
"When I was doing some research, I found that static abattoirs are very difficult businesses to run from an economic point of view, as it's a scale of economy business and there's very little branding that occurs in the space," says Balazs.
"That's where I saw an opportunity to brand our meat from paddock to plate and if we were going to do that, we needed to be flexible and versatile, so that's where the mobile processing unit made sense to us."
Not only does the mobile-processing unit improve the general welfare of animals prior to slaughter, but it allows Balazs to control something that is increasingly becoming more important to customers: provenance.
"We understand that for today's consumer, knowing the provenance of their food, how it was produced, and whether it meets their personal values, is imperative to their purchasing decision," says Balazs.
"Provenir's unique on-farm processing is the answer to the rapidly growing market of conscientious consumers. Our technology will eliminate live transport prior to processing and the associated stress on the animal, which will result in meat of exceptional quality, taste and tenderness."
In addition to the mobile-processing unit Provenir has developed an application that gives customers direct and on-demand information about the cut of meat on their smartphone. Users can find out exactly where the meat came from, how the meat can be best prepared, and even find out some amazing recipes along the way.
"Like wines there are many types of beef; Angus, Hereford, Shorthorn, Belted Galloway - all of those animals have fabulous eating qualities, but most of the time people don't even know what they're eating," says Balazs.
"That's why it's such a variable experience for consumers because once you go to a level beyond just drinking wine, you're drinking a shiraz or a merlot or a cabernet, there's no one particular wine grape that is the best - they're all valued for their different attributes. That's where we are going to see Provenir be able to take the beef industry in Australia."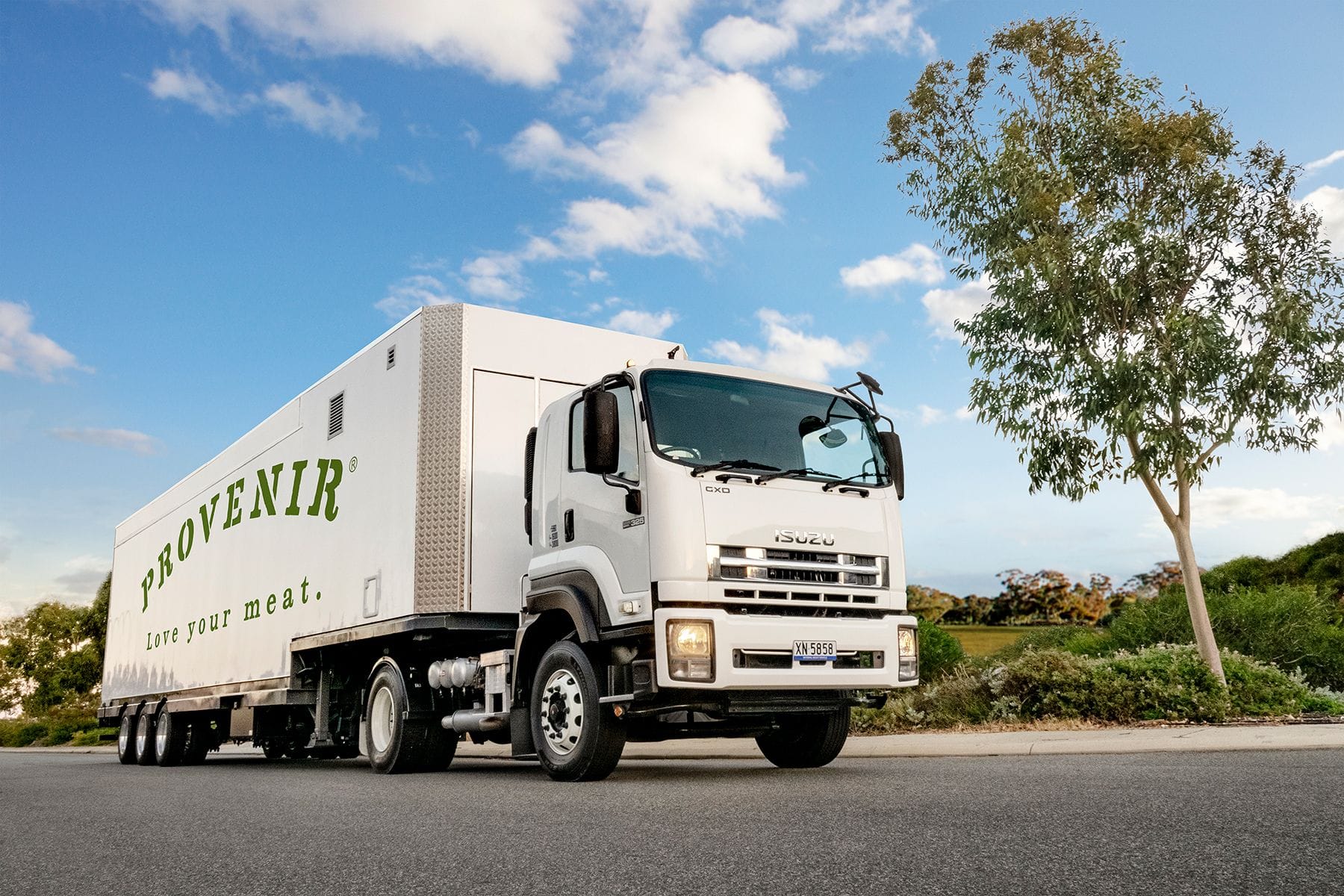 Provenir has had a hand along the way from a similar company from Sweden.
Hälsingestintan was founded in 1999 by Britt-Marie Stegs (pictured left) and provided guidance to the Provenir team as they developed their own mobile processing units.
The Swedish company is the world-leader in this type of technology which is hard to develop considering the significant amounts of red tape surrounding the animal agriculture and food industries.
Business News Australia spoke to Stegs about her journey in developing Hälsingestintan.
"I started my meat business in 1999. I also had a farm and we had some neighbours and we wanted to cooperate because the meat was so anonymous in the stores," says Stegs.
"But the abattoirs in Sweden have been folded into large units which meant the cows had to be live transported very long distances and I felt that I wanted to change it. First, I thought about building my own small stationary slaughterhouse, but it wouldn't be a good solution because the animals had to travel anyway. Then I thought why not make a mobile abattoir. I think we had the same crazy idea without knowing of each other!"
Like Balazs, Stegs says Sweden has embraced Hälsingestintan because of the information about provenance the company gives customers.
"It's very easy for our customers to find us because of the digital traceability we have," says Stegs.
"The consumer can just use their smartphone and come in contact with us and know everything about the specific slice of beef they've bought it's traceable all the way back to the animal and the farm."
More recently, the meat industry has come under significant fire from animal rights groups over concern for how animals are treated. Of note was the massive public outcry regarding the live export of Australian livestock, and more recently the protests by vegan groups in Melbourne which sought to shine a light on Australian farming practices.
Balazs says that Provenir is attempting to make animal welfare as important as the profit margin for farms.
"For the last seven years I've been advocating for improved farming practices that can regenerate the land not just be sustainable but actually regenerative agriculture," says Balazs.
"We have to break some of the status quo moulds with regards to farming practices. There's this panic around the world that we're going to have to feed 15 billion people by the year 2050 but 40 per cent of the food we produce gets wasted so we don't actually have a production issue we have a distribution issue."
"If we establish local food systems then the wastage decreases and the environmental impact decreases as we no longer have to intensify our animal production."
"I know that there is an increased focus on animal welfare through the processing industries but at the base of it our meat industry is focused around scale of economy and human convenience with animal welfare taking a third place. Now Provenir puts animal welfare on equal pegging with those two attributes and we won't ever sway away from that."
Stegs acknowledges that humans will more than likely always eat meat but that the industry needs to change in order to become more sustainable.
"As the people who own the animals and take care of the animals for food consumption, we have a big responsibility to take good care of the animals. They are completely in our hands from the day they are born until their last day when we take them to the abattoir, so of course we have to take responsibility," says Stegs.
"I think we need to go back to locally produced and locally consumed again, to have smaller farms and if we grass feed the cows on land that isn't used for anything else we can avoid antibiotics that big feedlots need to use to have the animals survive the intensive production they put them through."
"I think we also need to innovate new methods to produce meat in a smaller scale by developing effective solutions like high tech mobile abattoirs and butcheries could also be mobile and use new techniques as much as possible."
"In a way we need to go back to basics but we need to do it in a high tech and digital way."
"I think we need a lot of entrepreneurs and pioneers like ourselves to create new solutions."
Never miss a news update, subscribe here. Follow us on Facebook, LinkedIn, Instagram and Twitter.
Business News Australia
Get our daily business news
Sign up to our free email news updates.
Help us deliver quality journalism to you.
As a free and independent news site providing daily updates
during a period of unprecedented challenges for businesses everywhere
we call on your support