The cannabis subsidiary of Queensland Bauxite (ASX: QBL) has secured new distribution deal which could bring a new drug into the mainstream by the end of 2018.
Medical Cannabis Limited (MCL) has developed its Australian distribution strategy for the Canntab XR tablet, a drug developed by Canadian pharmaceuticals company Canntab.
Canntab XR is designed to provide pain relief to cancer patients and provide an alternative to opioid-based treatments.
While the drug is still in clinical trials, MCL expects to start importing Canntab XR during 1H18 and make it available through the government's special access scheme (SAS) soon after.
"While the SAS is currently limited in scale, the company will continue studies for broader market penetration in tandem with the SAS," said the company in a market update.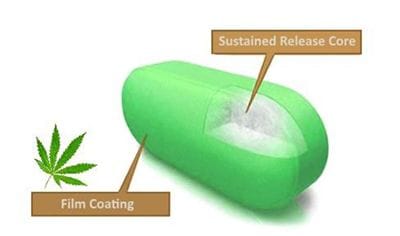 A cross section of the Canntab XR tablet
Pnina Feldman, chairperson of Queensland Bauxite, said the focus throughout 2018 will be preparing the product for market.
"We believe this product is well positioned compared to competing cannabis products and will make a lasting difference to many Australians in need," said Feldman.
"[This year] is shaping up to be a milestone year and we look forward to seeing the first revenues from our medical division shortly."
While initial revenue from Canntab XR is expected to come through the SAS, following the clinical trial phase, the company will use gathered data to market the drug to a wider segment.
MCL expects Canntab XR will attract strong interest "given the concerns of the medical industry around the safety of smoked and vaporised cannabinoids".
The announcement follows a string of major updates for Queensland Bauxite and MCL since the beginning of 2018.
In January, MCL appointed 'Amazon John' Easterling to its board of directors.
Easterling is a veteran developer of therapeutical products from plants and an experienced cultivator of medical cannabis.
In 2008, Easterling married Olivia Newton-John, another avid supporter of the industry. The duo continues to grow the Olivia Newton-John Cancer Wellness and Research Centre in Melbourne.
Just over a month following Easterling's appointment, MCL signed another landmark agreement with a research team in Israel.
MCL will sponsor the Technion Research and Development Foundation, based in Haifa, as it aims to discern the effects of medical cannabis in multiple sclerosis patients.
Under the agreement, MCL will retain an exclusive licence for any product which is derived from the research.
Never miss a news update, subscribe here. Follow us on Facebook, LinkedIn, Instagram and Twitter.
Business News Australia
Get our daily business news
Sign up to our free email news updates.