THE short life span of avocados has long frustrated those who love and devour the fruit, however, one Australian company is claiming a major breakthrough for the world-wide avocado industry.
Queensland food technology company Naturo All Natural Technologies has developed an all-natural processing technology which stops browning of freshly cut avocado and prolongs shelf life for a minimum of 10 days.
The Australian invention, Natavo Zero, uses a 100 per cent natural process which preserves the nutritional properties and taste of the avocado without chemicals, additives, preservatives or processing aids.
The secret of the technology lies in the company's ability to switch off the enzyme responsible for the fruit's browning via pressure fluctuations generated by steam.
The safe and affordable processing solution meets all food safety standards required to export avocado products to some of the fastest growing overseas markets including the USA, Asia and Europe.
Naturo's directors Frank Schreiber and Jeff Hastings spent four years researching and developing their invention which has a world-wide patent.
The duo says the time was right to launch their 'Avocado Time Machine' to the world.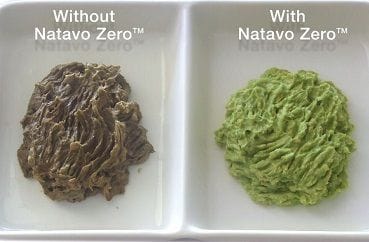 Hastings says the technology has the potential to become the new industry standard.
"It is difficult for people to select, buy and enjoy the perfect avocado because more often than not the fruit has already deteriorated or started its browning process," says Hastings.
"Additionally, the relatively high cost of avocados, combined with the fruit's short shelf life makes it a challenge to incorporate the fruit into a daily diet, especially in countries which have no access to fresh avocados. Our technology changes all that."
Meanwhile, Schreiber says the arrival of the technology opens up new markets and new opportunities for fresh and frozen avocado products.
"Although there is a range of avocado products currently on the market, nearly all of them contain additives such as antioxidants, acids and preservatives which not only alter the taste of the fruit but do very little to stop the browning once the packaging is opened," says Schreiber.
"We see Natavo Zero technology as a benchmark for innovation and quality in the avocado industry and expect that the consumer's appetite for healthier, 100 per cent natural and safe avocado products is realised by the local industry.
"An Australian company has already secured the opportunity to be the first processor to use the technology and we expect they will be producing avocado products later this year."
"This is a rare win-win-win situation for everybody involved; it's a win for avocado farmers, a win for the food industry and ultimately a win for consumers."
The Natavo Zero technology and the 'Avocado Time Machine are designed and manufactured in Australia. The latest model 'ATM 3.5' has a processing capacity of 1,100lbs (500 Kg) cut avocado fruit per hour, which is equivalent to about 4000 avocado fruit per hour.
Get our daily business news
Sign up to our free email news updates.