LOOKING at what the company has in store, Redbubble (ASX: RBL) won't be popping anytime soon.

Martin Hosking, CEO of the Melbourne creative marketplace which listed on the ASX on Monday, says Redbubble is 'only a fraction of the size' of what it will become.

The company has been running for 10 years and is projecting $143 million in sales this financial year and more than $210 million next year.

Its IPO raised $30 million and an additional $9.8 million from the sales of previously-owned shares.

Listing on the ASX was part and parcel of the journey for Hosking, who has been at the helm of an Australian float before, Looksmart in 1999, and also served as chairman of Aconex (ASX: ACX) for five years.

"You work hard for the IPO and after that you just have to get on with it," says Hosking.

"Going public provides balance sheet support, which is appropriate for a company of our size."

Don't mistake this seeming indifference for a lack of passion, however. Hosking started Redbubble because he was overtaken with passion.

"Creativity has always been really important to me and I wanted to create a company with inherent meaning and a reason for being," says Hosking.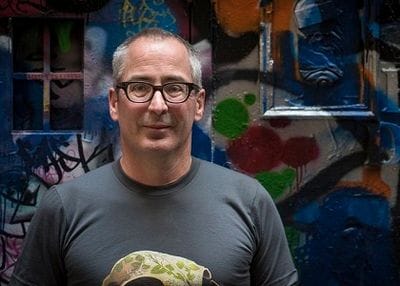 "Also, a company that could scale well, which was really where the nature of the marketplace came into play. Marketplaces scale really well when they get going."

Redbubble has more than 400,000 artists and 1.2 million customers worldwide.

Hosking says the company has scaled so well because it understands the changing consumer.

What started as a marketplace for paper-based products quickly opened up to more complex designs like clothing and homewares. Creatives pitch, produce and sell their products on demand and Redbubble takes a cut of the sales price.

"We are moving from a world where the job of a retailer was to find customers for their products, where now the job of a marketplace is to find products for their customers," says Hosking.

"We want to continue bringing new artists to the marketplace, the same way we started our journey, and grow our global footprint."

With this vision, it's hoped that retail investors will understand Redbubble, which sits as a hybrid stock between tech and consumer, somewhat sheltered from ongoing tech stock volatility.

Redbubble sold 22.6 million shares on its first day for $1.33 each, closing off the day at $1.45, a 9 per cent premium on the initial listing price.

Hosking says there's a 'feeling of satisfaction' considering it was 'looking very difficult to even list at all' in January and February.
Becoming a Redbubble: what you need to get right
Be your own biggest fan
"You need real clarity about who the customer is. Companies will talk in abstracts about who their customer is but they often don't go into full detail. The best companies are often created in perspective of themselves as the first customer. We understand our customer and knew there was a clear need there. It's surprising how often I get presented a business plan and ask 'what's the real need' and they just say it's a 'better than' alternative. It's not enough of a reason for a company exist and will never be enough to change people's behaviour. For example, I never understood the younger generation wanted to communicate through a platform like Snapchat, but the founders obviously had a very clear idea.
Think outside
"Understand how you're going to make money outside of basic customer metrics. It's not big enough, particularly in the Australian context, to think you're going to make money when you have something like 20 million customers. It simply doesn't work to just think you're going to get there. When you think of Atlassian, they weren't profitable from the start, but they understood the economics to make it sustainable.
Get together the gang
"The founder must have the capacity to get other people to follow on with them. We took to the IPO Redbubble's first 11. These weren't necessarily the first 11 employees, but 11 people who were critical. Redbubble employees also have access to share ownership plans, and making those real for them was very important through the IPO. These employees don't commit because they think it's a way to move through the company quickly, but because they believe in the vision. If you don't have the right people around you relatively early on, you will really struggle."

Get our daily business news
Sign up to our free email news updates.