AS THE fastest growing technology startup in Queensland, RedEye is unlikely to relinquish the title any time soon.
The Brisbane-based business was the seventh rising star in Deloitte's Technology Fast 50 report last year, after recording 706 per cent growth in three years.
It has achieved this by solving a global problem and saving mining giants millions of dollars.
Established in 2012, RedEye is a cloud-based platform that collates engineering plans and data for a large-scale asset in one convenient location.
A house might have up to 20 plans, whereas a power station could have more than 20,000 spread across the business. Access to these plans is often sought by employees and contractors for maintenance, repairs and to update the technology.
RedEye documents the history of an asset in a timeline, which can reduce the amount of downtime if equipment breaks at a goldmine or speed up the transfer of plans to build a new gas well.
Initially targeted to the resources sector, the platform has seen a surge in clients from other industries including electricity, water utilities and healthcare.
RedEye now has more than 400 organisations on its books, from BHP Billiton to Lady Cilento Hospital, and manages in excess of $50 billion worth of assets.
The business has also captured the attention of Apple, with the co-founders flying to California this week to finalise a mobile partnership. RedEye is just one of about 50 companies worldwide to meet with the technology heavyweight.
RedEye CEO Wayne Gerard (pictured) says he and fellow founder Randall Makin spent five months researching the data dilemma to create a viable solution.
"There's a lot of talk around innovation and my belief is that if you're going to build a tech startup, you need to solve a problem that's big and global," Gerard says.
"There's roughly 40 trillion engineering drawings in the world to give you an order of magnitude, so it's a really big opportunity for us and relevant to all the major industries that own assets, property or infrastructure."
RedEye secured capital investment at the end of 2014, allowing the business to grow its headcount from eight employees to 40 across offices in Brisbane, Houston and Singapore.
Advancements with major clients in the last few months will propel further growth, with sales and marketing of the brand a top priority this year before eventually expanding its presence in the US.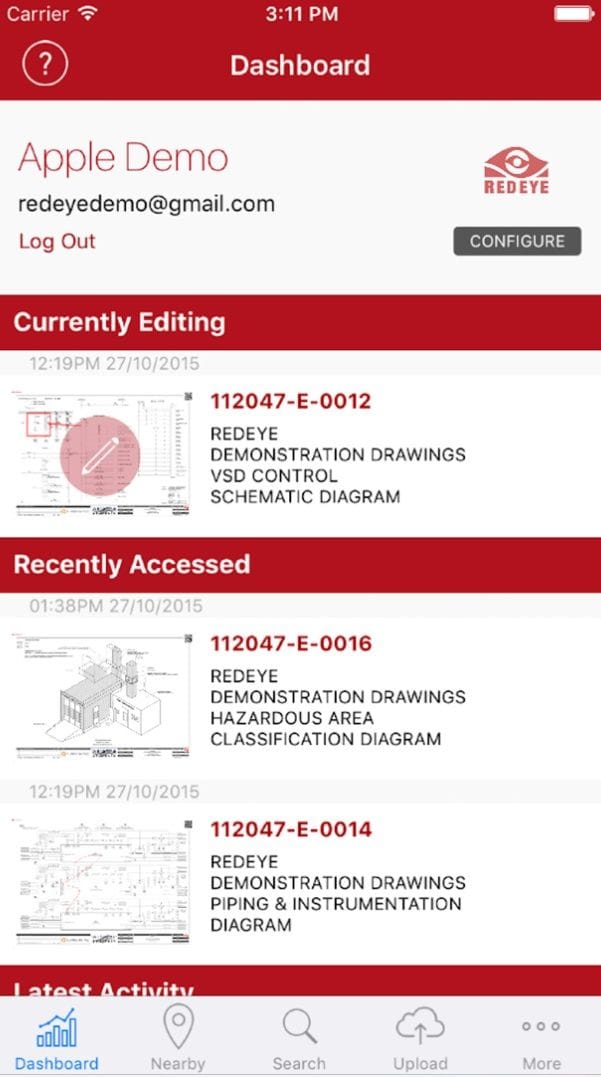 "I consciously built the business in Brisbane because I wanted to help build a new industry here," Gerard says.
"I thought we should expand to the US as quickly as we can and demonstrate that we can grow a global business from Brisbane.
"I think it's really important that we create a business that can become an example of what's possible.
"Our culture is important regardless of how big we get, so we are concentrating on being really customer-focused and a great place for people to work."
He says diversity in the workforce is invaluable, with RedEye's youngest employee aged just 19 years old and the oldest at 65. Half of the management team is made up of women, spurred on by a leadership program featuring prominent businesswomen in the community as guest speakers.
The passionate ideology no doubt stems from Gerard's active role in the startup community, serving on the state government's Advance Queensland expert panel and being appointed to the StartupAUS board last December.
"I think it's important that startups give back and there's kind of an ethos in the startup community where you give before you get," Gerard says.
"It really is bipartisan. Everyone recognises that innovation in technology, or the ideas boom as they're calling it at a federal level, is really going to shape our economy going forward.
"RedEye is doing it right now; we're employing people because of it while helping our clients be more competitive and that helps the economy globally.
"It's just an exciting time to be a startup founder and an exciting time to help shape policy around startups as well."
Get our daily business news
Sign up to our free email news updates.