Redflow (ASX: RFX) is gearing up to launch the next generation of its zinc-bromine flow batteries for energy storage after years spent improving the technology.
The development follows a busy start to 2021 for the company helmed by CEO Tim Harris, with major agreements setting the company up for exciting opportunities.
One deal saw the company crack into the US - a potential goldmine for Redflow - while the other cemented its ongoing relationship with telco Optus.
Ahead of the launch, Harris spoke with Business News Australia about why community-based storage solutions are the industry's future.
---
Large-scale batteries are fast becoming a must-have for corporations and communities alike, used for renewable energy storage and backup power supply.
As more solar panels and wind farms are built, tools are needed to safeguard all the valuable and clean energy for those days when the sun doesn't shine or the wind doesn't blow.
In addition, batteries are proving to be an invaluable backstop for bushfire-prone communities that get isolated during natural disasters.
In Australia, ASX-listed Redflow is riding the current of change with innovation.
Its unique zinc-bromine flow batteries, the smallest in the world, differ from the industry standard lithium batteries used by the likes of LG and Elon Musk's Tesla.
They can work in warm climates without the need for air conditioning or fan systems, and are able to maintain their energy storage capacity for years on end, no matter how often they're used. As such, Redflow's batteries are emerging as the storage system of choice for many corporations in Australia and overseas.
Though the tech was invented in the 80s, commercialisation of Redflow's intellectual property and innovation took time. After being bought and sold multiple times, Redflow eventually acquired the rights to the batteries and has been working on finding a market for them ever since.
However, it is the next generation of Redflow's product that is set to change the status quo.
The Brisbane-based company is hoping the third iteration of its battery, currently undergoing customer trials with existing clients, will reduce manufacturing costs by 30 per cent.
In addition, the team has managed to incorporate contemporary innovations into the product including its latest cooling system, a fresh set of electronics, and a new bromine tank.
"It's many years in the making," says CEO Tim Harris.
"I think we do have a different value proposition than our competition which is usually lead, acid and lithium, but we're not blind to the fact that we need to be competitive on price.
"The Gen 3 battery is a critical part of that jigsaw puzzle."
Australia was really introduced to large-scale battery technology back in 2017 when Tesla boss Elon Musk decided to build a giant battery in the South Australian outback.
Not only are batteries of this type essential as backup power, they're able to store power generated by renewable energy sources. With the world becoming greener every day, storage is in high-demand.
This is certainly the case in the US, the latest market Redflow has cracked into.
Redflow zapping the US
Ahead of the launch of the next-gen battery, Redflow has been signing some major deals, including its largest ever order.
The $1.2 million agreement with US bioenergy company Anaergia will see Redflow supply a system comprising 192 zinc-bromine flow batteries.
The deal announced in March marks the company's successful entrance into the US market, and will see Redlow's tech support two-megawatt hours of energy and reduce peak energy use at Anaergia's Riolato Bioenergy Facility in San Bernardino, California.
Harris says this gives the company a beachhead in the Californian market.
"It's one of the largest energy storage markets in the world," he says.
"They're deeply committed to a renewable future. So the opportunity for us in that market and in the broader US market is extremely strong."
With a push to decarbonise California by 2045, the state is estimated to need around 150 times the amount of current energy storage that has been built since 2010 to support that goal.
"I think the timing aspect is very strong as well," says Harris.
"With President Biden being elected and re-entering the Paris Agreements that has provided tremendous momentum behind things like energy storage. I think we'll see a huge amount of infrastructure and green energy related investment."
Making a splash in not just the US but specifically California is a major boon for the battery marker. With hotter climates, Redflow's batteries are well-suited to the weather as they're able to keep on ticking over despite the heat.
"The market there has also clearly suffered from bushfires over the last decade," says Harris, pointing out how utility companies have been proactively shutting down power lines during bushfire events to stem the risk to communities.
"So things like community batteries are starting to have a much larger role in that ecosystem and that's an area that we feel that we can also play in, which is great."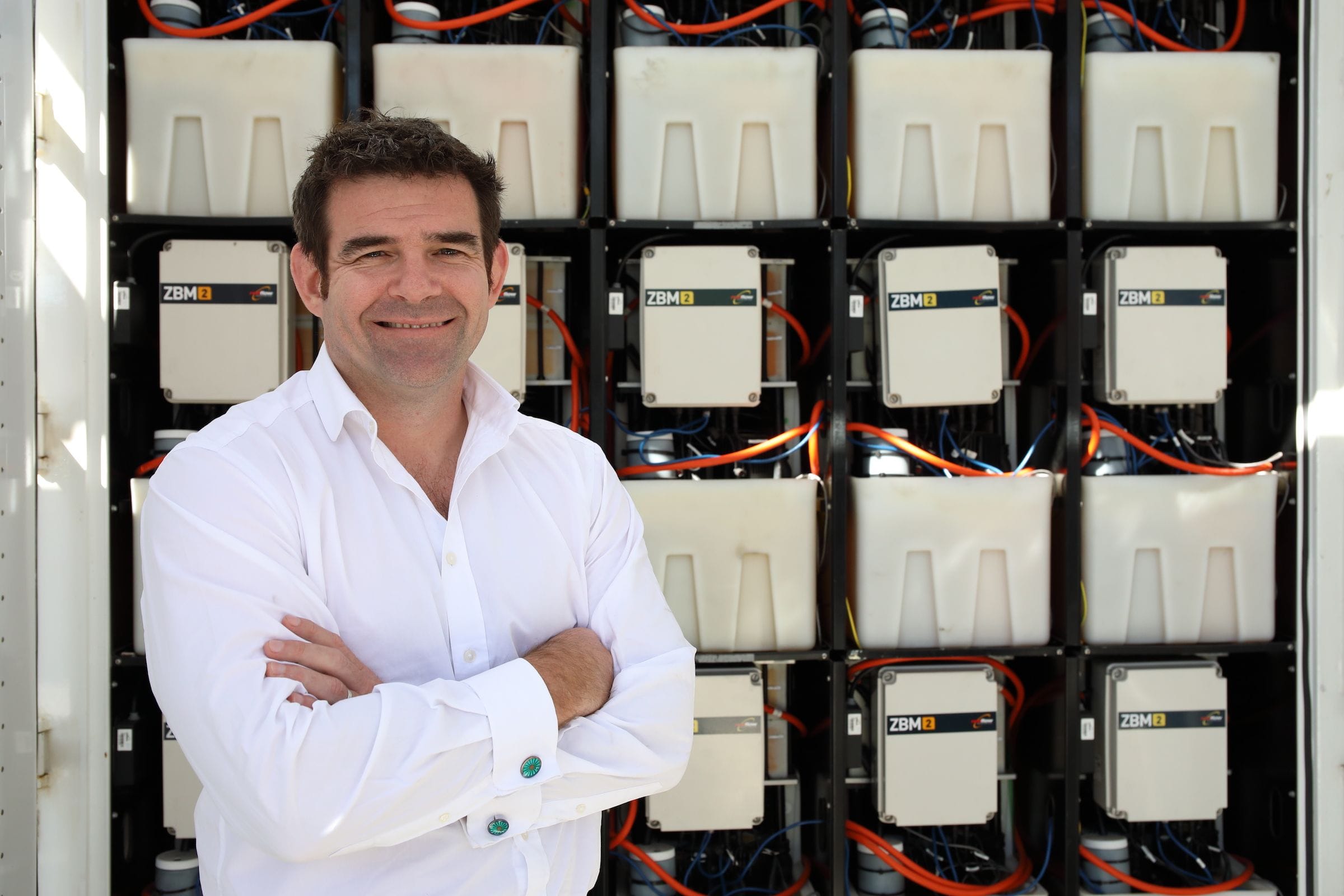 Redflow CEO Tim Harris
Interest electrifying back home
Though Redflow's international ambitions are growing, back home interest in the technology is picking up.
The company's recent deal with Optus in February builds on a long-term relationship with the telco, with batteries deployed as part of the Australian Government's 'Mobile Network Hardening Program'.
As part of the program Optus is planning on deploying batteries in at least 56 black spot sites nationally, ensuring bushfire-prone regions can remain connected during natural disasters.
"Redflow's solution is suited to warm climates, has lower fire risk than other battery chemistries, is easily integrated with existing batteries, has an energy-saving standby power mode and carries strong environmental credentials," says Harris.
"Redflow batteries will play an important role in improving the resiliency of networks, particularly in bushfire-prone areas."
Despite this program receiving the backing of the Commonwealth, Harris notes there is plenty of room for the Government to further support green technologies like Redflow in Australia.
"Fundamentally, Australia has a massive opportunity to become a global leader in renewable energy and renewable energy technologies," says Harris.
"We have abundant wind, we have an existing challenge with what we do with the number of coal fired or fossil fuel-based assets that the grid currently depends on, and I think there's little doubt that renewable energy when combined with energy storage is a commercially prudent decision to make when you're looking into the future.
"We would always advocate the government can help companies like us more. Fundamentally we're taking this proudly Australian-developed technology globally and creating a beachhead in the Californian market and clearly there's an enormous opportunity for us."
Energy storage for the world
While corporate clients seem particularly interested in Redflow's tech, is battery technology going to be a staple for individual homeowners?
Despite solar now wildly popular in Australia, batteries made by the likes of Redflow and its competitors are simply too expensive for an individual to warrant installing at home.
Harris says residential energy storage currently has a payback period of between seven to eight years for the typical household, so the financial case isn't really there yet even if costs are being driven down for production of batteries.
However the Reflow CEO does see an opportunity for communities to invest in the technology, rather than individuals.
"I think you're seeing some good responses to that with things like community-based batteries and some of the work that people in Western Australia are starting to explore whereby you can use a common asset of energy storage across a number of households to address some of those challenges," says Harris.
"I think that's combined with a number of utilities here in Australia, but also globally, saying 'well it's going to cost me a huge amount to reinvest in that critical powerline infrastructure is there a better way where we can create micro-grids around these communities?'.
"We think there's a really key role for us to play in that space and the fact that we're the smallest battery in the world means that we can have this kind of modular-based approach. As we drive up volume and drive the cost down, I think we can get to that point."
Never miss a news update, subscribe here. Follow us on LinkedIn, Instagram and Twitter.
Business News Australia
Get our daily business news
Sign up to our free email news updates.