BEFORE the crash, Brisbane was hailed as the top gaming development city in Australia. Half a decade later, a multinational has just touched down to restore the city to its rightful position.
Paris-headquartered mobile game developer and publisher Gameloft - a publicly listed company founded in 1999 with subsidiaries in 28 countries - has skipped over bigger players and opened its first Australian studio in Newstead.
Testament to its belief in Brisbane's potential, Gameloft has committed to a three-year lease on a 633sqm property at 130 Commercial Road.
Dylan Miklashek (pictured right), production director at Gameloft Australia, says a number of reasons pointed to Brisbane as the place to be.
"Brisbane used to be the top video game development city in Australia from about 2005 to 2010 but the GFC beat it up pretty bad," says Miklashek.
"There were three large studios in the city doing a combination of big, original IP titles and licensed titles, and it was really on the brink of establishing itself in the international video game industry before it was shook to its core.
"It's not a stretch to say Gameloft was one of the first companies pioneering the mobile gaming development space - opening a studio here in Brisbane is the start of rebuilding what was."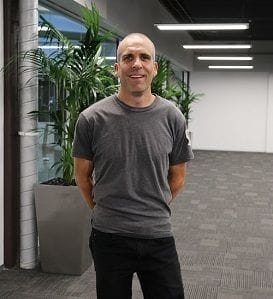 Miklashek says in the past few years "a couple of indies and Halfbrick" have been keeping the scene alive.
Brisbane-based Halfbrick is one of the few larger developers in Australia. Founded in 2001, it accommodates 85 staff at its Kelvin Grove studio.
In spite of it all though, Miklashek believes there is more than enough talent to share around.
"The only similarity between us and Halfbrick is that we both make mobile games and to a degree, we may be competitive with resource talent," he says.
"But this has always been the case in Brisbane and I think there is plenty of opportunity for multiple studios."
Gameloft has opened with 20 employees and Miklashek says he can already see room to expand to 50 or 60.
Miklashek is a programmer by trade from the 1990s and has seen the industry troop through a hobby group perception to now be recognised as fully-fledged and one of the fastest growing worldwide.
He believes mobile - Gameloft's operating platform - will "absolutely dominate" all other types of platforms over the next few years.
However, he retains the view that a lean business is a strong business.
From his experience with companies such as EA Canada and once American giants THQ and Pandemic Studios, Miklashek knows that gaming studios shouldn't exceed a certain number of people.
It's not in Gameloft's nature anyway, the company having origins of the 'gamers in garages' kind, starting as a family home business.
"There is a ceiling for gaming studios for sure," says Miklashek.
"One of our studios has more than 150 people and when it gets to that size we have found that the bulkiness not only destroys intimacy, but also interferes with coordination.
"It's important to cultivate that startup atmosphere - after all, it's in the gaming industry's blood."
Help us deliver quality journalism to you.
As a free and independent news site providing daily updates
during a period of unprecedented challenges for businesses everywhere
we call on your support