OVER the past decade, Robert Hunter (pictured) has made a name for himself by constructing high quality residential and commercial properties for others.
His latest project, however, has been more of a personal labour of love.
Robert led the full design and construct of the Hollywood project, to create the forest-nestled Capalaba country residence that the Hunter family now calls home.
Robert's wife Marisa also spearheaded the project, adding a winning combination of style and colour consultancy to the outstanding end result.
For the team's achievements on the Hollywood home, Hunter Builders was named this year's best Individual Home $451,000-$550,000.
The beginning of the four-month-long process involved clearing a full acre of trees and preparing the land, with special attention paid to bushfire management reports and restrictions.
From there Robert and his team built a stunning home from the ground up.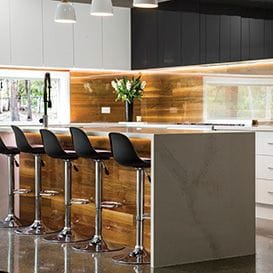 The Hollywood home showcases an array of stunning features including a kitchen with black tapware and spotted-gum splashbacks, an 80m2 outdoor entertaining area with pizza oven, a fully self-contained granny flat and a spacious living room complete with Italian-tiled fireplace.
The front entrance to the home also exhibits a unique lava stone feature, carved from the stone of a volcano.
Robert says the quality of work his team put in to the Hollywood project was second to none, especially on the more challenging elements which included the polished concrete flooring with mirror inset.
"We are extremely happy with the outcome; it's definitely better than we had imagined," says Robert.
"There were plenty of challenges during the build, like the concrete polishing which was a mini project in itself.
"We had to pour the concrete and seed the mirror into the slab, so that when we polished and ground back it would give that industrial look we were going for."
Robert is looking forward to putting the final touches to his home in the coming months.
He says business has been strong in 2016 and he hopes to close out a record year.

Get our daily business news
Sign up to our free email news updates.