Deteriorating market sentiment towards Blue Sky Alternative Investments (ASX: BLA) dealt a blow to the company's bottom line in FY18 with losses more than tripling year-on-year to $85.6 million.
With revenue down 63 per cent at $24.9 million, Blue Sky interim managing director Kim Morison says the market's feelings about the group have impacted on its ability to attract capital.
"Our performance was also impacted by the need to incur one off costs associated with the restructuring of our business model and by impairments to several assets across our portfolio," Morison says
"We have taken tough decisions as part of a sweeping review of our business, including rationalising our portfolio, adjusting the cost base, improving governance and transparency and introducing enhanced rigour to the management of our capital structure.
"These initiatives are designed to rebuild confidence with existing and future investors and to create a strong, robust platform to pursue investments that can create scale and are of institutional grade and competitive advantage."
Morison highlights big changes to the business including an exit from the retail hedge fund business, winding up its regional real estate projects and deferring or terminating some of its retirement living and student accomodation projects.
"Blue Sky will retain its Real Assets, Private Equity and Private Real Estate business units. The decision has been made to progressively exit Hedge Funds, Property Management Rights, regional Residential Development, and Retirement Living strategies," he says.
In addition, Blue Sky has put in place a new structure to enhance investment governance, valuation, reporting and risk oversight.
The company has also provided an update on its discussions with US investment firm Oaktree.
While any transaction with Oaktree remains subject to approval from both parties, Blue Sky states it would contemplate a $60 million investment from the Los Angeles-based company through a convertible note facility, with the proceeds to fund co-investment and working capital requirements.
A deal would give Oaktree board representation at Blue Sky and conversion rights capped at 30 per cent of issued share capital, with aspects of those rights subject to shareholder approval.
At the time of writing the market did not appear convinced by the prospects of Blue Sky's plans, with the share price down 13.8 per cent at $1.60.
Blue Sky used to be one of Brisbane's market darlings, flying high with a share price of $11.50 backed by a steady stream of positive announcements.
But in March US group Glaucus Research put out a damaging report on Blue Sky, claiming it "wildly exaggerated" its fee earning assets under management (FEAUM) and that its share price was worth just $2.56.
The share price then went into freefall and has plateaued at a low level since June.
These boots aren't made for walking
The result come only a few days after one of Blue Sky's market darling investments, Shoes of Prey, ceased trading.
On Tuesday, co-founder of the business Jodie Fox announced to her followers on social media that the custom shoe-makers "faced struggles" in recent times as the business failed to secure mainstream popularity.
"We built a global community of millions of shoe-lovers, a brand, leading edge technological innovation, proprietary software, manufacturing assets, patents and more," said Fox in an Instagram post.
"However, just like every company, behind the scenes, we faced struggles.
"While all the indicators and data were positive, we were not able to truly crack mass-market adoption."
Shoes of Prey began trading in 2009 and it secured $15 million in Series B funding when it worked with Blue Sky in 2015.
When Blue Sky began to suffer fallout from the attack by short seller Glaucus Research, Fox urged other startups and scale-ups to ignore the hype surrounding the bitter stoush.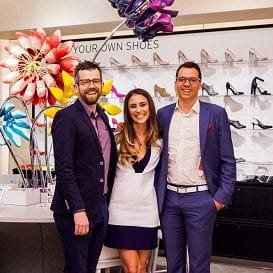 Shoes of Prey founders Michael Fox, Jodie Fox & Mike Knapp

"Blue Sky have been with us all the way on our journey and without them we wouldn't be where we are today," said Fox in April.
"They've been our most active investor. They've been so good to us and other startups."
Blue Sky revealed to the ASX earlier this month that it had written down its stake in Shoes of Prey.
While Shoes of Prey has not yet declared non-existence, a company statement has confirmed that it has paused to "consider our options for the future of our business".business".
Never miss a news update, subscribe here. Follow us on Facebook, LinkedIn, Instagram and Twitter.
Business News Australia
Get our daily business news
Sign up to our free email news updates.