ON THIS day 25 years ago, a four-year-old Jasmin Robertson (pictured) would have been sitting at a stand on her driveway, selling jars of her mother Roza's homemade sauce to people who passed by.
A quarter of a century down the track you can still find Robertson selling Roza's signature recipes, only this time it is big business, and she has swapped the driveway for a factory and passers-by for a national and international clientele.
"Back then we were at the end of our driveway selling mum's sauce at the stand," she says.
"I tied the ribbon on top with the square of fabric, it was very nineties.
"Then over the years it was just something that I grew up with in 2013 we moved into a factory out of home, which was one of the biggest steps for the business as it was something that meant people could really take us seriously."
After Roza sadly passed away in 2001, a few years later Robertson decided to take up the company mantle full time.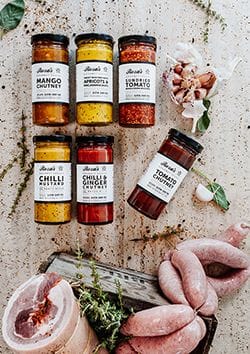 Now celebrating the 25th anniversary of Roza's Gourmet, Robertson reflects on a number of significant milestones which have all played a part to build her mum's lasting legacy.
The business recently announced its partnership with food distributor Hello Fresh to provide ingredients for its nationally-shipped meal boxes.
The company now boasts an annual turnover in excess of $4 million, having also expanded into the Asian market to sell product across a number of cities including Hong Kong.
Her family didn't anticipate the brand would catch on as quickly as it did, from the business establishing its first market stand at South Bank in the early days to the opening of its flagship factory.
"Mum didn't expect the business would grow to this stage, she was very much happy just keeping it to the level that she and my dad could handle," says Robertson.
"When I took over I couldn't have imagined it would get to that next level we have expanded to a second manufacturing premises just last year."
Robertson says that to this day, the growth of Roza's continues to be a largely organic process.
On picking the right ingredients for success, she still finds inspiration beyond the typical five-year plan.
"In small business you can't really have a five-year plan, because when you're working so hard every day, six months can really change everything," says Robertson.
"Even now, I say that I can't imagine us getting any bigger than we are, but it will mostly likely happen if we just keep focusing on the small milestones every day and every month."
Robertson believes her mum would be very proud of what the business has achieved so far, and where it is likely to head in the future.
"I think that she would be blown away by where we have got to, and the fact that so many people are still saying her name is pretty amazing," she says.
Roza's Gourmet currently markets a total of 40 products including sauces, chutneys and dips many of which still use an original Roza recipe.

MORE STORIES ABOUT ENTREPRENEURS:
Get our daily business news
Sign up to our free email news updates.