VERSATILE and vibrant are two words that spring to mind when describing the Ruby Olive jewellery collection created by entrepreneur Skye Anderton (pictured left).
Fitting the same description is Brisbane's iconic Johnson Hotel, one of the country's seven Art Series Hotels, inspired by the colourful abstract art of Michael Johnson.
When the Johnson Hotel approached Ruby Olive to create a line of necklaces for its female staff uniform, Anderton said it was a "natural business marriage".
She describes the finished product as an eye-catching piece of "wearable art" that fits perfectly with the Hotel's unique style.
"The Johnson Hotel is a part of the Art Series hotel group, and every hotel is inspired by a different Australian artist," says Anderton.
"The hotel needed something for a female that would sit against a navy dress, matching with the theme of the hotel, so we were immersed in the artwork of Michael Johnson."
Each Johnson-inspired handmade resin necklace is slightly different, as its beads twist and change to accommodate different tastes and body shapes.
On recreating the famous artist's style, Anderton says her company is no stranger to drawing inspiration from eclectic sources.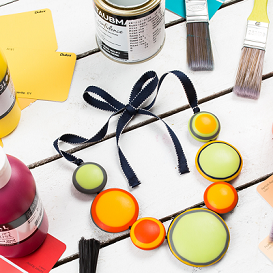 "Every collection we create is inspired by the world around us," says Anderton.

"'I love that our designs are like little pieces of wearable art and we love telling stories through our jewellery."

It's not the first time Ruby Olive has created commission pieces, as its designs graced the official outfits of Queensland Tourism staff for one of the organisation's key events last year.

Anderton hopes more opportunities will come off the back of her successful collaboration with Art Series Hotels.

"We actually have created a whole collection for the Art Series Hotels which will be launching in a couple of months," says Anderton.

"We would love to get more opportunities in the future to collaborate and create uniforms and other custom products."

Business News Australia
Get our daily business news
Sign up to our free email news updates.