Starting a business is hard. Starting a business with three kids in tow? That's another story entirely.
But Sydney based mum-preneur Caroline Africh proved to the Sharks that she could develop a serious distribution model that takes advantage of a huge community of new mums.
Africh pitched to the Shark Tank gurus her innovative and intriguing baby goods distribution model Things 4 Bubs and walked away with the support of Andrew Banks.
Things 4 Bubs is a distribution model that takes advantage of stay-at-home mums to sell a variety of high-quality baby products. Rather than sell and distribute these products directly to stores, Caroline has devised a 'consultant model' where mothers sell the products for her, via mums groups and their direct circles of new mums, empowering them to run their very own business.
Africh got started with Things 4 Bubs when she returned to Australia to have her second child. Realising how hard it would be to go back into working full time in IT, Africh instead started working on Things 4 Bubs with the one hour a day spare she had in her unfathomably busy schedule.
Her hard work has paid off, and with the support of Banks she now intends to take the model to the States.
Business News Australia spoke to Africh about the unique challenges that come with being a mum-preneur and the future for Things 4 Bubs post-Shark Tank.
How did you come up with the consultant model for distribution?
I started the business about 5 and a half years ago when I had my second son in Australia. I had my first baby in London and then migrated back to Australia and I found myself without a job, I couldn't go back into the banking sector because that would require me to be back at work full time. I really wanted to start a business and I didn't know what to do. I discovered this shoe sock in Japan, Attipas shoes, and I thought they were brilliant for my one year old. I thought 'This product's amazing, let's import them and sell them', so I started with that. I basically really started an online business distributing these shoes from my attic and I just thought if I can sell these many shoes myself maybe I should start a re-sale model and see if other moms will sell them online or through their local community. And yeah it took off quite quickly.
Why is it important for you to have mums involved in the sales process?
Mums that are selling our products are generally our customers to begin with. the products are tried and tested by them and I think that's what stands out from supplying stores in a store a product could sit in a back shelf and not really be sold by anyone unless they truly believed in it whereas our consultant are the users of our products so it's very easy for them to be energetic about the sales process it comes naturally.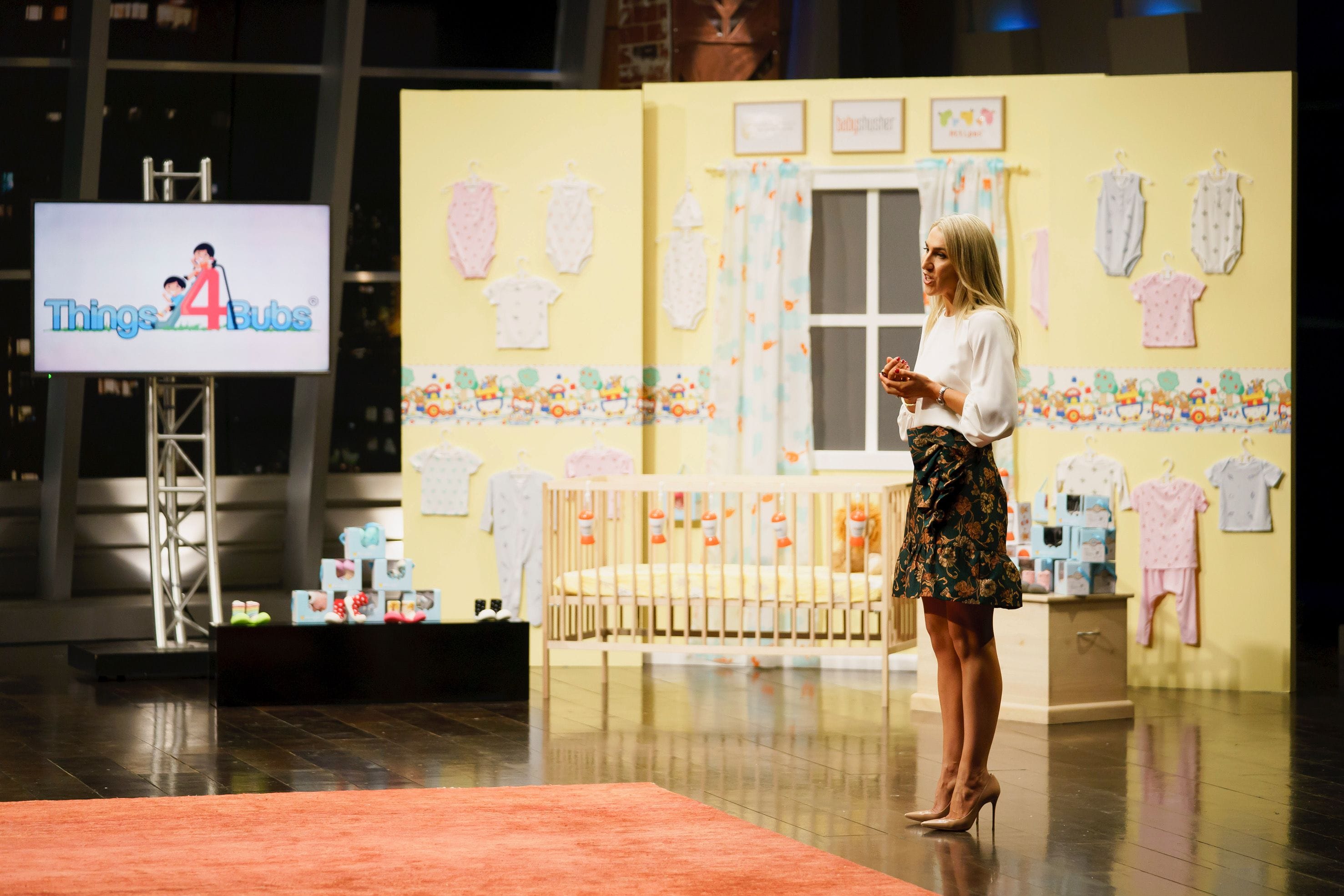 Photos courtesy of Network Ten
Do you find that mum-preneurs face unique challenges that other entrepreneurs don't have to worry about?
Yeah, definitely. I think that term depicts a mum that's trying to get a business up and running from home but has to juggle the kids. That really differentiates you from entrepreneurs that are maybe without children and have all the time in the world. You've got your children and they will always be your priority. Once you become a mum the business always comes second. I look at all these young and exciting entrepreneurs with these $20 million businesses and I think if I didn't have kids I could probably be there by now, but I'm spending all these hours a week looking after my children and not building my business so it delays your growth for sure.
Is there enough support out there for mum-preneurs?
I'm part of a community called the Aus Mum-preneur network and they've been amazing. I joined them around in my first year and it's a massive group around Australia of women in a similar situation to me; mum's that had started a business and juggling kids around their business. That community has honestly been so supportive in terms of me growing. I've had a couple of moments throughout my journey where I really struggled with the growth, not sure what to do because I'd been overwhelmed and I'd reached out to them and somebody's always come forth and helped me with some advice or a phone call or a cup of tea.
What have you got in the future now that you've got the backing of Andrew Banks?
Having discussions with Andrew has been really helpful. I did choose him because he's very strategic, big business thinker, thinking about global. And I'm very detailed. He's helped push me to think outside my normal comfort zone, looking at ways to increase our revenue, create new revenue streams, and looking at global growth. Things like basically getting a model perfected in Australia and then looking to licence it overseas is one thing that I am quite eager to do over the course of the next couple of years. He's forced me to think outside the box which I think is what I needed.
What's your top tip for mums out there wanting to start their own business?
Number one is don't think that because you're a mum you can't start your own business, you can definitely work around your children. And number two is just stick to your plan. Don't give up, and just keep going.
Never miss a news update, subscribe here. Follow us on Facebook, LinkedIn, Instagram and Twitter.
Business News Australia
Get our daily business news
Sign up to our free email news updates.
Help us deliver quality journalism to you.
As a free and independent news site providing daily updates
during a period of unprecedented challenges for businesses everywhere
we call on your support