An Australian tech manufacturer today announced it has created the world's first integrated circuit manufactured at the atomic scale, with Silicon Quantum Computing (SQC) laying claim to this historic milestone.
Described as a "major breakthrough" by SQC's founder Michelle Simmons who holds an Order of Australia, the announcement comes two years ahead of schedule and a decade after the company's team fabricated the world's first single atom transistor.
"Today's classical computers struggle to simulate even relatively small molecules due to the large number of possible interactions between atoms," explains Simmons.
"Development of SQC's atomic-scale circuit technology will allow the company and its customers to construct quantum models for a range of new materials, whether they be pharmaceuticals, materials for batteries, or catalysts.
"It won't be long before we can start to realise new materials that have never existed before."
To build the processor, SQC said it had to integrate multiple atomic components within a single device - achieved at the company's facility in Sydney.
The chip created by SQC is able to simulate a molecule called polyacetylene. Having now achieved this, the company hopes its integrated circuit can be used to simulate how materials work and design brand new materials that have never existed before, marking a major step forward in the industrial materials space.
SCQ explains that by placing atoms in silicon with sub-nanometre precision it was able to mimic the single and double carbon bonds of a polyacetylene chain.
By embedding a model of polyacetylene into an atomic-scale device, and measuring the current through it, SCQ showed that the device behaved as a polyacetylene model as predicted - including the observation of an electron existing in two places at the same time.
This is a major breakthrough, as it allows SQC and other scientists to understand how nature and the natural physical world really works.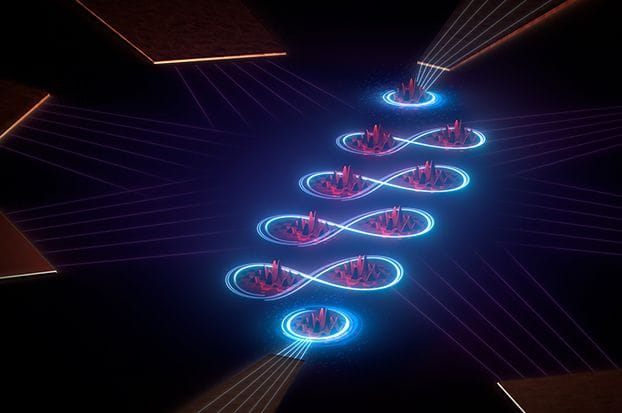 The company hopes the ability to simulate materials at the atomic level will revolutionise the way people look at solving problems. For example, SQC said its technology could simulate and design new catalysts to be used in industrial chemical processes, which could have a real-world impact by making these processes less energy intensive.
The achievement is the culmination of 20 years of research led by Simmons, and delivers on a challenge first postulated by theoretical physicist Professor Richard Fyneman in his 1959 lecture Plenty of Room at the Bottom.
Fyneman asserted that if you want to be able to understand how nature works, then you have to be able to control matter at the same length scales from which matter is constructed - right down to the atom.
"The exquisite precision of the device validates SQC's technical strategy to focus on quality as opposed to quantity," Simmons said.
"We have created a superbly precise manufacturing technology that is opening the door to a whole new world. It is a huge step towards building a commercial quantum computer."
SQC chair Stephen Menzies said the company's long history of delivering on technical milestones inspired the company's backers to continue supporting the journey to today's breakthrough.
The company was formed in May 2017 by the Commonwealth Government, UNSW Sydney, Telstra Corporation (ASX: TLS), the Commonwealth Bank of Australia (ASX: CBA), and the State of New South Wales, and funded with $83 million to purchase a portfolio of silicon quantum computing intellectual property.
"With critical and emerging technologies such as quantum hardware, stakeholders gain huge confidence from the technical team's ability to meet stated milestones," Menzies said.
"To reach such a landmark two years ahead of schedule is a triumph.
"SQC's engineers are now scaling the technology to address more industrially relevant molecules and as a business we look forward to developing targeted industry partnerships to address their simulation need."
Get our daily business news
Sign up to our free email news updates.
Help us deliver quality journalism to you.
As a free and independent news site providing daily updates
during a period of unprecedented challenges for businesses everywhere
we call on your support