SILVER Chef (ASX: SIV) founder Allan English just knew his business model could pick up steam outside of the kitchen.

The founder of the Brisbane commercial restaurant and kitchen equipment outfit felt he could do more than provide equipment to entrepreneurs at a lower cost.

He founded Silver Chef in 1986 and listed the company on the ASX in 2005.

Change can be hard at the best of times, but when your business has gone past that 20-year mark, there's likely to be more than a couple of shadows of doubt.
"It was around the mid-2000s and I went off wandering for a little while to try to find out what my next stage in life would be and wondering why I was trying to make more money," says English.
"I started going to jazz festivals, volunteering, giving more to charities. One proposal in particular came through about a charity where women could work themselves out of poverty, the concept of microfinance, where the loan goes to women in the village."

Ever since, English tells Business News Australia that his life has been defined by this word, and his company has only accelerated its growth trajectory.

The last half year delivered another record phase of asset growth for the 'Rent-Try-Buy' financier which delivers a flexible funding service for commercial restaurant and kitchens.

"I had raised $13 million in debt from a group of people in order to fund Silver Chef to the next stage and list on the ASX," he says.
"Investors believed in the story and they backed us. The stock price at listing was around $1 and we had a market capitalisation of about $11 million. Now we're at around $300 million and $9 a share.

"My heart space was always helping entrepreneurs in the hospitality industry, and I felt like I'd achieved everything I set out to at this point.
"I started looking at the world through a slightly different lens, finding my next purpose."
English borrows from philosophy to guide his business acumen, electing to study philosophy and the likes of Aristotle, Socrates and Plato one night a week for five years.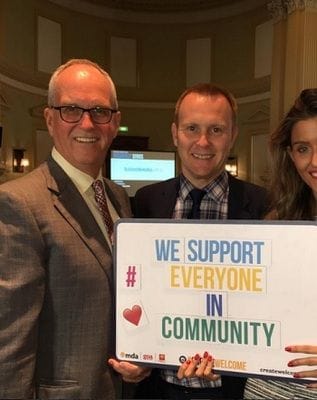 "Wise men that have gone before us - every religious leader, recognised thinker - has always said a happy life is one that's going to be of benefit to another," he says.

In 2010, English set up the English Family Foundation.

He semi-jokes this was when he relinquished all of his wealth - 50 per cent of the family shares went into the foundation - with his wife jesting she holds the remainder of family shares in the ASX-listed entity.

"I asked the leadership team to go away and come back with a vision of what the business would look like at 2020, a vision that had at least 50 per cent chance of success," says English.

"They came back with a vision including aspirational numbers of employees, share prices and customers. I transferred the thinking into how many people could we fund out of poverty to achieve these KPIs - and the number came up as one million people."

As a fierce proponent of Verne Harnish and the Rockefeller Habits, English deemed this a fine Big Hairy Audacious Goal (BHAG).

A year later, his staff came back and asked to increase the number to 1.5 million.

The English Family Foundation has to date elevated 670,000 people out of poverty. English's HR manager tells him since crystallising the vision, 9 out of 10 people that apply for jobs within the company are at the required level.

Silver Chef also notched a B Corporation certification last July, which is to business what fair trade certification is to coffee. Worldwide, 1600 companies are recognised as truly using business as a force for good.

These days, English finds himself taking more steps back to look at the bigger picture.

The executive chairman is currently in a leadership transition space, as Silver Chef's chief operating officer Damien Guivarra takes on more day-to-day responsibility.

English says he's gradually dropping back from the public company and departing from the executive position to spend more time in the foundation and communicating the use of business as a force for good.
"I'm more of what they call an igniter foundation," he says.
"I try to find people of great potential and talent but are currently under-resourced, and get them to the next level up to do something fantastic. They can then take that to others as proof they have resonated already.

"It's mostly fear that stops companies being philanthropic, fear of what other businesses will think, fear of what shareholders will think, and just an overall fear of failure.

"The reality is, philanthropy is the only way you can really find a deeper sense of purpose and satisfaction which will always channel back into business."

Get our daily business news
Sign up to our free email news updates.