It was a case of third time's a charm last night for the founders of wholesale solar distributor One Stop Warehouse (OSW) and renewable energy retailer Discover Energy, as Anson Zhang and Jeff Yu took home the prestigious Sydney Young Entrepreneur of the Year Award 2021.
The pair also won the event's Manufacturing, Wholesale and Distribution category for the third year running, and received three accolades on the night including the Sustainability & Social Responsibility Award.
And perhaps as evidence of the opportunity and cosmopolitan spirit that abounds for entrepreneurs in the Harbour City, for the third consecutive year the top prize was won by founders who were born overseas.
The two university mates started OSW in 2013 with the simple objective of making a living in an industry that was emerging and sustainable - a vision that resulted in dramatic growth with the group becoming Australia's largest wholesale distributor of solar photovoltaic (PV) panels, solar inverters, components and systems.
This growth was reinforced by the world's largest solar panel manufacturer, China-based GCL, acquiring a 51 per cent stake in OSW in 2016, and the group has gone from strength-to-strength ever since under the leadership of Zhang and Yu who in 2018 launched their own renewable energy retailer Discover Energy.
It is the interplay of these two companies and the infrastructure they are building that makes the duo hard to ignore. Discover Energy offers a unique model that uses algorithms to predict electricity prices at certain times and therefore offer cheaper deals, alongside virtual power plant (VPP) options with solar power and battery storage.
"Discover Energy has been around for more than two years and it's growing quite fast," says Zhang, who adds the group conducted a $6 million Series A raise with a local investor in the second quarter of the calendar year, attracting a $75 million valuation.
And that's the smaller of the two groups they've founded, with One Stop Warehouse potentially looking at a raise in the future as it gears up for international expansion.
The Series A diluted the co-founders' stake somewhat, but Zhang says that he, Yu and another non-executive investor still retain an 80 per cent share of Discover Energy.
"In terms of customer numbers, we [Discover Energy] have almost 20,000 accounts and if we're talking about the virtual power plants – someone who has installed solar and battery, whether it's residential or small commercial – we almost have up to 1,300," he says.
"That takes us to 15MwH capacity that we can control – it's actually quite sizeable. It's spread everywhere. What we're doing is aggregating the owner storage."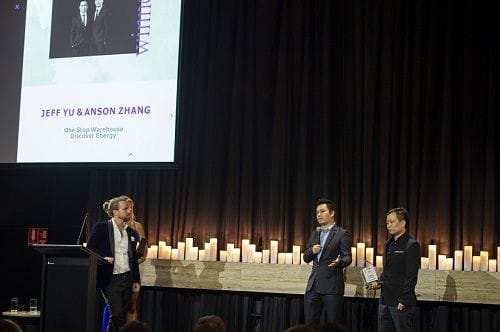 Off the back of the raise, Zhang says the company was approached by several international electric vehicle (EV) manufacturers from various countries to explore partnership options in Australia, with discussions continuing.
"Why they look to us for cooperation is because if they sign with us we can remotely charge everyone's EV for a cheap rate. We can predict electricity wholesale pricing," he says.
"The technology is what we call smart charging technology. We can use the battery to do what we call Vehicle2Grid to make an income; in the meantime, they're saving the money on charging their EV, and also they're making income on EVs.
"EV to us is a mobile battery – it's the same as storage in the home, but they are mobile."
He says electricity charging will likely be the first step for consumers with EVs, but ultimately the ambition is for Discover Energy to become a sales platform for EV manufacturers.
"Then we can become an agent of an EV manufacturer. The customer at the end, they only care about two things – the investment return rate, and secondly, who is going to service and take care of their EV battery," he says.
These are all just ideas for the time being and are speculative like most stories in the EV and battery space at the moment. However, even in the absence of this vertical the two businesses have demonstrated impressive growth and scalability; traits that were evident in the last two winners of the overall top prize - Izhar Basha of EHPlabs last year, who in 2020 won the Food & Beverage category, and 2019 winner Carlos Ferri of Zapala Company, who this year won the Professional Services category for the third year running.
The Sydney Young Entrepreneur Awards and Business News Australia would like to thank corporate partners Instyle Solar, The Entourage, UNSW Founders, Venture Crowd, FuPay, Yellow Panda and Ivvy for helping make the event happen.
All winners at the 2021 Sydney Young Entrepreneur Awards
Young Entrepreneur of the Year - Anson Zhang & Jeff Yu (One Stop Warehouse, Discover Energy)
Trailblazer of the Year - Mina Nada & Michael Johnson (Zoomo)
Arts & Culture - John Tabari & Iain Wang (ClassBento)
Digital Disruptor - William On & Rob Hango-Zada (Shippit)
Fashion & Design - Samuel Wood (Azura Fashion Group, Azura Runway, Azura Exchange, Azura Collection, Azura Fit, Azura Consulting, Azura Chic)
Finance - Jason Hood (BourkeHood, BourkeHood Ventures, Kapvista, Kapvista Ventures, Bourkehood Capital, RobustClaims)
Fitness - Justin Ashley & Serra Burmin (Fitness Playground, Fitness Playground Academy)
Food & Beverage - Izhar Basha (EHPlabs)
Health & Medicine - Jonathan Moody (Physio Inq)
Hospitality & Tourism - Aden Levin & James Farrell (Viral Ventures, Hidden)
Legal - Tomoyuki Hachigo & Alex Solo (Sprintlaw)
Manufacturing, Wholesale and Distribution - Anson Zhang and Jeff Yu (One Stop Warehouse, Discover Energy)
Marketing - James O'Neill & Alberto Caponi (WildJar)
PR, Media & Events - Rebecca Gibbs & Andrew El-Bayeh (Example, Example House)
Professional Services - Carlos Ferri (Zapala Company, Shipeezi, Maple Bear Australia, Studio7)
Property & Construction - Nathan Rust (Safetyline Jalousie)
Retail & Services - Ammar Issa (AMR Hair & Beauty, Fanola AU, Hey Stacey, Beauty Systems Group, Fanola UK, AMR UK, Inebrya AU, Roaman Smile, Heir Watches)
Specialist Services - Abdul Razak and Samira Razak (Maple Community Services)
Startup - Dale Brett and Rani Adam (FL0)
Sustainability & Social Responsibility - Anson Zhang & Jeff Yu (One Stop Warehouse, Discover Energy)
Technology - Jack Petersen (InVista Group Australia, InVista Audio Visual)
Get our daily business news
Sign up to our free email news updates.