A 'SOULFUL economy' - the movement penned by a renowned American social entrepreneur visiting Queensland as having the potential to save our world.
It involves trade not aid, a hand-up not a handout, and going about the day's work with soul in mind at all times.
From Rwanda to the United States and beyond, Francine LeFrak is changing the conversation in philanthrophy and entrepreneurship through her non-profit
Same Sky
.
"I believe in venture philanthropy, and giving jobs is the greatest philanthropy, but we have to look at the economy and metrics for success differently," said LeFrak, speaking to the Alliance of Girls Schools Leadership Conference at Bond University.

"We are consuming on this planet at such an unstainable rate, and unless we start being more conscious of one another and really putting ethics at the forefront, then we are going to keep heading in the wrong direction.

"We need to develop a new entrepreneurial mindset because it's not right to have an economy where some win and some lose."

The daughter of Samuel LeFrak, founder of multi-billion dollar New York property development company the LeFrak Organisation, is proposing that soul is a critical ingredient to solving global power imbalances.

The multiple Tony, Emmy and Peabody award-winning producer of social issue films turned to venture philanthrophy in 2008 following Hollywood's lack of interest in producing another film on the Rwandan genocide of 1994 once Hotel Rwanda was released.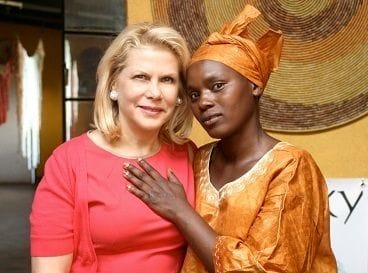 After spending eight and a half years developing her film script, LeFrak wasn't prepared to give up.

"When you truly believe in something, no matter what obstacle is in your way, you feel like you just have to go forward," says LeFrak.

"I was in so deep at that point that there was no turning back."
At the deep end were between 250,000 and 500,000 Rwandan women left desolate and hopeless after being raped during the genocide, with 70 per cent of these women estimated by the United Nations to have contracted HIV.

This hit hard for LeFrak, who is chair of the Women's Leadership Board at the Harvard Kennedy School and the founder of The Francine A. LeFrak Foundation that aims to promote the empowerment of women.

"These women were so poor that they couldn't even eat consistently, let alone take the medicine that was being provided," says LeFrak.

"They were just preparing for their death."

However, running parallel to this was a different story; the sky LeFrak was looking at was the same sky the Rwandan women were under.

"Countries that receive aid are statistically worse off, so I got this idea to give the women that had been left behind a job - a hand-up, not a handout," says LeFrak.
"Friends always said I had a good eye for jewellery, so after a year of deliberation I came up with this idea to employ women to crochet jewellery.
"My friends thought I was crazy to leave show business and set up a business in Rwanda, but I just had to tell the story to the world."
Since 2008, Same Sky jewellery has been acting as a ribbon to the cause of eradicating extreme poverty by promoting a marketplace for the ethical shopping movement.
Artisans in Rwanda and the US, where 45 million live below the poverty line, create jewellery for remuneration of the selling price. This can pay for one year's healthcare, school fees, or even just access to clean water and food.
"By creating jobs you give dignity and hope, grant opportunity across multiple dimensions in life, and help unveil talents as you promote an avenue for self-expression," says LeFrak.
LeFrak notes how one of the Rwandan artisans who was gang raped in the genocide and couldn't speak when they met now leads the women; another's HIV numbers have changed so dramatically because she's working that this past year she gave birth to a HIV-free baby.
"I believe so much in the power of women working in collectives," says LeFrak.
"Working in collectives gives you the most incredible ability to empower one another.
"These women are moving out of government housing, operating their own side businesses, opening bank accounts, putting their children through school - and above all - are productive and happy."
At the centre of LeFrak's proposition is the fact that two-thirds of the world live below the poverty line, with much of this being driven by the way we consume.
"You don't need to start a business in Rwanda to realise there is so much around us that we can be more sensitised to," says LeFrak.
"We are so busy trying to get a bargain when we shop that we leave our compassion and empathy behind, and forget the majority of the world lives on less than $2 per day.
"We need to get back to celebrating artisans and remembering we are all connected we live in a world with unparalleled access to each other, yet are more disconnected than ever.
"The green movement, organic movement, and the shared economy are all gaining traction the soulful economy will raise the consciousness of consumers even higher to elevate lives in dividends."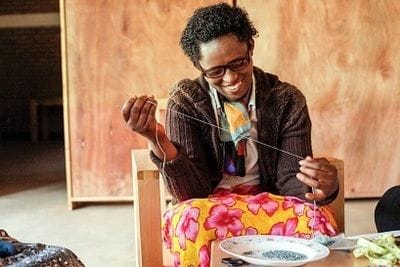 Get our daily business news
Sign up to our free email news updates.