RAPTIS Group's original vision to create a food emporium for Southport Central is about to be revived, with a touch of Miami Marketta added into the mix.
International investment company GCPI, the major owner of retail space in the CBD property, plans to create a daily night market on the site in conjunction with the proposed food emporium which is earmarked for an 850sqm ground-floor tenancy in the three-tower project's retail plaza.
The emporium was originally planned by Southport Central developer Raptis Group (ASX:RPG) to replicate the highly successful Ferry Road Market business model before the company hit financial problems in 2008.
The new YESS Markets plans to build on this theme with an expression of interest campaign to be launched next week by Knight Frank seeking both permanent tenants and casual market stall holders.
Retail shops will range from 17sqm to 200sqm, while a range of temporary areas will be leased from $700 per month.
Knight Frank associate director Sanja Stankovic says Southport Central has become the epicentre of CBD activity in Southport and is experiencing daily foot traffic of 5000 people.
She says she is expecting a strong response from store owners as they recognise the revitalisation occurring in Southport and they move to secure a position in the area's premier retail hub.
"We want to increase the popularity and common knowledge, of both locals and tourists, that Southport is a prime destination and we want to create something that hasn't been on offer before," she says.
"We recognise that there is a need for this sort of offer up the northern end of the Gold Coast and we want to encourage people to spend time at Southport Central at the night time.
"We believe it is a great opportunity for both store owners and casual market goers."
Knight Frank is seeking 10 permanent tenancies, and around nine temporary stallholders that can lease space on a daily, weekly or monthly basis.
The permanent tenancies are expected to attract a range of boutique operators including a delicatessen, Asian convenience store, gourmet pizza bar, health food shop, gelato bar, juice bar and retail shops.
Meanwhile, the markets are expected to boast local art and crafts, pop-up eateries and the occasional live bands - similar to the offering of Miami Marketta.
The markets are expected to launch on October 17 and trading hours will be 2-10pm, seven days a week.
Artist impression: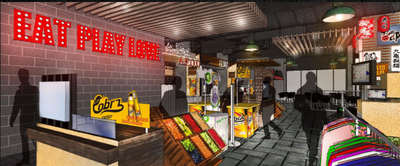 Get our daily business news
Sign up to our free email news updates.