SPLEND, Australia's largest share economy vehicle network and an Uber preferred partner, has secured a strategic investment from Element Fleet Management (TSX: EFN) to support the next phase of its global expansion plans.

Element secured a 12.5 per cent stake in the fast-growing Splend, which aims to have $220 million in vehicles under management by 2019. The deal follows investment in Splend by Investec Australia Limited in December 2016.

Splend founder and CEO Chris King says Element's investment in the two-year-old business will propel the next phase of Splend's global growth plans, including immediate launches in Canada, Mexico and the United Kingdom.

As the premier supplier of rental vehicles for on-demand rideshare and delivery services including Uber, King says these markets offer a new, and growing, source of revenue.

The two companies have an existing business relationship with Element providing a host of fleet management services to Splend and its drivers in Canada, Mexico, Australia and New Zealand. Services include vehicle financing, maintenance, registration, telematics, accident management, and safety solutions.

Splend currently owns and manages more than 1,700 vehicles, operating in Australia's major cities of Sydney, Melbourne, Brisbane, Perth, and Canberra, with additional vehicles recently launched in Toronto, Mexico City, and London. The Element investment is expected to help Splend achieve its target of more than 15,000 vehicles under management worldwide by late 2019.

Business News Australia spoke with Chris King from London about the deal and how the company plans to expand beyond supplying vehicles to Uber drivers.

How did this deal evolve and what does it mean?

Element's local business in Australia, Custom Fleet, has been providing financing for our vehicles over the last couple of years. Between our businesses we have identified expansion opportunities to international markets. We saw the potential to take the Splend model global which would also facilitate growth for Element in these new markets. As we continued to develop our planning in these markets where Element already operate, it became apparent that by having Element as an equity partner we would be able to leverage their expertise in these countries to support our expansion.

Talk us through your growth as it seems pretty rapid especially considering you're now looking at launches in Canada, Mexico and UK.

We are currently in four major markets globally with views for significant global expansion in the near future. Splend currently has more than 1,700 vehicles and operates in Australia's major cities: Sydney, Melbourne, Brisbane, Perth, and Canberra.
"We have recently launched into Mexico City, and London. In these cities there is an undersupply of vehicles for people that want to drive for Uber and do not want to or are unable to access traditional financing facilities."
From our review of these cities we believe that the Splend model will provide strong value to people that want to access the sharing economy and earn an income driving on platforms like Uber. The deal with Element Fleet Management will enable Splend to acquire a significant share of the multi billion dollar global share vehicle market, with a target of having more than 15,000 vehicles worldwide by late 2019. Splend is also negotiating with major OEMs to facilitate a global fleet deal.

What do you anticipate will be the major challenges in these markets?

Taking any business global always has challenges and risks associated with it. We see the biggest challenge as adapting our approach to the local environment, making sure that our product offering and approach is right for local consumers. Also understanding the regulatory environment and "the way business is done" in these countries is crucial to make sure Splend is successful. With Element's support we believe we have a major advantage in these cities. Element currently operate a successful fleet business in Mexico and we have been able to utilise their local staff and facilities to support our pilot programs.

Where did the idea for Splend come from, and how did you fund it?

After being an avid Uber user since its Australian launch at the end of 2012, I noticed a very strong change occur starting in early 2015 when more and more drivers were becoming full-time. They were using their family or personal car and the costs were stacking up. I thought there was a great opportunity to provide a better vehicle and at a cheaper price.
I was fortunate enough to be able to self-fund the business, and this funding enabled us to scale up to a point where we raised external funds from Investec in late 2016 and then Element more recently.

How does the business model work how much do you charge drivers?
Splend provides innovative financial solutions to enter the on-demand economy by delivering 'current model', fuel efficient, fully maintained, safe, comfortable vehicles. Most importantly, Splend also provides mentoring, training and ongoing support via a direct relationship between member-drivers and a Splend Member Success Representative (MSR). The core focus of the MSR is to ensure the member-driver is successful and that they are a dynamic micro-business owner, developing a diversified income portfolio. We see the MSR as being there to ensure all of our drivers are as safe, happy and profitable as possible.

Splend offer two types of vehicle plans across compact, hybrid, SUV and luxury models. Rent (lowest weekly vehicle fee) or rent-to-own (pay slightly more but own car after four years). Our model means that over a 4-year plan, by choosing Splend Rent-to-Own, you could save approximately $5,545 compared to renting, and $7,629 compared to getting your own car finance. The below grid outlines the finance plans available from Splend vs normal car finance (Kia Sportage 2017):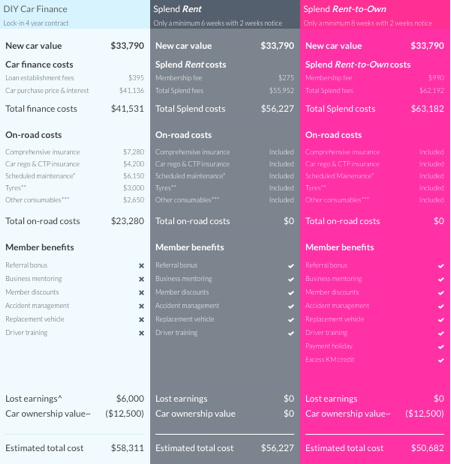 Can you tell us anything about your discussions with an online retailer about deliveries?

We are currently at a critical stage in discussions, therefore we cannot reveal the name of the online retailer, however we see further opportunities for Splend drivers to work across the on-demand economy. This is across both parcel/package delivery and other non-rideshare transport markets.

Can you see a business like Splend being able to supply other industries along with rideshare and online delivery? Do you need to diversify to reduce your reliance on Uber?

Absolutely! As a member-driver will work for several apps, Splend focus on having the primary relationship with the member-driver to navigate and derive value from all aspects of the on-demand economy.
"The sharing economy is here to stay and will only grow into new areas. According to new research from RateSetter, over two thirds of Australians now spend and earn money through the sharing economy."
The market for peer-to-peer services, for example, is projected to grow to a whopping $55 billion by 2021 nearly a fourfold increase in five years. More than a third (38 per cent) of Australians now spend at least $50 a month on P2P goods or services, while nearly a quarter (22 per cent) are earning the same amount each month. Splend's purpose is to support our Member-drivers to create a full-time employment opportunity in the sharing economy. We see it as our role to support them to increase their earnings by working across a range of different on-demand providers in this space.

Are you able to reveal revenue?

At this stage, our revenue performance is commercially sensitive so we are unable to reveal this.

What are the key pieces of advice you'd give to other businesses who are in the scale-up stage like yourself, or looking to go there?

The biggest advantage Splend has in this space is from very early on, we have set up the business model to scale to thousands of vehicles.
"We believe that getting your core business model right and stress testing it to ensure it can scale is very important for future success. Make sure you have the right expertise and people on board to support your scale up."
At a small seed-stage business, we were able to be a lot more hands on with the business at an executive level. Making sure we have the right people on board to manage the business day in day out will allow the business to move to working on the business to facilitate further opportunities for growth.

Lastly, aim big but have a purpose. At Splend we are setting ourselves lofty goals but underpinning all of our growth and ambition is our purpose. We are genuinely invested in supporting our Member-Drivers into self-sufficient employment opportunities. Supporting these people day-in day-out and being able to take this to thousands of other people is very rewarding and is core to why we do what we do.
Never miss a news update, subscribe here. Follow us on Facebook, LinkedIn, Instagram and Twitter.
Business News Australia
Get our daily business news
Sign up to our free email news updates.
Help us deliver quality journalism to you.
As a free and independent news site providing daily updates
during a period of unprecedented challenges for businesses everywhere
we call on your support