"IF you can make it on the Gold Coast, you can make it anywhere" - those are the words of businessman Andrew Bell who has forged Ray White Surfers Paradise Group as the largest real estate company in Queensland.
Together with his brother Greg, Bell has grown the business to employ more than 250 staff, offering an array of real estate services including residential, prestige homes, project marketing, commercial, industrial, hotels and Ray White Marine.
It hasn't been easy, with Bell saying the GFC was one of the company's biggest challenges along with helping not only his clients, but also staff to keep their belief in the Gold Coast during this trying time.
Conditions have improved and it now appears the city has recuperated with RWSP reporting the vacancy rate on its rent-roll of more than 2500 properties is a little over 1 per cent.
"I haven't seen anything like it for years," says Bell.
However, he says there is still more to be done to improve conditions on the Gold Coast, including a need for the city to improve its image.
"It was pretty battered during the GFC, but now there are so many wonderful things happening, we've got to get our story out there," he says.
Read more in the Q&A below.
What have been some of the biggest challenges Ray White Surfers Paradise and yourself have faced over the past five years and how did you overcome these?
Our biggest challenge has been the global financial crisis and the impact it had on the Gold Coast property market. Second to that was helping not only our clients, but also all of our staff keep their belief in the Gold Coast during that time. Knowing how to handle a falling market and keeping spirits high was certainly a challenge.
We are driven by a desire to achieve the best results for our clients, and people were shocked and understandably disappointed that in many instances they weren't able to get the prices they had paid for their properties when they went to sell. At times, the agent was blamed for what was perceived as a poor result, so it was a real task to keep our agents positive and driven to continue achieving the best outcomes they could.
Our firm ambition was not to sack anyone as a result of the GFC and we're proud to say that across our entire group of offices, we didn't. Overcoming the challenges we faced during that time came down to adapting to the market, changing our approach and increasing our communication to our clients and staff. We had ridden out a few boom and bust cycles by the time the GFC hit, so we knew what we were dealing with.
Is there a leadership mantra you work by?
It's not so much a leadership mantra, but a company-wide philosophy: what's best for the client.
What have been some of the biggest highlights of your career?
There's no question that a highlight has been our ability to hold on to our position as the number one performing sales office in the number one real estate group in Australia for 20 years. We are very proud that we've been consistent in this and have ridden out various property cycles on the Gold Coast. The most challenging test is the test of time.
We're also very proud that, at present, 50 per cent of our business comes from repeat or referral customers. That's a real testament to our clients' satisfaction.
Another highlight is that we've been able to give back to the community. We've raised more than $4 million for various charity groups and have a lifetime commitment to the Muscular Dystrophy Association of Queensland and the Surfers Paradise Surf Life Saving Club.
Personally, playing a role in securing the Commonwealth Games for the Gold Coast in 2018 has been a real career highlight.
Do you believe the Gold Coast property market is strengthening and why?
Yes I do because sales volumes are up and so are property prices. I believe there is no greater example of a strengthening market than activity at auctions and in this space we're seeing significantly higher prices being achieved than might have been expected due to strong competition in the market. The vacancy rate on our rent-roll of more than 2500 properties is a little over 1 per cent I haven't seen anything like it for years. Lastly, the volume of interstate and overseas investment in the Gold Coast bodes very well for the city and says a lot about the value of local real estate in the context of the rest of the nation.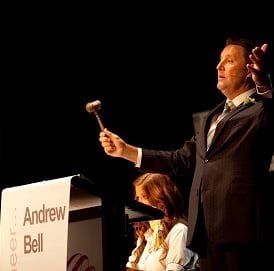 What are some of the challenges the Gold Coast represents moving forward for RWSP?
Shortage of stock is a challenge. It's a bit like owning a bakery and having very little bread to sell - it doesn't matter what you're selling it for if there's not a lot of it. We're in a market where there are more buyers than sellers, so there is a temptation to shortcut the time between listing and sale. You can sell many properties 24 to 48 hours of listing them, but it's not always in the best interests of the client because you're not always going to get the best price. I call it the "lazy agent's syndrome" those who don't recommend a proper marketing campaign or auction simply because it's easier not too. Our challenge is making sure none of our staff fall into that trap.
We're in the process of building our team bringing people on board and building a larger sales force. As sales volumes pick up, we want to have more good, competent people. We're intensively skilling up our sales force and bringing new people onto the team to make sure we've always got the best operators in the industry.
What can the Gold Coast do to improve property market conditions in the city?
Improve our image. It was pretty battered during the GFC, but now there are so many wonderful things happening, we've got to get our story out there. There is billions of dollars being invested into our region, huge investment by the Chinese, and the Commonwealth Games are around the corner. The Gold Coast has to sell its story.
I will say it was bitterly disappointing to see the new State Government torpedo ASF Consortium's Wave Break Island proposal. It is a man-made lump of sand that could have been turned into a major economic driver for our city. Perhaps it was a short-term decision for political gain, but that sends a really poor message. Our local government is doing a good job under Tom Tate by telling everyone our city is open for business, but we need our State Government to do the same.
What makes the Gold Coast a great place to do business?
The Gold Coast has its own challenges - it doesn't have a broad-based economy like major cities do, so we have dependence on a narrower group of economic drivers. We're moving away from being seasonal; we have in the past been a bit hot and cold depending on economic conditions. The great thing about our challenges is that they produce some of the best businesspeople in Australia. They say if you can make it in New York, you can make it anywhere. Well I think that on an Australian scale, if you can make it on the Gold Coast you can make it anywhere.
It's also easier to network and connect with the community in a city of our size. Most importantly, everyone who is fortunate enough to live and do business here loves it.
Get our daily business news
Sign up to our free email news updates.
Help us deliver quality journalism to you.
As a free and independent news site providing daily updates
during a period of unprecedented challenges for businesses everywhere
we call on your support