GOLD Coast-headquartered company Condev Construction has seen significant growth in recent years, turning over $150 million in FY15 - up 55 per cent from the previous year.
Founded by Steve Marais and his wife Tracy in 2002 (pictured below), the company has grown from a boutique operation to employ more than 140 staff and currently has 25 different projects under construction.
Condev recently secured a number of project tenders with Brisbane developer Urban Construct. Collectively the deal comprises $190.8 million in residential projects across south-east Queensland.
The company also won the tender to build stage one of developer Rayjon Group's flagship $180 million Vantage Gold Coast project at Benowa.
Steve Marais, who moved to the Gold Coast from South Africa in 2001, sits down with Business News Australia to discuss the success of the business along with the biggest challenges and highlights of his career and where to from here.
What have been some of the biggest challenges of your career and how did you overcome them?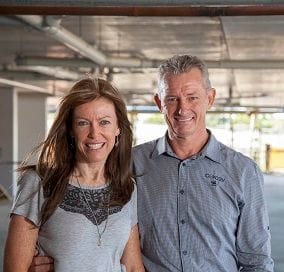 Leaving a successful construction company in South Africa that I had owned for more than 10 years was hard. It seemed to be a forced choice at the time but upon reflection, it was the best decision in every respect for us.
From the perspective of the challenges and how one overcomes those, I've always been prepared to work hard for delayed gratification. I don't have an expectation of instantaneous or quick or lucky reward. I'm happy to work hard for some kind of benefit down the track. I don't like the prospect of being a needy person. I would rather be a contributing person.
What about highlights?
It is probably the creation of Condev and what the company stands for and embraces. We seek to enjoy what we do, build relationships and networks through construction and as a consequence we succeed. The focal driving point is not commercial success but relationship success.
Recently we have become more and more involved in community-related activities which has a disproportionate enjoyment for me because when you work within a community context where everybody is looking to improve everybody else's lives it is an entirely different dynamic to a commercial reality.
What sort of charity initiatives are you involved in?
We are very active with the 2016 Kokoda Challenge. Last year we supported one Condev team in the Kokoda Challenge on the Gold Coast who completed the gruelling 96 kilometre trek crossing the line second overall and first as a mixed team. We were all in awe and they have inspired us by their amazing team performance and not only will we sponsor the 2016 Kokoda event, but 44 staff members have signed up to compete in either the 96 kilometre or 48 kilometre event. We are also involved with Mat Rogers with the 4ASD Kids, and numerous cycling events including the GC100 cycling event and Robbie McEwen's Grand Fondo.
We don't just work here and then sit back and passively donate; we actively participate and we give our time. We try to make sure we maintain an active social responsibility for charities and next year we are formally setting up our own Condev Cares charity which we are hoping will raise around $80,000 to distribute to less fortunate people in our community.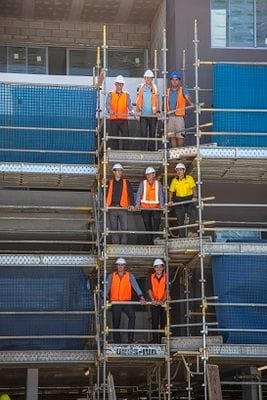 What do you attribute the success of the business to?
Because I had a business in South Africa, I had a very clear understanding of what was required to be successful in construction. It is a different country with a different culture and different challenges, but the stepping stones are the same. There is an incremental process of business building blocks and on this I felt really clear and understood that I had to do the small residential works before I could get into the commercial and education works.
We also have a really good leadership team. I don't subscribe to the principle of bosses in the business, I just consider everyone as colleagues. We have a very strong executive group which includes Tracy, Aaron Hook our CEO and Glenn Cream our COO. Collectively they have reinvigorated my passion for building and for building a business.
How do you define success?
I think ultimately that success is providing successful outcomes for other people, whether they be the stakeholders and sub-contractors or our own staff. We understand that the consequential benefit is the growth of the business. Condev has been going for 15 years now since 2002 and we have staff who have been with us for 12 years. You create the environment for them to be happy and grow, and the business grows as a consequence. It is a matter of understanding and having a vision for the market and your place in the market and also having the right ethos in place.
How does Condev innovate in a competitive industry?
Initially when we did the luxury residential side we were perceived to be a boutique construction company, and that was necessary because we were looking at providing a service that had the ability to deliver quality constructions. That in itself served a purpose. We took that quality into the other sectors and we spend considerable time in management training and developing our staff. We have weekly meetings with groups of our staff to develop and help them to meet their ambitions. We have the best software available in the marketplace and that is from a financial and project management perspective. We don't have an expectation of being innovative in a leadership role without investing in that process, because nowadays the ability to communicate and have information available through software systems is critical and is a massive investment. These investments are hundreds of thousands of dollars and they are vital because we need excellent access to information.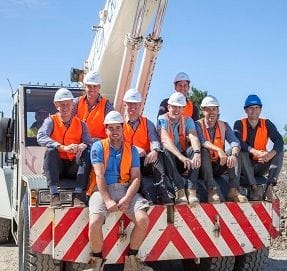 What is your view on how the Gold Coast's property market has been performing over the last few years?
There is definitely a residential boom. There are currently three projects that are over $1 billion dollars under construction in Surfers Paradise. The Gold Coast residential market hasn't softened the way Brisbane and Melbourne has. And the international interest, particularly from China, in the Gold Coast and south-east Queensland, is palpable.
What is the reason for this residential boom?
The Gold Coast offers exceptional value for money compared to Sydney, Melbourne and Brisbane; the local Government is also stable and good leadership contributes and plays a significant part in the residential and general Gold Coast market growth.
What challenges do you foresee for the city over the next five years?
The biggest challenge primarily is the development of infrastructure in order to accommodate the city's growth needs.
The Gold Coast Airport is going through an expansion and it is about providing some sort of connectivity from the Gold Coast to international cities. The Gold Coast flies to about 10 or 11 international destinations, and I think if we increase that connectivity internationally it will really stimulate the Gold Coast economy and its accessibility to the countries that are showing significant growth, including China.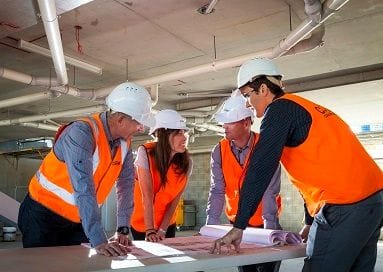 What areas are you working in and where do you see the most growth opportunities?
We work primarily in south-east Queensland and northern NSW. We registered and licensed Condev in Victoria early last year in order to establish a business in Victoria and that plan has been delayed only because of the growth that we are seeing here in Queensland. To simultaneously try to grow what we are doing here and deliver the quality product we expect and set up new business in a new state would require considerable energy and attention. It's all about focussing our energies in the most productive way and being flexible to change with the energies in the market.
I think certainly within the Gold Coast, the sectors that are going to be at the forefront of the growth will be education and health. The construction industry is obviously a beneficiary of that, and so too is tourism. It is these sectors which are going to be future focal points, and we will actively pursue market share in those areas.
What is the ultimate vision for the company?
I am convinced that the best is yet to come. The gratification I get out of doing business is to see the lives of our staff and their families improve. It sounds terribly altruistic but it is ultimately what makes me feel most satisfied. The building industry can be volatile and many of our longest serving employees have come to us not having previously enjoyed stability of employment for a variety of reasons. They are now at Condev driving company cars, becoming better qualified and doing really well. The rewards of investing in others and the idea of shared prosperity is ultimately what drives us and Condev. In our endeavours we are always considering the other party. Ultimately we would like to have a national business and probably very strong international associations.
Would you consider listing later down the track?
That has been asked before. I am very intimate with the business and with the people in the business. It is never a no, because no requires little thought. At the moment there is no incentive to list. We're on a pretty good course and this isn't in the short term plan.
Get our daily business news
Sign up to our free email news updates.
Help us deliver quality journalism to you.
As a free and independent news site providing daily updates
during a period of unprecedented challenges for businesses everywhere
we call on your support