CRAIG Treasure spent 30 years in the property industry before being appointed to the board of one of the Gold Coast's largest companies.
It is this experience that has helped the CEO and managing director of Villa World position the company in the ASX 300, with Treasure saying it gives him "a very good feel for what customers and shareholders value most".
Based in Broadbeach, Villa World only has one project under way on the Gold Coast - Parkside at Coomera - however Treasure says he is hopeful the company will expand its hometown footprint.
Most recently, Villa World recorded close to 600 sales across its national portfolio over the nine months to March 31 and is on track to achieve more than 800 sales in FY15, targeting more than 1000 sales in FY16.
What are three key leadership strengths you bring to Villa World?
You cannot underestimate the value of experience. I spent 30 years in the property industry before coming to Villa World in 2012. My experience, firstly as a licensed surveyor and then as a developer in both private and public companies, has given me a very good feel for what customers and shareholders value most.
I've been very deliberate about setting goals and ensuring that we share a common vision at Villa World. That vision is to be the company of choice for people to achieve success through property.
It's one thing to have a vision. It's another thing to achieve it. Delivering on our strategy requires flexibility and openness on my part in a way that fosters accountability, fairness and a highly productive and engaged team. That's what we've got at Villa World.
What have been some of the biggest challenges you and Villa World have faced over the past five years and how did you overcome these?
The property market is known for having "boom and bust" cycles and that's not consistent with Villa World's business approach. We've worked hard during the past five years to broaden our sales platform by paying attention to our customers' needs and refining our product offering to suit what the buyer is looking for no matter what age or stage they're at.
We've also put in place a strong acquisitions platform to replenish our development portfolio at a rate that will achieve a step-change in our business growth. We've supported this through raising capital and securing additional debt facilities to provide the funding to grow and expand the development and building operations teams.
We have a target of 1000-1200 sales next year and have more projects being released to the market this financial year and early next year. This supply, along with our existing projects, will lift us to the target sales rate, provided that the strong market conditions remain.
All of this has been achieved by having a clear and focused strategy and through dedicated work of our Villa World executive team: Paulene Henderson our CFO, Robyn Valmadre our national sales manager, and Michael Vinodolac our state manager for Queensland who also forms a key part of our acquisitions team.
Is there a leadership mantra you work by?
Not so much a mantra, but I have a strong philosophy around the importance of enduring relationships and that is reflected in the Villa World business approach. For 30 years we have paid our subbies each Thursday for the work they did the week before. This is practically unheard of in this industry and provides a real incentive that allows us to retain and build strong loyalty with our workers.
A deliberate focus on relationships leads to more positive experiences with our team, our customers, our business partners and our shareholders. That's fundamental to Villa World's way of doing business.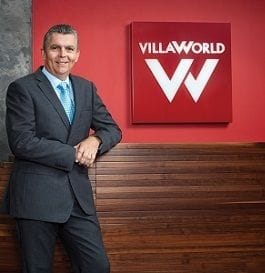 What have been some of the biggest highlights of your career?
From a personal perspective, successfully operating my own consulting business for many years would be among the highlights. I did a lot of work on the Gold Coast at that time and was proud that the business had a reputation for outstanding communication and timely service delivery. These are attributes I took forward into other company roles, including eight years with a Gold Coast-based residential property group expanding its east coast house and land division, followed by six years of private property development in south-east and regional Queensland.
A more recent highlight was Villa World's inclusion in the S&P ASX 300. This is an endorsement of our strategy of increasing our access to funds through new equity and debt facilities, growing our market capitalisation and delivering greater profits and dividends for our shareholders. I certainly feel very fortunate to lead such a great business and team.
What are some of the challenges the Gold Coast represents for Villa World?
The limited supply of greenfield development land on the Gold Coast is a challenge. If more land was available, Villa World would certainly look to have greater exposure here.
The reality at the moment is that we invest heavily in Brisbane and Melbourne where supply is more readily available and supported with infrastructure.
What can the Gold Coast do to improve conditions for developers in the city?
Good forward planning for land availability and infrastructure provision is required, not just on the Gold Coast but in other parts of Queensland too. I regularly cite the Victorian example where positive planning reforms have delivered a 30-year development land supply that is well serviced by infrastructure and provides certainty for developers and investors.
What makes the Gold Coast a great place to do business?
Demand for homes in Queensland is still strong and the Gold Coast is a major lifestyle drawcard. New development areas in and around the Gold Coast will open up in the future and Villa World looks forward to being able to showcase our experience at delivering the complete home at the complete address.
Get our daily business news
Sign up to our free email news updates.