LISTING on the ASX is a significant milestone in the progression of a company. It means your business is on an internationally recognised stock exchange which tells the market you're open for investment and keen to grow and expand, but of course with that comes the responsibility of complex compliance procedures and being beholden to shareholders.

From the first stage of listing, which usually involves the appointment of advisors, to the first day of trade is an arduous procedure that takes at least six months and in between companies need to undertake institutional marketing, lodge a prospectus with the ASX along with an application, and establish a marketing and offer period before shares are allocated and traded.
In part one of our series, Tech Entrepreneurs Share Their Key Lessons on Listing on the ASX, we spoke with three business leaders about the challenges of listing, and in part two we speak with three more about the hurdles they've had to overcome.
Karl Redenbach, CEO and co-founder of LiveTiles (ASX: LVT)
LiveTiles is a global software company that listed on the ASX via a reverse takeover in April 2015. The company is headquartered in New York, with offices in Sydney, Hobart, London, Seattle, Tri-Cities (Washington State) and Minneapolis.

LiveTiles offers digital workplace software for the commercial, government and education markets, and is an award-winning Microsoft Partner. LiveTiles' products comprise LiveTiles SharePoint, LiveTiles Cloud, LiveTiles for SAP Software, LiveTiles MX and LiveTiles Mosaic. LiveTiles' customers represent a diverse range of sectors and are spread throughout the United States, United Kingdom, Europe, the Middle East and Asia-Pacific.

"LiveTiles went public two years ago. Listing on the ASX has required much more rigour - upskilling staff and onboarding specialists to create a robust team, and establishing a solid business strategy time and time again.
"It's more complex compared to staying private, and one of the key points of difference to remember is that the company's strategic plans and decisions are held accountable to its investors."
"There is only one expectation and that is rapid growth, the only variable is mapping out how you're going to get there. Building a team that you're 100 per cent confident in is absolutely crucial.

"Also, never underestimate how important and helpful it can be just speaking to people who have gone through it before or are employed at companies that have recently listed to get advice.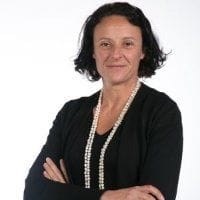 #3 Anna Cicognani, chief executive of Geo (ASX: GEO)

Geo is currently listed on one of New Zealand's 'alternative exchanges'. But a lack of investor visibility has meant that a number of New Zealand tech companies have abandoned the exchange for the ASX and Geo started trading on September 29.

Geo makes software that helps business with workers in the field manage their workflow end-to-end; workforce job and costings management; creating, assigning and scheduling jobs; compiling and recording job details (photos, signatures, files, required parts); invoicing; the platform is integrated with Xero, Quickbooks, MYOB and other SaaS systems.

"There is always someone interested in your story. When you're pitching a room full of investors, it's easy to assume they're all the same. They're not. Someone will speak the same language as you, it's just hard to find them. Once you find them, the transaction will be easy.

"Unfortunately, people who speak the same language as you don't come with a nametag saying as much. You've got to unearth them and the way you do that is with practice.
"Pitch over and over again and network like crazy. That's how you train. Doing it over and over again will develop a sense for the room. You'll just get better at finding an entry point to the conversation to explain your company's goal and future.
It's the initial match that will engage the audience and you will get permission to go on.


Grace Lin, CFO of ReTech (ASX: RTE)

Retech is one of the largest technology solutions providers in China and provides solutions to companies that enables them to deliver corporate training online. The company, which listed on the ASX on 22 June, delivers solutions to a diversified and established user base via three channels: E-Learning Solutions, E-Training Partnership and E-Course Direct.

Based in Hong Kong with mainland China origins, the company found the process of listing on the ASX difficult.
"Australian investors frequently view companies with mainland Chinese origins with suspicion. It's difficult to get investors to 'buy in' to what you're doing. It's doubly hard when you're a company of Chinese origins."
"We completed our IPO earlier this year after a long, arduous process of talking to investors that never seemed to end.

"We build corporate training systems for companies like Ping An Insurance and McDonald's China. We also have backing from the fourth and fifth people to join Jack Ma at Alibaba, along with fellow billionaire Pang Shengdong, founder of China's second most popular web directory 2345.com. But many investors still wouldn't listen to us because we come from China.

"Our complex corporate structure, which is a requirement for us to list on the ASX, didn't help. But there's definitely a stigma.

"The way you overcome it with persistence. Keep talking to investors, keep coming back to them with details about your business - case studies, statistics, expertise. You never know what particular details is going to win over that one person you need to convince.
Never miss a news update, subscribe here. Follow us on Facebook, LinkedIn, Instagram and Twitter.
Business News Australia
Get our daily business news
Sign up to our free email news updates.
Help us deliver quality journalism to you.
As a free and independent news site providing daily updates
during a period of unprecedented challenges for businesses everywhere
we call on your support